An explosion at a religious school in the northwestern Pakistani city of Peshawar killed at least eight people and wounded more than 130 others/ Rather than sharing their condolences, our neighboring country, all Indians, cheer the fatalities in Peshawar blast, like they always do.
According to the hospital officials, those killed were young men, aged between 20 and 30. Dozens of others were injured, including four under the age of 13.
The explosive device kept in a bag detonated inside the madrasa in Dir Colony in the morning as students were entering the premises. However, the motive for the attack on a Quran study class is unclear. Hundreds of students were present at the seminary.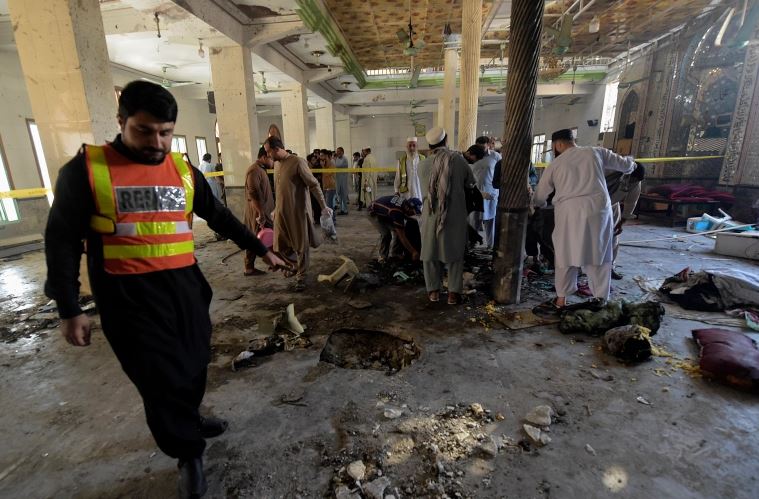 Witnesses said they saw an unidentified man leave a bag on the school premises and leave almost immediately. Moreover, the police are trying to retrieve the footage of this person so that they can identify him.
Prime Minister Imran Khan has expressed "regret over the loss of precious lives", strongly condemning the blast and promising to bring those behind it to justice. Meanwhile, Indians could not be any happier.
India certainly knows how to enjoy the misfortunate of others
Soon after news of the blast broke, social media was flooded with visuals and condolence messages pouring in for those affected. However, some Indians were quick to enjoy the unrest in their neighboring country.
Our folk Indians across the border seem to be walking on air and cheer the news of Pakistani children losing their lives in the Peshawar blast. The barbarous Indians celebrated the deaths of innocent children. Their unsolicited reaction to the heartbreaking news was downright despicable!
Here is one of the most condemnable insensitive tweet, making a mockery of the bloodshed of innocent souls:
One has to have an utterly sick mind to make fun of children killed by a maniac bomber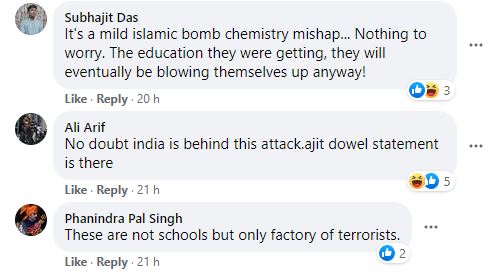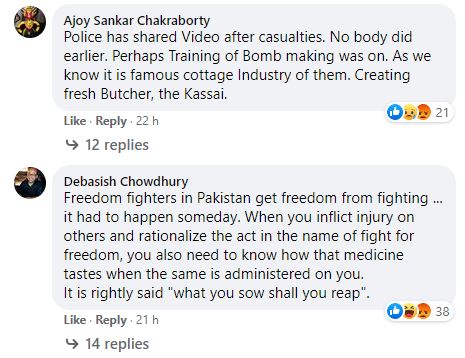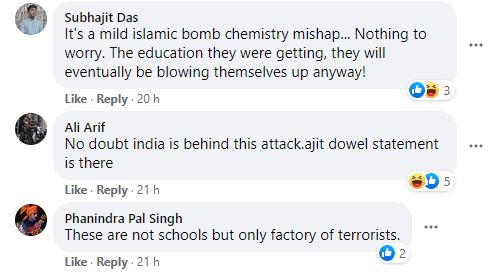 With no shred of humanity, a number of insensitive comments poured in. Now we understand why Donald Trump used the word filthy for India. Its people never fail to disgust us with their filth filled mentality.
Most students in the premises at the time of the blast were hurt in the blast, many of them critically, said police. The total strength of the madrasa is believed to be over 1,000.
However, at the time of the explosion, many had not entered the building- fortunately. The terrifying video showing moments of the Peshawar blast during a Quran class will leave you restless. Our heart goes out to the bereaved families whose agony is beyond any solace or compensation.
The northern city of Peshawar, close to the Afghan border, has seen some of the worst of the violence during the Taliban insurgency in recent years. Six years ago, gunmen stormed a military school in the city leaving more than 150 dead, most of them children.
What do you think of this story? Let us know in the comments section below.