As the virus wreaks havoc on India, patients are on their own, fighting for their lives in an overwhelmed system in which ambulances, hospital beds, oxygen, medicine, and even cremation grounds are in short supply. While Indians appreciate the good wishes and support pouring in from Pakistan, they demand resignation from Modi.
The subject of solidarity between India and Pakistan, despite their long-time hostility, trends on social media as Pakistan offers relief support to its neighbor that is on the brink of a humanitarian catastrophe.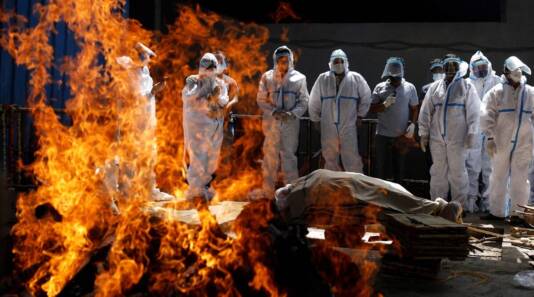 Pakistan has been sending love and prayer to India. In Pakistan, social media users came together in solidarity and called for the government of PM Khan to help India in its catastrophe.
Taking note, Prime Minister Imran Khan on Saturday expressed solidarity with the people of India battling the deadly wave of the COVID-19 pandemic.
"We must fight this global challenge confronting humanity together," PM Khan said.
Witnessing immense love and support from Pakistan has left Indians emotional, grateful as well as remorseful. Last year when coronavirus cases surged in Pakistan, these very Indians decided it was okay to make memes and jokes out of the devastation. Despite the high death toll, Indian media did not miss the opportunity to troll the situation.
The eye-opening turn of events resulted in the guilt-ridden and repentant Indians lauding Pakistan and pouring scorn on Modi.
Have a quick watch!
As for Pakistan, it is a time of great pride for how we have put aside our differences when the time asked for it.
Resign PM Modi trends on Twitter as India sees worst COVID-19 wave
Following the massive second wave of the COVID-19 pandemic ravaging India, furious citizens have taken to Twitter to demand Narendra Modi to resign. The hashtag #Resign_PM_Modi has been trending on Twitter since Tuesday. Indians blame Modi for the second wave of the COVID-19 pandemic in the country.
Many are of the opinion that he should not have permitted mass gatherings like Kumbh Mela and election rallies amidst the second wave of COVID-19.
The nation of more than 1.3 billion is in the grip of a devastating surge, with more than 360,000 new cases in the past 24 hours. Another global record has been set with 3,293 deaths, raising the toll past 200,000.
In our concern for India hides our fear of the same thing happening to us. Dear folks, we too have a weak healthcare infrastructure. We too can very easily run out of oxygen if a crisis arises. Two of our provinces are not even capable of producing their own oxygen. Hence, we absolutely must be careful now, more than ever. Wear your masks, please!
What do you think of this story? Let us know in the comments section below.