A goof-up by the official Twitter handle of the Indian National Stock Exchange (NSE) came under scrutiny after it posted a few 'erotic' pictures of the B-Town model and actress Mouni Roy. The state institution soon found itself in trouble. Surely, social media users had a field day after the little blunder on the official handle. 
Looks like the social media handler of the Indian NSE posted the wrong tweet on the wrong account when tweeting 'breathtaking' clicks of Roy, who is best known for her role of Shivanya in the Indian television drama Naagin.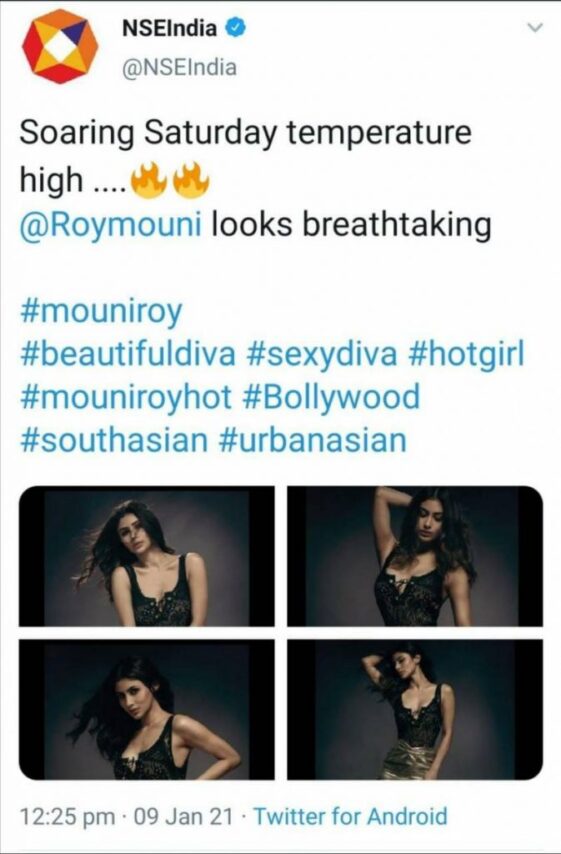 Somehow, the tweet went unnoticed by its social media team for seven hours, giving a sufficient window to the Twittersphere to troll, and criticize it. The Indian stock exchange deleted the tweet after complete seven hours. In addition to this, it apologized for the 'human error' in a statement.
"Today there was an unwanted post on NSE handle at 12:25pm. It was a human error made by the agency handling NSE account and there was no hacking. Our sincere apologies to our followers for the inconvenience caused," the NSE tweeted.
But it was already too late! Within those seven hours, the tweeted pictures of the Indian stock exchange of the actress had gone viral, garnering memes and jokes. More so, as it appears, the social media users are not about to let the Indian stock exchange ride out of the slip up anytime soon.
Here come the trolls making the most out of the hilarious faux pas
Meanwhile, despite the odd and unsolicited publicity, the Kyunki Saas Bhi Kabhi Bahu Thi actor has not once commented on the matter.
Earlier, a Google goof-up showed the Bollywood star Anushka Sharma's name whenever someone searches for 'Rashid Khan wife'. As strange as it sounds, it actually did. Confusing as it is, there is a whole story behind it all. Even the 'faultless' Google can mess up things. Can you believe it?
Not so long ago, the Pakistanis were going crazy over an unusual set of pictures when a Persian adult film actress was discovered. Within a jiffy, they identified the uncanny resemblance between Dr. Aamir Liaquat's second wife Tuba, and the adult actress. Some naive Pakistanis even assumed that she's Tuba herself.
What do you think of this story? Let us know in the comments section below.