WARNING: Some viewers may find the content of this story disturbing. Viewer discretion is advised.
In India over the past couple of years, there has been a series of violent attacks on minorities, especially Muslims. Videos of the Indian mob brutally beating Muslims often go viral on social media, making our guts wrench, twist, and turn. A similar video has again come to the limelight, wherein an Indian man beats a Muslim man.
The disturbing clip shows the accused, Ajay Goswami, thrashing the Muslim guy. He pins him down to the ground and yells at him, "Zor se bol. Hindustan Zindabad [Say loudly, long live India]. Pakistan Murdabad [death to Pakistan]." Meanwhile, the victim pleads for mercy, holding Goswami's feet only to be thrashed more.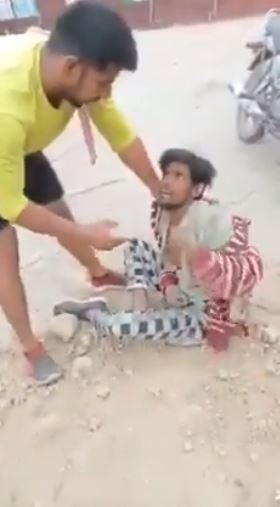 The video shows the accused picking him by his collar and throwing him on the ground. Voices of other men, probably recording the video can also be heard. They curse the victim and force him to chant, "Asaduddin Owaisi Murdabad". Owaisi is a Lok Sabha MP and president of the All India Majlis-e-Ittehadul Muslimeen.
As the video circulated and became viral on social medial, it prompted the Delhi police to take an action. As of now, the police have registered a case against a person purportedly seen in a video thrashing a man in the northeastern part of the Indian capital, officials said on Wednesday.
WARNING: Some viewers may find the content of this video disturbing. Viewer discretion is advised.
Here is the viral video
In a tweet, the Indian Deputy Commissioner of Police said that they have taken cognizance of the incident. In addition, the police registered a criminal case against the accused. More so, the accused has been arrested and an investigation of the case is in progress.
It is pertinent to mention, Goswami was also named an accused last year in a Delhi riots case, police said.
Religion-based crimes have only risen sharply in India since independence. With an increase in hate crimes against Muslims in India in recent years, some fear the world's largest democracy is becoming dangerously intolerant under the Hindu nationalist Bharatiya Janata Party (BJP).
During the Northeast Delhi riots last year, a violent mob killed a 22-year-old Muslim man. The Delhi Police confirmed that the mob first assaulted him after establishing his Muslim identity. In addition, after he fell unconscious, the Indian mob set the man on fire.
Torturing Muslims to death is nothing new in India. Moreover, in March 2020, the Indian mob also burnt an 85-year-old Muslim woman to death.
What do you think of this story? Let us know in the comments section below.