The Pakistanis, as well as a few other Muslim nations, are given a hard time at the airport when they are traveling to a foreign country. Because of the generalized perception of Muslims being terrorists and behind various blasts in different parts of the world, you won't be hearing for the first time that a Pakistani was held at the airport.
What makes many Pakistanis upset over this is how we, collectively as a nation, as well as our government never do anything to fix this worldwide image.
In the light of this, Pakistani actress Saba Qamar revealed an incident which was twisted by the Indian media in the worst manner possible.
While Talking About the Recent Tragedy that Happened in Kasur, Saba Qamar, Drenched in Tears Addressed the Horrible Incident Zainab Faced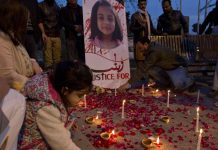 Saba Qamar's video went viral on social media. She was pleading the politicians in Pakistan to take a stand on the matter and do something regarding the matters that are happening at large in areas such as Kasur.
Saba Qamar couldn't control her emotions and continued giving a reality to check to Pakistanis.
While sharing how much disappointed she feels, she told the media an incident while sharing how the day does not make her proud Pakistani. She shared how when she was in Tbilisi, the capital of Eurasian Georgia, she was stopped for checking while the Indian co-workers on the team easily passed by.
She was questioning the position of Pakistan worldwide while saying we have nothing to be proud of during matters such as these.
"When we went to Tbilisi to shoot for a film, all the Indian crew was allowed to go, but I was stopped. It was because of my passport. I was from Pakistan. They did a full investigation. They let me go only after an interview."
Here's What She Said:
It's not just #SabaQamar who feels humiliated. All #Pakistanis feel humiliated when we are considered a terrorist state, when our children are killed like flies & we can't get justice for them, when terrorist like #HafizSaeed roam around freely & we watch them helplessly. pic.twitter.com/pHalKqo7cq

— Sabah Alam (@AlamSabah) January 16, 2018
The Indians and the Media Have Twisted the Words of Saba Qamar and Taken the Video Out of Context
In making this a political agenda, they are putting forward an image Saba Qamar wasn't painting when she uttered those words.
Tum Pakistani hafeez syeed Jaise atankwadi Apne pass rakh ke izzat talash karte ho is duniya me ….lanat hai

— Mohaammed Imran (@MohaammedI) January 17, 2018
WOW!
LOL

There Were Some Sane People As Well in the Comments

Appalling to see the media making a political agenda out of something that was not there in the first place. Saba Qamar shared an experience which was twisted into something that promoted hate among the masses.