It was a very hot afternoon in the summers of 1947 when Sir Cyril Radcliffe demarcated the borders between Pakistan and India, creating one of the biggest controversies and issues which yet remain unsolved after 7 decades. Kashmir, still a disputed territory and occupied by Indian forces, has never seen peace, recently they martyred 3 Kashmiris and tortured a boy.
Being a bone of contention between India and Pakistan, the youth of Kashmir still does not know who will come to their rescue. Let alone, if anyone would at all. A video that surfaced recently shows exactly what we mean, as a young Kashmiri boy gets brutally beaten up by Indian forces, many Kashmiris were martyred.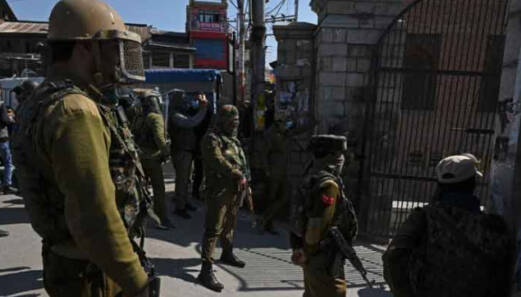 As if kicks were not enough, the boy was brutally beaten with sticks. The appalling video shows how coldblooded these Indian forces are as they torture a boy and have martyred many Kashmiris. Here comes just another day of brutality in Kashmir with the arrival of Ramadan.
Here is the video…
WARNING: Some viewers may find the content of this video disturbing. Viewer discretion is advised.
Three Kashmiris killed
Meanwhile, Indian occupation forces martyred three Kashmiris in a so-called "cordon-and-search" operation in the Shopian area of Indian Illegally Occupied Jammu, and Kashmir (IIOJK). Those killed by the Indian forces included a 14-year old juvenile and a student of 10th grade.
According to the reports, a 14-year-old boy was martyred along with 11 other freedom fighters in separate gunfights in IIOJK during the last 72 hours. Faisal Bashir was claimed to be associated with the Al-Badr group and martyred along with two other separatists in an overnight gunfight in Hadipora village.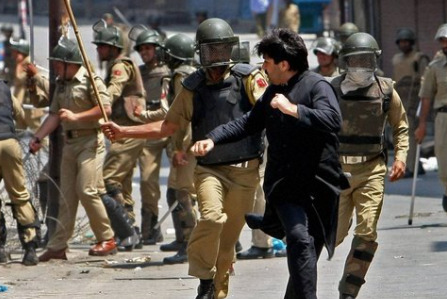 In a statement, police claimed they made "sincere efforts" to make the 14-year-old surrender. In addition to this, his family was also called to the encounter site to persuade him. However, "his associates did not allow him to come out".
According to sources, Bashir was his parents' only son along with four daughters. He studied in class 10 and went missing three days ago.
Meanwhile, two freedom fighters were martyred in the early hours of the day in the Bijbehara area of the disputed valley. At least 36 freedom fighters have been martyred in the restive region in 2021 so far, according to the police.
India continues to violate human rights in IOK. Both Pakistan and Indian hold parts of Kashmir. Meanwhile, fake encounters are frequent in IOK where Indian forces kill young and old Kashmiri men, terming them as terrorists. Earlier in January, an Indian army officer killed three Kashmiris in a fake encounter for a reward of Rs20 lacs.
What do you think of this story? Let us know in the comments section below.