A 45-year-old Muslim man in Uttar Pradesh's Kanpur town was paraded through the street, assaulted, and made to chant the 'Jai Shri Ram' slogan by a mob belonging to Bajrang Dal. The incident took place on Wednesday and came into the limelight when distressing footage emerged.
The locals shot the incident showing the man's little daughter clinging to him and begging the attackers to spare him. Additionally, the footage also shows the man being hit while in the custody of the police.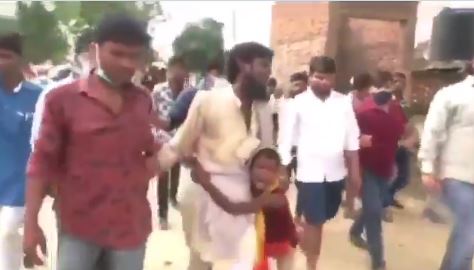 As soon as the video clip of the incident went viral, the police swung into action. According to police, 12 people have been arrested on the basis of a complaint filed by the victim. Moreover, the arrests have so far been made of three people.
"Rahul, Aman, and Rajesh have been arrested after the incident and further investigation is underway," said senior Kanpur police officer. Bajrang Dal workers protested outside the police station after the arrest.
Meanwhile, a woman in the victim's neighborhood alleges that he and his family had been pressuring her to convert to Islam. She even claimed that she approached the police and registered a complaint, but no action was taken.
"They have been forcing me to convert to Islam and even offered me Rs 20,000. I filed a police complaint against them but no one took any action. I finally approached the Bajrang Dal," she said.
Footage of the incident
WARNING: Some viewers may find the content of this video disturbing. Viewer discretion is advised.
The family members of the victim have, however, called the woman's accusations baseless. In addition, they claim Bajrang Dal members have threatened they will be forced to leave the locality.
"I was driving my e-rickshaw around 3pm when the accused started abusing and assaulting me and threatening to kill me and my family. I got saved because of the police," the man said in his complaint. 
Religion-based crimes have only risen sharply in India since independence. With an increase in hate crimes against Muslims in India in recent years, some fear the world's largest democracy is becoming dangerously intolerant under the Hindu nationalist Bharatiya Janata Party (BJP).
During the Northeast Delhi riots last year, a violent mob killed a 22-year-old Muslim man. The Delhi Police confirmed that after he fell unconscious, the mob set the man on fire.
In June, a group of Hindu extremists lynched yet another Muslim boy and brutally beat him in Uttar Pradesh's Mathura district after he refused to chant 'Jai Shri Ram'. 
Story Courtesy: India TV
What do you think of this story? Let us know in the comments section below.