Claims about the medicinal benefits of cow urine and cow dung in India are not uncommon. Now to drive home the point, an Indian doctor eats cow dung and sipped on the bovine's urine on camera while claiming it cleanses body, mind, and soul.
Indian Prime Minister Narendra Modi's party has earmarked millions of dollars for research into products using bovine waste to cure diseases like diabetes and cancer.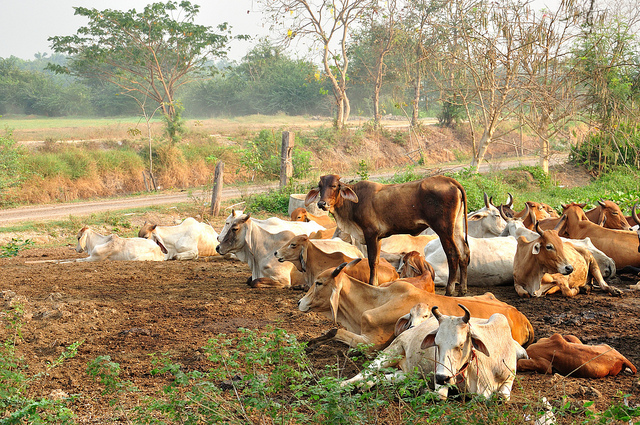 There is no comprehensive scientific evidence of any medicinal benefits. Meanwhile, several politicians from Modi's right-wing ruling party previously also advocated using the dung and urine to cure coronavirus.
You would be shocked, as well as grossed out, to know that India is the only consumer of cow urine in the world with a spreading number. Even more shocking, recently a 'halal gomutra' (cow urine) was being sold on the internet in India.
In a now-viral video, Dr. Manoj Mittal from India is seen standing in a cowshed surrounded by a few bovines and with a cow dung cake in his hand. The Indian doctor eats the cow dung during the video and explains its benefits.
As he elaborates about 'Panchgravya' or the five elements that the animal can provide, he is seen picking up a small amount of cow dung and putting it into his mouth. "Tann mann pavitra ho jaayega [it will cleanse body, mind, and soul]," he says.
WARNING Some viewers may find the following video disturbing. Viewer discretion is advised.
Here is the video
He says his mother used to break her fast by eating the same. Besides this, he also claims that brushing hands on the animal has many benefits. Not only that but also adds that women should eat cow dung for normal delivery of children.
To top it up, he even goes to take a sip of the cow's urine from his hand. Says that it has properties to purify one's body and even keep blood pressure problems at bay.
Cow urine may be notably rich in minerals like sodium, potassium, creatinine, phosphorus, and epithelial cells, but science does not support its health benefits in any way. This mineral-rich product can be used for enriching the soil, not for treating health issues.
Speaking of which, the Bollywood star Akshay Kumar, who is unquestionably one of the fittest actors and is known to follow a strict diet, also recently revealed that he drinks cow urine every day.
India is currently also into making drugs with 'cow urine and dung' for high intellect in children. 
What do you think of this story? Let us know in the comments section below.