The entire Muslim world is currently indulged in the holy month of Ramadan. Muslims all over the world are performing one of the five most important pillars of Islam with high spirits. This time of time year indeed has its own toughness and blessings, respectively.
In countries where Muslims are a minority, situations are different. It would be common for them to see people do their day-to-day activities; somethings that are to be avoided in accordance with Islam in general. For example, listening to music. Another thing Muslim minority may see is how the non-Muslims get on with their lives and eat without any consideration.
But Ramadan is all about testing your imaan and Muslims sure know how to manage that.
On the Other Hand, There Are Considerate Countrymen Like Varun Dhawan Who Observe the Holy Activities Because of their Friends
Varun Dhawan, who is Hindu and an Indian, observed a first on the first Ramadan because of his gym trainers who are Muslim. In a video he posted on Instagram, Varun Dhawan wished all his Muslim friends Ramadan Kareem and mentioned how he observed the fast with the team of his gym who happen to be Muslims.
He then performed a few workout routines for the fans to see and called it a special workout session!
Here's The Video Varun Dhawan Posted:
And Everyone Was Talking About It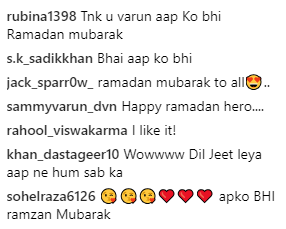 Varun's Workout Seemed Really Tough!
#VarunDhawan keeps the first #Roza and post #Iftar does a special workout! Chk out the video! @Varun_dvn #Ramadan #Ramazan #Ramadhan pic.twitter.com/si9hcfiwWk

— Atul Mohan (@atulmohanhere) May 18, 2018
He Does Indeed
Our home boy @Varun_dvn is fasting and working out during #Ramadan, and looking splendid while doing it!❤ #Kalank pic.twitter.com/kTFKOclfOI

— Dharma Productions (@DharmaMovies) May 18, 2018
[adinserterblock="3″]
Great to see a gesture of such kind from a prominent figure in India – hope this brings awareness among the masses as well. Good job, Varun Dhawan!
Read Also: Varun Dhawan's Heart-Warming Response To Mahira's Message About Afghan Refugees Will Make You Smile!