50 Pakistani students who were visiting India on an exchange program, along with their teachers were sent back to Lahore on Tuesday, after receiving threats from Hindu Extremists.
According to media reports, Routes2Roots –  a Delhi-based NGO invited these students as a part of their "Exchange For Change" Program. A day-long trip to Agra was scheduled after which the students were supposed to visit the Pakistan Embassy in New-Delhi for a meet up with Indian students. But the NGO had to send the delegation back after receiving notification from the Indian government which mentioned that it is not a favorable time to host students from Pakistan.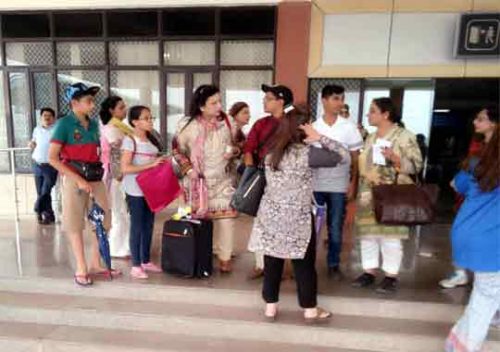 Rakesh Gupta and Tina Vachani, founders of Routes2Roots, said in a statement that,
"Around 50 students aged between 11-15 years along with their teachers arrived in Delhi from Pakistan on May 1 and were supposed to meet their Indian pen friends and hosts of other programs which had to be cut short. Keeping in view the security and sentiments of fellow Indians the delegation has been sent back to Lahore safely"
Rakesh added that,
"Even then as a precautionary measure we canceled the exchange program and now the same thing has recurred. If things go well, we will again bring the students, possibly within a month or two"
The students and their teachers arrived at Wagah Border amid tight security. They were threatened by Hindu nationalist Shiv Sena, after ties between the two countries deteriorated. Tensions flared between the two countries when India accused Pakistan of killing two Indian soldiers across the Line of Control. Pakistan Army has denied these allegations from the Indian army.  An ISPR statement mentions:
According to an ISPR statement:
Pakistan Army did not commit any ceasefire violation on the line of control or a BAT action in the Buttal sector (Indian Krishna Ghatti Sector) as alleged by India. Indian blame of mutilating Indian soldiers' bodies are also false."
It is not the first time that India has made such allegations against Pakistan. The brutal killing of Burhan Wani – a Kashmiri youngster, had previously sparked violence in India-administered Kashmir for which India blamed Pakistan for supporting Kashmiri militants and encouraging them for attacks.