Disclaimer*: The articles shared under 'Your Voice' section are sent to us by contributors and we neither confirm nor deny the authenticity of any facts stated below. Parhlo will not be liable for any false, inaccurate, inappropriate or incomplete information presented on the website. Read our disclaimer.
So, we went for Umrah with our tribe last month and it was one memorable trip indeed! If you ever plan to perform Umrah, do make sure you keep these things in mind!
1. Plan ahead
First things first, start planning at least a month before and prepare a checklist of your trip. The checklist MUST include your trip bookings especially mode of transportation and hotels.
2. Length of stay
Decide the duration of stay beforehand. We chose to spend 2 nights and 2 days each in Makkah as well as Madina and dedicated half a day each for travelling in between. The overall length of our stay was 7 days and it proved to be fair enough for all the rituals including surrounding ziyarats! However, if you wish to visit Ghar-e-Hira in Makkah, you'll have to keep a full day for it. We didn't!
3. Mode of transport
Since we had to travel from an Eastern province, road travel wasn't exactly our choice; given that the children wouldn't comply with a long haul journey via road hence we chose air travel. It's best if you discuss with your spouse what would be the most convenient for your family. We had to travel for 4 hours between Makkah and Madina via road, anyway.
4. Booking your aeroplane ticket:
We booked air tickets on Saudi National Day sale, so the cost was fairly reasonable but make sure that deals don't always allow heavy luggage, so you'll have to take hand carries along. Since we weren't aware of many of the deal's details beforehand, we had to end up spending an extra baggage charge.
4. A place to stay
The most important step is booking a proper place to stay. So, we started searching deals at booking.com! You can figure it according to your family size and check for all the options you would like to use for a pleasant stay. Make sure to check the location/maps thoroughly for the distance between your hotel and Haram!
5. Travelling in between
From the airport to the hotel:
At the airport, we rented a car via Budget Car Rental. You get a clean and well-conditioned car. The rental was approx 115+ sr/day and also depends on miles, therefore, it's best if you communicate with them regarding the deal you'd like to choose, as per your comfort. However, make sure to return the car in the same condition they gave you otherwise they might charge you an extra for any damages! You can also book car rental online but we preferred the on-the-spot version after checking the car ourselves. While my husband was out getting our car, I had to tell my children all about Jeddah airport!
From the hotel to Haram:
We preferred the taxi system. The taxi would cost 10sr, which is the best choice, especially in Makkah rather than taking your car to Haram because car parking can be a nuisance near Haram and your car can get towed if parked incorrectly. Thus, we preferred leaving our car at the hotel and taking a taxi!
6. Packing for Umrah:
*Attire: Make sure to keep comfortable clothes including comfy shoes and a pair of slippers for each of you and the kids. KonMari your clothes for extra space in the luggage. Keep at least 2 ahrams for both of you.
*Umrah kit: Prepare a small Umrah containing non-fragrant toiletries, a small scissor and a tasbeeh.
7. Important security measures:
*Name Tags: Get individual name tags for all your children along with the contact numbers for both parents written on them. Make sure to inform the children that they are to show it to the security officials in the case of an emergency. Do try that the older ones memorize the number (this is just an important safety measure.)
*Hold hands: You must tightly hold hands with all the children and constantly keep reminding them that it's important to stay close with hands held.
*For umrah: Do the Tawaf and Sa'ee one parent at a time if the children aren't comfortable with walking throughout. However, if the kids happily agree to walk then take them but do try to avoid the overly packed crowd.
Additional tips (for parents):
Tell your children about the purpose of this sacred trip and show them the important places. Talk to them but don't expect that they'll behave as seriously as adults. Also, try your best to patiently answer their 5930573826 questions.
Tell the children to recite the Quran, even if it's one surah, and discuss with them the importance of prayers and the history of Umrah.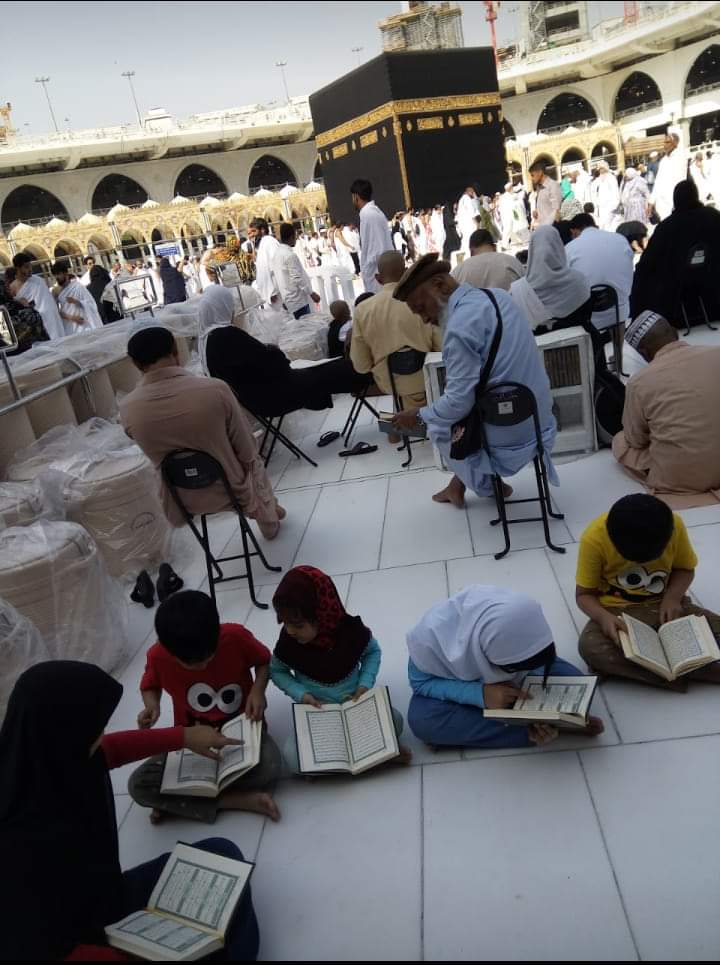 Please do the Fardh Rituals and try for the Sunnahs as well! If you're unable to perform a task then rest assured, Allah's kindness is greater than what you couldn't do. Have faith that Allah is watching us and that He has blessed us with the opportunity to take our children along with us so just pray sincerely and Allah will fulfill all our wishes Ameen.
Lastly, keep my family and me in your prayers!
Want to add something more to this? Let us know in the comments section below!