"Allah tujhe chand sa dulha de, apne bhaiyon ka sadqa de ja baji. Allah tujhe Makkah Medina dikhae…" she spoke fluently. Her worn out shirt with dirt spots indicated her background. I tried to get rid of her but the begging bowl forced my hand. As the coins made place in it, she ran towards others.
From more than four thousands slums in Karachi what else would you expect, except beggars, criminals and drugs addicts? The ratio of increment in their number does not link with Ramadan anymore.
People within and outside the government place the responsibility of the number of beggars on poverty.
It's a half truth.
It's not only the poverty, but the carelessness of the government who should also take the responsibility.
After Partition, hundreds of migrants were coming with and without money. When Karachi's urban areas were becoming over-crowded the migrants were sent to Orangi, then became the oldest slum of Pakistan. Coming to life like an organism that grows on what is leftover, Orangi had no real roads, no formal education system for the hundreds of children that hopped on its trash heaps, no clean water for the thirsty throats of its hardly surviving souls.
From these slum areas, not only the street beggars but the forceful workers were also evolved.
A story of many teenagers working on workshops, hotels and different shops show their interest towards having a job. They are motivated towards a better lifestyle. Instead of having no special respect, to bring up their children women do work as maids. They carry their infants even so that work hours might not be disturbed.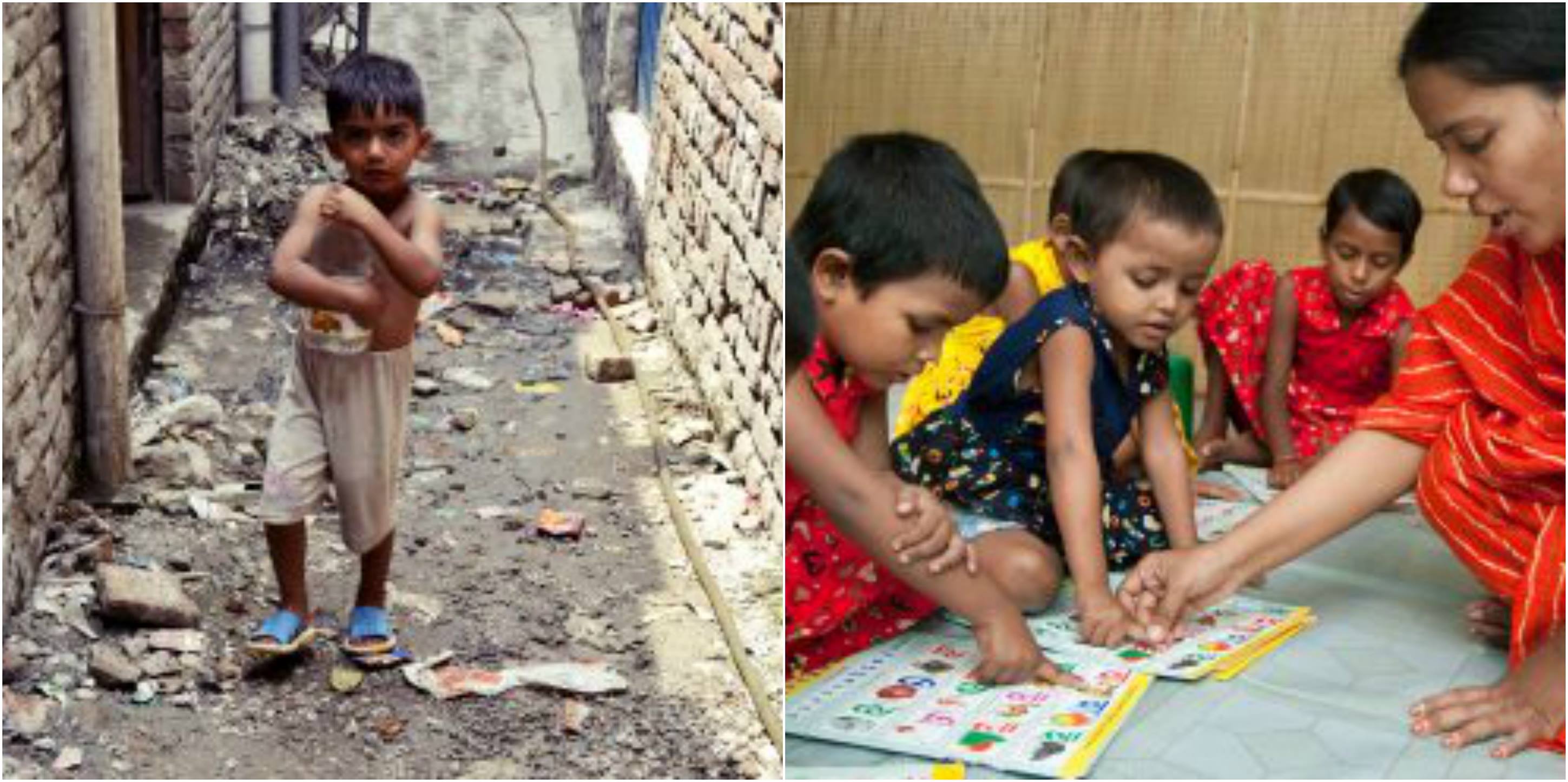 What priorities should be set for around four million slum dwellers; education or food?
Different countries are working on both these days.
In Lagos-Nigeria, Action Health Incorporated has launched program for out-of-home adolescent girls in which they provide easy-to-access business development, entrepreneurship programs, and personal finance education to build girls' economic empowerment, and offers mentorship programs with successful working women in the community.
In Mumbai-India, Slum Aid by New Millennium Network Limited is working with different local NGOs for the betterment of slum dwellers. They designed a project for two weeks to six months in which they organized English language Courses along with provision of incentives.
Unfortunately Pakistan has left these poor creatures on the mercy of God. No appropriate plan or project have been designed, and not even considered as a problem by the government.
Ramadan is on the way now and so are the street beggars. Many have temporarily shifted towards urban areas with their jhuggis (tents or camps) and will remain there till Eid.
It is the time to take initiative. Every afternoon during the month of Ramadan, you will see groups of people scurrying around busy roundabouts and on major traffic routes, setting up tables and food items.  They are the volunteers working with different welfare and charitable organizations as well as common citizens preparing to offer iftar to anyone who doesn't have the means to buy food, or even for people who are late and can't get home in time for iftar.
With the same passion we can help the slum dwellers in every aspect of their life where the troubles occur, whether it is food or clothes. Step ahead and join the hands with the volunteers, otherwise we all will be held responsible of making them criminals.