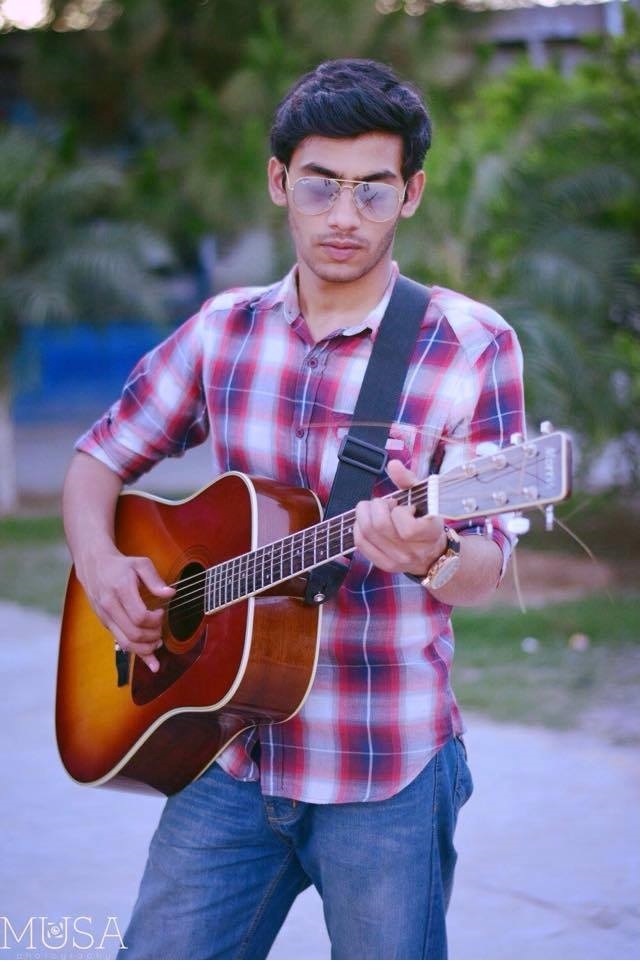 Q1. Please tell us about yourself.
Ans. My name is Mustafa Kashif and I'm currently doing my Bachelors in Computer Sciences from Iqra University Islamabad Campus.
All my life I never really found out what it is I wanted to do with my life but when I explored music for the first time I felt like I am home. As time passed my relationship with music grew stronger.
Other than music I'm fond of poetry and novels, some of my favorite novels being "The 40 Rules of Love" and "Conversations with God".
Q2. What inspired you to become a singer/ songwriter?
Ans. Coming from a family with a non-musical background I never had any musical influence from my family at a young age.
Till the age of 16 I had no interest in making music (even though I'd been gifted a beginner guitar when I was 10) because I'd never been properly exposed to it until I moved to Lahore. There I made some good friends who all happened to be musicians and whenever we used to hang out together they used to jam. I didn't know it at the time but because of that I developed a taste for music.
So when I moved back to Islamabad, I started singing with karaoke tracks and uploaded them on my Facebook profile to see what my friends thought. Then a year later I bought myself a semi-acoustic guitar and from there on my journey as a musician started.
Q3. What does music mean to you?
Ans. To me music is a way of expressing my feelings and my beliefs and I think if I hadn't found music my life would probably have no meaning right now.
Music is not only my medicine but it's also an escape for me. I want to make music to remind people to experience, to feel, to love, to laugh, to share and to want.
I want to make music for them because they are a part of me and because without them I am nothing. Because it is what I live to do and what I am meant to.
Q4. Your favorite singer (Local/international). What makes you love them?
Ans. My favorite International artist is John Mayer and the reason I love him so much is because of his amazing musical compositions, his lyrics and especially his improvisations on the electric guitar in his live performances.
There isn't any album by John Mayer that I haven't listened to… he is the main reasons I was inspired to pick up the guitar. Other international artists include Eric Clapton, The Beatles, Bob Dylan, Damien Rice etc.
Some Pakistani artists include Atif Aslam, Ali Zafar, Ali Sethi, Call, Ali Azmat, Nabeel Shaukat, Noori, Shafqat Amanat Ali, Sajjad Ali etc. I love these artists because they all have a unique style of portraying their message through songs which inspire so many.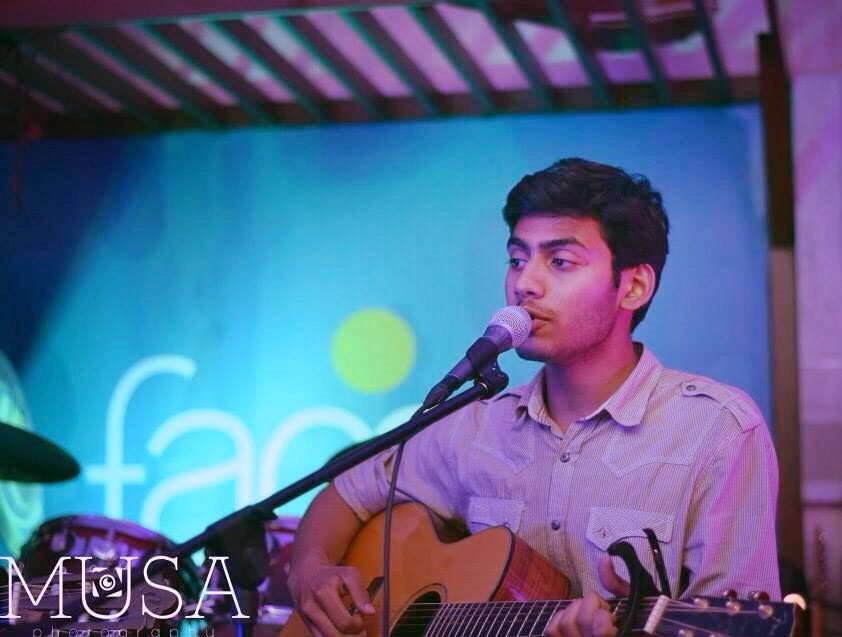 Q5. Do you see singing as a hobby or profession? Is your family supportive?
Ans. I would definitely love to pursue music as a profession because I'm passionate about it.
Even though music is not commonly viewed as an ideal profession in our country, I think if one is patient, determined and hard working towards his/her goal anything is achievable. 
My family Alhamdulillah has always been very supportive of me and have always encouraged me to work harder for my dreams, all they ask in return is for me to complete my education.
Q6. What are your future plans? Where do you see yourself in the next 5 years?
Ans. In the next 5 years I see myself in a tour bus travelling to my next performance venue, crowds numbered in 1000's anxiously waiting for me to come on stage and sing my heart out, not only nationally but internationally as well.
I want to travel the world, explore new places, meet new people and musicians and share my art with them. I intend to explore my destiny and luck in this area and want to make it big in the field of music.One thing that I definitely want is to give back to community and provide them opportunities that musicians and artists of this country lack.
One such living example is that that of Nescafe Basement which has been providing young musicians a platform to showcase their talents and has been very instrumental in promoting their work. I want to help in reviving the music industry of Pakistan and also want to make music a career option for our people. I have a lot of plans and In Sha' Allah I will implement them because my plans are a part of my dream.
Q7. What is your message for young aspiring singers of Pakistan?
Ans. I myself being a young artist would only say one thing to my fellow artists and that is:
"If you know you possess a special talent and you have that fire burning inside of you to do something with it, don't hesitate because life doesn't give us second chances."
The biggest problem young artists of Pakistan face are family related, my advice to them is that confront them with your achievements. If you keep doing what you love and you work hard for those things, there comes a time when it all pays off. What I've learned is that one's efforts never go wasted, no matter how small we feel about them, in the longer run they pay off. If you know music is what you were made to do and you know that it is your sole purpose for coming to this world then you already have it all figured out. Now, you just need to take the first step.
FB Page: www.facebook.com/mustafakashifOFP
Soundcloud: www.soundcloud.com/mustafa-kashif1