Imran Khan has received enough hate, but not more than the amount of love that he has received till now. From the time when he was the finest sportsman, till now that he has become the PM of Pakistan. Imran Khan has faced a lot, from the hardcore fan following to massive media hate by journalists who called him names like "Playboy" and what not!
Back in the time when most of the millennials were yet not born, but the parents of all those millennials witnessed the first and last (till now) victorious world cup cricket match! Form that time, people were crazy about him, like legit crazy. For the way, he carried himself and his tireless dedication.
There's no secret that women melt around him! 😉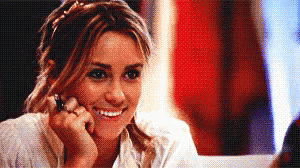 But his fan following most came from the females all over the world. JE HAAAN! Kaptaan, is known worldwide, as it is said that his ex-wife Jemima Goldsmith was his fan too! His projects were supported by the likes of Lady Diana, she came to Pakistan and raised funds fo Shaukat Khanum Memorial Hospital.
We all know what happened when he was declared the PM of Pakistan, many international publications were quite "jealous" and they went as far writing that the "World Famous Playboy is now the 22nd PM of Pakistan" Welllll!!! So far there have been no allegations against him, about his inappropriate behavior! So what if the ladies adore him?
This video clip is a proof that how women feel around him, long before he was a politician! *blush*
The first lady in the video is the famous model of that time Anita Ayub, who herself was an epitome of beauty, but look how she's melting around him. IT IS IMPOSSIBLE IF THIS VIDEO DOESN'T MAKE YOU SMILE!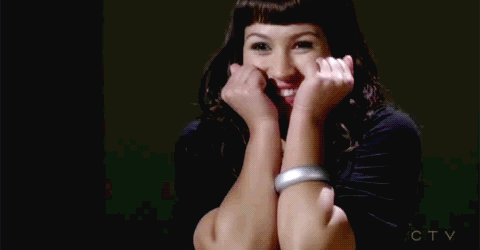 The second shot of some other show where Moin Akhtar again makes sure that people are noticing the "heat" on the stage! WOHHOOO!
"Ap kis k qareeb bol rahy hain? Mic kay yaaaa…?" Ae hayeeee!
And after this video went viral, people in the comments section went lattoo over Imran Khan's blush!

90 saal ki umer! First, he's 66 and second, he still looks much younger than his age. Okaayyy?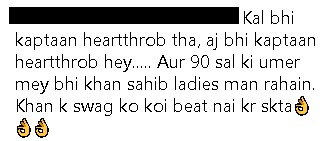 Indeeeeddd!

Hayee, hainaaa?!

How can we miss this video? Like where are all such interviews of him? Can we get to see more such videos? This could be a new Instagram trend! No?
Having to watch such a charming man, he's so fine that anyone can get her heart slip. You just like that! 😉
He's a national crush for generations and still maintains that position. His demeanor is all that counts, isn't it?
Do you know anyone who has a crazy crush on the "sexy PM"? Tag them and make their morning great. Hehe, 😀