Flood victims are still suffering and there's a huge corruption being held during the process. Lots of rations and goods were stolen for a potential smuggling trade. Despite of that, people are still helping these flood victims and raising funds.
Pakistan Tehreek-e-Insaf founder and chairman Imran Khan held 3 successful telethon campaign and he raised unimaginable funds for the flood victims.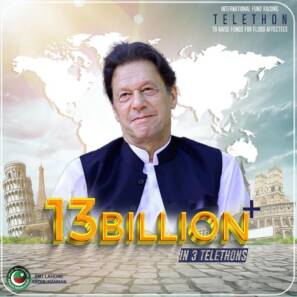 Netizens totaled the amount of three telethons and it summed up around 13 Billion which raises the bar of Imran's popularity and shows how much people trust him.
With that his total sum amount trending on Twitter and his supporters tweeting in his support.
Netizens tweeting about Imran Khan's telethon fund collection
In his first telethon for the flood victims, he raised 5 Billion and grabbed everyone's attention. After the three successful telethons, Imran raised 13 Billion for flood victims which made netizens praise the Kaptaan.
One user wrote, After collecting 10 billion in 2 Telethon Ex PM Imran Khan has collected pledges of an additional 357 Crore in 3rd #Telethon
1st telethon: Rs 522 Crore
2nd telethon: Rs 510 Crore
3rd Telethon: Rs 357 Crore
Total: Rs 1389 Crore
#earthquake #T20WorldCup COAS #TelethonByImranKhan
Another one wrote, "Alhamdulillah!!
1st Telethon: Rs 522 crore
2nd Telethon: Rs 510 crore
3rd Telethon: Rs 357 crore
Total: Rs 1389 Crore.
Only Imran Khan can do this!! #TelethonByImranKhan."
Pay for country's debt
One user targeted the point in which he asked the government not to approach IMF. "Instead of going to IMF program Telethons must be launched in order to get rid of foreign debts Pak can move on Telethons
First telethon: Rs 522 crore
Second telethon: Rs 510 crore
Third Telethon: Rs 357 crore
Total: Rs 1389 Crore. But where does such a huge amount of money goes?"
No doubt, Imran Khan has done everything to raise as many funds as he can for the flood victims. Imran Khan's party showed the opposition in the recent in-state elections that people are with them. In July, Pakistan Tehreek-e-Insaf (PTI) demolished the opposition party in the Punjab election.
What do you think of the story? Tell us in the comments section below.