PSL 7 kicks off tomorrow (Jan 27) and has received the endorsement of PM Imran Khan as well. There have been a lot of teasers, anthems, and brand ambassador announcements lately, but many believe the PSL has the best ambassador of all — Prime Minister Imran Khan.
The PTI posted a video of PM Imran Khan opening the PSL 7 tournament two days before it actually opened with the caption, "PM Imran Khan's message on the PSL" and the hashtag #LevelHai."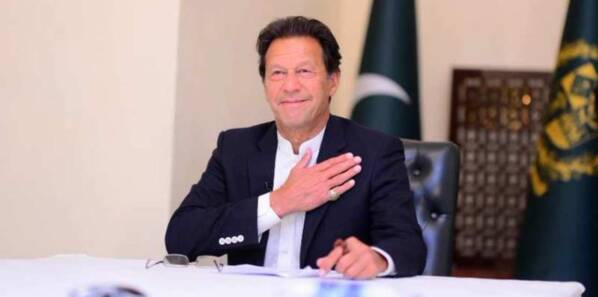 The video features PM Khan's former teammate and current PCB Chairman Ramiz Raja walking in slow motion towards him with dramatic music in the background, on his way to see the PM and make the announcement for the opening.
"I'm opening the seventh PSL and I hope every team fights till the last ball and entertains the public," PM Imran addressed the camera before using his index finger to transform the screen to the PSL's green.
Have a look at the video:
A few hours later, the PSL shared the same video on Twitter and said, "Just a preview of what's to come. Catch all the action starting from our curtain-raiser on 27th January at 6:30 PM. Kon araha hai stadium [Who is coming to the stadium]?"
Some fans joked that the PTI may have posted earlier by mistake.
Others really liked the slow-motion walk!
Some even said the PM should "run his campaign through this platform".
It won some points for the league.
One user even threw shade at the PSL anthem, praising this instead.
Someone said the video belongs on TikTok,
PCB anthem for season seven
The Pakistan Cricket Board (PCB) released the anthem for season seven of the Pakistan Super League, which is titled 'Agay Dekh'. The anthem is sung by Atif Aslam and Aima Baig and produced by Abdullah Siddiqui.
The short-form video platform, TikTok, has sponsored the anthem.
The theme of the song is inspirational and motivational with the lyrics and music aimed at uplifting the mood of the fans and the nation as the world is passing through tough and testing times due to the covid-19 pandemic.
This is the first time Atif Aslam has sung the PCB's marquee event song, while Aima Baig had featured in last year's 'Groove Mera'. It must be noted that season seven of PSL will begin on January 27.
Following the release of Groove Mera, many criticized the makers and singers on social media. More so, as per the modern custom, memes were hurled at the singers while several mocked Neseebo Lal's singing. But Shoaib Akhtar got a bit extra critical of the PSL anthem when he threatened to sue PSL for the "awful" song.
What do you think of this story? Let us know in the comments section below.