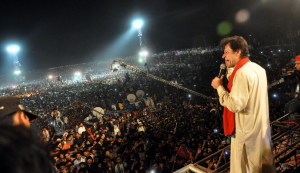 Imran Khan and PTI have gone berserk after the Multan jalsa in which eight people were reported died of stampede and over 120 injured. Many of PTI workers have been seen questioning PTI's administrative capabilities in dharnas and jalsas as this is not the first time we have witnessed mismanagement in PTI jalsas. Apart from party workers, Imran Khan and PTI have been taken to task by media, which is something we don't see often.
As expected, government avoided to take responsibility either, and made the useless committee to investigate the causes and reach to the culprits. The fact of the matter is that both government and PTI members are equally responsible for the sad loss of lives. And, it also holds true that making a committee to investigate the incident is the best possible to way for both of them to save their faces from embarrassment. However, the incident was inevitable in the light of worst arrangements such as gates closed, colossal number of people attending the jalsa, inadequate seating arrangements, and no evacuation plan devised by authorities in case of emergency.
It got worse when Imran Khan and DCO of Multan start blame-game holding each other responsible for the the incident. Imran alleges that most of the doors of the ground were closed, except two of them. DCO Multan, Zahid Saleem Gondal claimed it as mandatory because of security reasons. Moreover, he has refuted PTI claims of shut-down of electricity and said the lights were turned off by PTI organizers once the jalsa got over. Moreover, he claims, the government authorities had saved number of lives by sprinkling water over the crowd. We have pretty much good idea where this blame game will lead. It will only humiliate both the parties enough to absolve each of them from this gloomy incident. But, not taking any one's side, it is most pertinent to analyze the reasons of 'brutal stampede'.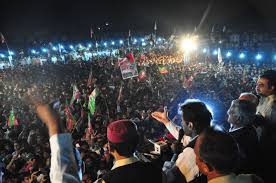 Imran khan's two-month long dharna has earned him more responsibility then fame as ever. Imran Khan's supporters look more fierce and enthusiastic than they were two months ago, the reason being their leader's fiery slogans against Nawaz Sharif and his government and assurance of a change as just a step away. Every day Imran khan boosts up energy within his supporters and fans for the 'change' through lofty promises and mighty slogans. As the result, every day comes with a hope of Imran khan finally materializing his promises for his people.
In this haste for change, many of Imran Khan's die-hard followers follow him to the jalsas taking place indifferent cities. People have become frantic about Imran Khan and his Go Nawaz Go movement. They had anger within the increasing energy, and that anger couldn't be vent out for long time until the Multan Jalsa happened. This was the main cause for the brutal stampede. The frustration within people turned the people frenzy and they lost all their nerves turning themselves into panic stricken mob trying to rush out of the stadium. To the worse, people didn't mind stepping over the dead bodies in a quest to save their lives surrendering to suffocation. Most of them were they young boys, who were enthusiasts of Imran khan and they didn't deserve to die in this manner.
Its high time Imran khan realized his dharnas and jalsas are making no fruits neither for himself in the politics, nor for his followers. He must realize the essence of clichéd maxim 'actions speak louder than words'. Merely talking about change and making ever increasing lofty promises is doing nothing but growing hopelessness and exasperation amongst his followers. Imran Khan has emerged as a demagogue with this mode of politics and it's no more acceptable if it leads to death and destruction. This is not the first time we have seen PTI supporters incited to do irrational acts. The attack on PTV building and GEO network was the result of stuffing of frustration within young souls that had to be vomited out in the form of attack on state and private television. Stampede in Multan jalsa happened in the same manner with the same though process of followers. The only difference in this case was government's abetment in the debacle. Moreover, the ground at which jalsa occurred didn't match the psychologically frustrated crowd that prompted to act the way it did.
Wasn't it obvious that enclosed stadium causes the instant panic and anxiety within the crowd specially when there are no seating arrangements? An individual person needs space and once he is denied that space he gets shaky and irritated. Moreover, the environment created by jalsa organizers by turning on the music and making the jalsa more of the concert made people frenzy and made the stampede inevitable. People started searching for space and once they couldn't find it, pushing and pulling started to get the breath in. This all led to crushing of few people who failed to get least the space required to breathe and collapsed.
Moreover, in Pakistan, people get panicky mostly in the crowded place. They lose their calm and try to imitate what the collective bunch of people is doing without even giving a rationale thought. A person follows what the group does. And, he only does that thing when he is in the group; outside of the group, he refrains from doing so. Same is the case in jalsas these days. People lose their temper while chanting slogans and dancing to the tunes that goes out of control and leads to stampede such as in Multan in worst cases. People in crowd, wary of colossal numbers, think of them as invincible against controlling authorities and tend to do things which are uncalled for. In this case, the leaders, in this case, Imran Khan has the responsibility to control the frantic crowd. He informs and educates them about their civic responsibility and to remain disciplined. This is least found in Imran khan's jalsas. He, rather, incites crowd by anti-opponents slogans so much that people happily move towards the stampeding situations not realizing the ill-effects such as chaos, death, destruction. It's high time that Imran Khan realized his moral responsibility to infuse discipline amongst his followers; after all the leader is not only the one listening to people's demands but one who directs them with his pragmatic vision ensuring the safety and security of his followers. And, after the death of 8 people in Multan Jalsa stampede, it falls obligatory on Imran Khan.