Shrines and tombs of people having religious significance have always been a subject of controversy in Pakistan. A divide among the public separates those who support the idea of such deceased personalities having religious significance, the public practicing holy rituals at their shrines and basically considering them as a source of spiritual power that could influence their lives on a positive note.
On the other side, there are also those who simply negate the significance these shrines and tombs hold. They simply do not believe it to be true and consider it a stigma stemmed from society's ignorance and conventional mindsets.  However, it is not suggested that this side of people want the removal of such places from our lands. They simply have different beliefs and do not mean anything against them. It's also a fact that those who visit such places are looked down upon in the eyes of people.
Meanwhile, PTI Chairman Imran Khan was seen in a similar position. The PTI chief's recent visit to a shrine has sparked a massive controversy among people. He visited the shrine of Baba Fareed along with his wife Bushra Maneka.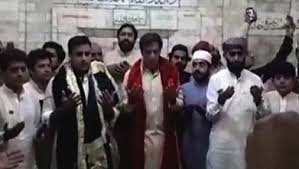 Here is how Imran Khan explains his visit to shrine:
People are constantly sharing his footage of this visit to the shrine. Many supporters are divided here as well because they believe their sentiments have been hurt. It appears that the former Pakistan national team captain is once again surrounded by a wave of controversy right before the elections.
People are constantly criticising Imran Khan for the way he paid his respects. Others are coming to his defense, suggesting that it is a wholly personal choice and he should not be misled in this matter at all. People should respect other's personal religious choices and beliefs.
Hold on maulvis! Imran Khan and other followers of Sufi shrines do not perform 'sajda' because they worship the saints. They perform sajda as reverence and in respect. "Intention" is the defining distinction between two similar rituals. Take it easy!

— Syed Ali Abbas Zaidi (@Ali_Abbas_Zaidi) June 28, 2018
Plus, some political experts and rights activists have suggested Imran Khan abstain from making any statement regarding this spiritual visit because it might further spark a controversy.