Imran Khan in the early 90's was nothing less than a sensation to people, Pakistan winning the cricket world cup was all over the place. Though it was the first and last time, Imran Khan was considered the best captain of Pakistani cricket. Indeed is the leader's skills and an athlete's sportsmanship that make the team win and stand out. 1993's Pakistani cricket team was adored to the core. In the recent years, when Imran Khan got into politics and made his own party, he was supported by many especially the youth and during the Islamabad dharna, all the youth of Pakistan wanted to attend that.
All the Islamabad's burger aunties and yo kids finally found a political party that suits their demeanor. Imran Khan didn't leave any corner for his party-cum-dharna to be the coolest free place in town. There was food and music, what else do a freebie needs? Imran Khan and Nawaz Shareef fight like two neighbor uncles whose existence doesn't matter to anyone around but bother everyone with their loud fights. Recently in an interview, Imran Khan fumbled and it was the most awkward thing you'd witness today!
Imran Khan's Interview. Try not to laugh!!
Yeh kia kehgya Imran Khan "Hammari Potty…party" ?

Posted by Karachi Walay on Monday, February 12, 2018
True or not, but the "
hamari
potty…party" is actually very funny. Some might doubt the coherence of it but let's be honest, who doesn't love such fumbles? *inside jokes* We all remember the time when Nawaz Shareef, the ex-PM said by mistake that "mujhy kyun nikala?"which later became a Twitter's trending hashtag. There were memes all over the internet and it actually became Pakistan's inside joke.
Ouch!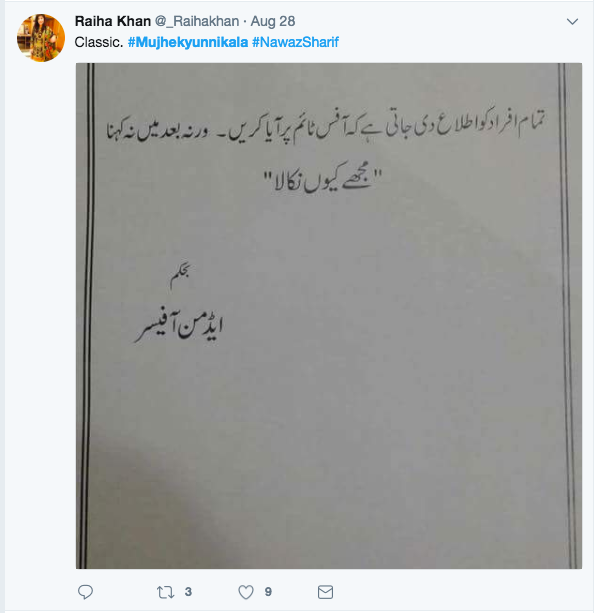 Not just that, but after Nawaz Shareef was being trolled so badly and he started questioning Imran Khan's credibility, everyone else wanted Imran to get investigated as well, upon which, Imran started saying in his address to people that "Mera Jurm Kia Hai?". This later became another famous hashtag. So, after that, all the PML-N fans got a comeback for "Mujhy Kyun Nikala?"
Must be!
If nothing, Pakistani political parties are really good at giving people gossips or a good moment of a laugh. It's more like a drama come to reality where real characters and people are fighting and making the world famous dialogues. Imran Khan got married and had a lavish dreamy photo shoot and the next thing we see was the couple getting separated and his first wife makes a come back! Umm… Star-plus much. *Runs away* But wait, Reham Khan is no less than Imran or Nawaz. She is badass at trolling people and giving them a taste of their own medicine.