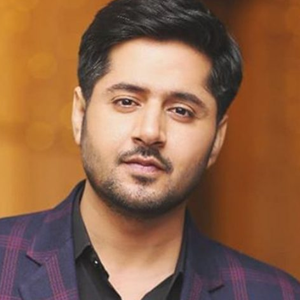 Imran Ashraf biography
Imran Ashraf is regarded as one of the finest actors of Pakistan. His fans have seen him portray different roles in a flawless manner. Whether it is portraying the mentally challenged Bhola in Ranjha Ranjha Kardi, Sunny in Lashkara, Tipu in Tu Dil Ka Kya Huwa or Shamo the transgender in Alif Allah Aur Insan, Imran Ashraf has given his best to whatever he does.
The performing artist has his impact with so much conviction, that he makes the audience to experience passionate feelings for. The versatile actor has done various types of roles till date. This ranges from supporting cast to side-kicks, protagonist and even antagonist. The actor has certainly proven his mettle in each and every dimension.
Early life and education
Imran Ashraf was born on 11 September 1989 in Peshawar. He got his early education from the modern age education institute in Abbottabad. Imran has only one brother by the name of Abbas Ashraf. He is a very talented individual. In 2018, he married his co-star Kiran Imran.
Both Kiran and Imran have been blessed with a baby boy named Roham Ashraf. 
Showbiz career
Initial roles
As an actor, Imran Ashraf started his career with the drama serial Wafa Kaisi Kahan Ka Ishq in 2011. He got massive success in his very first drama serial. Since then, he has moved towards his success steps in a very swift and efficient manner. After that, he worked in the drama serial Baandi in 2012.
Imran's appearance in Dil Lagi, Alif Allah Aur Insaan, Dil Mom Ka Diya and Tabeer has certainly made him more and more prominent for his fans and audience to pay attention to him.
Nationwide success in portraying Bhola
Imran's reason for nationwide fame was due to his remarkable performance in the famous drama serial Ranjha Ranjha Kardi. The drama also featured Iqra Aziz, Syed Jibran, Asma Abbas, Munaza Arif, Ammara Butt, Ismat Iqbal and furthermore Kashif Mehmood in important roles.
In an interview to a local news channel, Imran shared how difficult it was for him to perform the character of Bhola. He said "I have done numerous characters. However, Bhola is the hardest of what I have done in my life. As a performer, this is my fantasy job, claiming Bhola has given me an acting edge so wide that I have shown a scope of feelings and changes as an on-screen character in this one character."
Imran also reflected on how he enjoyed working with the director Kashif Nisar. "My chemistry with director Kashif Nisar has been stunning. All through Lashkara and now Ranjha Ranjha Kardi, I have been exceptionally happy with shooting, this hardest character of my life, easily, with Kashif Nisar," said Imran Ashraf.
Imran is also regarded as an excellent writer. He wrote the script and dialogues for the drama serial Tabeer which was a super hit and now he working on another script for Hum TV.
Controversy
In October, Actor Firdous Jamal talked insensitively about the capabilities of the actor Imran Ashraf. He started off by mentioning that the younger actors do not have that "wisdom" in them. Then, he proceeded to target Imran Ashraf for his role in the drama Ranjha Ranjha Kardi. That drama got Ashraf immense fame because of its relevant topic and his impressive acting. However, Jamal decided to disagree.
He said that Ashraf's acting was spontaneous. Moreover, he further went on to mention that the other actors who took such roles, didn't "act" it but Ashraf did the exact opposite. Not to mention, Jamal also said that this generation just hasn't seen great performances. Hence, he put Ashraf's role at a relatively lower level than the ones performed by people before him. Jamal does not realize that actors want to earn a livelihood and every actor has their own style of conveying the role. If it doesn't match the preferences of Jamal, that shouldn't mean that the acting wasn't good. Imran Ashraf, however, was graceful and gave a civilized response. He said:
It is evident that Ashraf not defame Jamal but rather praised him. Ashraf mentioned that he didn't take Jamal's comments to heart and wishes to improve through them. However, he advised social media users to limit their hate comments. Topping it all off by saying, "Even if the elders in our house tell us something [offensive] it is not necessary that we take it badly".
List of dramas
Wafa Kaisi Kahan Ka Ishq – Drama (2011)
Baandi – Drama (2012)
Mere Meherbaan – Drama (2014)
Shehr e Ajnabi – Drama (2014)
Mohabbat Aag Si – Drama (2015)
Gul e Rana – Drama (2015)
Aabroo – Drama (2015)
Dulha Mil Gaya – Drama (2016)
Ishq Nachaya – Drama (2016)
Faltu Larki – Drama (2016)
Jhoot – Drama (2016)
Dil Lagi – Drama (2016)
Bad Gumaan – Drama (2016)
Shehrnaz – Drama (2016)
Khuda Mera Bhi Hai – Drama (2016)
Dil e Janaam – Drama (2017)
Alif Allah Aur Insaan – Drama (2017)
Tu Dil Ka Kya Hua – Drama (2017)
Mein Maa Nahi Banana Chahti – Drama (2017)
Tabeer – Drama (2018)
Lashkara – Drama (2018)
Dil Mom Ka Diya – Drama (2018)
Ranjha Ranjha Kardi – Drama (2019)
Inkaar- Drama (2019)
Jaal – Drama (2019)
Siskiya – Drama (2019)
Mushk – Drama (2020)
Awards and Nominations
Imran has won several awards for his performance as an actor. His first ever award was the Viewers-Choice Award 2016 for the drama Dil Lagi. Later, he won the International Pakistan Prestige Awards in 2017 for the drama Dil Lagi. He also won the Lux Style Awards in 2019 for the drama serial Ranjha Ranjha Kardi. It was regarded as a heart-winning performance by him onscreen.