The Islamabad High Court (IHC) on Tuesday gave last chance to Pakistan Muslim League-Nawaz (PML-N) supremo, Nawaz Sharif "to surrender" and appear before the court during the next hearing on September 10.
An IHC division bench, comprising Justice Aamer Farooq and Justice Mohsin Akhtar Kayani, was hearing the appeals of Nawaz Sharif and family members on Tuesday in the Avenfield reference.
Maryam and her husband, Safdar were also present in the court, according to a report by Dawn.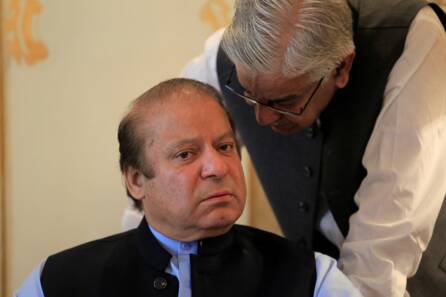 IHC Tells Nawaz Sharif To 'Surrender' On Sept 10
The IHC also heard an appeal filed by the National Accountability Bureau (NAB) against Nawaz's acquittal in the Flagship reference along with appeals against his conviction in the Al-Azizia reference.
Justice Farooq said the court was not declaring Nawaz an absconder. "We are not taking a final decision as yet."
However, Nawaz's counsel, Khawaja Haris Ahmed, said the former PM could not return to the country due to the coronavirus pandemic.
"Do you fear that Nawaz will be arrested at the airport?" asked Justice Kayani. "If that is the case, please inform the court."
Nawaz's counsel argued that his client's bail had been approved after his sentence in the Avenfield reference was suspended. He said Nawaz had also been granted conditional bail in the Al-Azizia reference.
However, the lawyer accepted the ex-PM was currently not abroad on bail.
He added Nawaz's medical reports were forwarded to the authorities concerned. However, the Punjab government had rejected an application seeking an extension in his bail.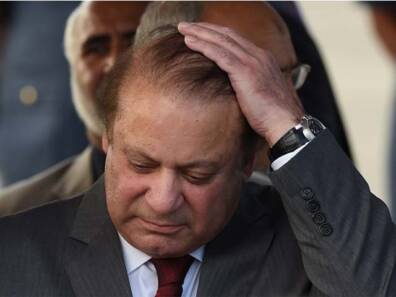 "He has not [challenged the Punjab government order] because he [Nawaz] is not in the country."
The IHC asked whether Nawaz was currently under treatment at a hospital. "No, he is not under treatment at a hospital. But he will return to the country once his treatment is complete," replied his lawyer.
The bench asked the lawyer to satisfy the court that Nawaz had not absconded.
"Nawaz is a fugitive as he is not appearing before the court," said the NAB prosecutor.
Nawaz Sharif anxious to return to Pakistan: Maryam Nawaz
Earlier while talking to the media, Maryam said her father was anxious to return to Pakistan.
However, she added Nawaz was undergoing treatment in UK which was delayed due to coronavirus.
"I will remain stubborn and say that Nawaz Sharif should not come back till his treatment is over. He is very anxious to return home," she added.
Nawaz was serving a seven-year jail term following his conviction in the Al-Azizia reference. However, last year the government allowed him to leave for London on bail for medical reasons. Will the former prime minister appear Nawaz Sharif before the IHC on September 10? Let's wait and watch!
What do you think of this story? Let us know in the comments section below.