Disclaimer*: The articles shared under 'Your Voice' section are sent to us by contributors and we neither confirm nor deny the authenticity of any facts stated below. Parhlo will not be liable for any false, inaccurate, inappropriate or incomplete information presented on the website. Read our disclaimer.
Pakistan is a country quickly adopting latest technologies and migrating from mobile phones (dumbphones) to smartphones. The reason behind this huge shift has been the launch of 3G and 4G in Pakistan. Smartphone brands are selling phones that are affordable yet have all the feature-set a smartphone is expected to have.
Some of our celebrities and smartphone brands have a very polarising fan base. Let's take Apple and QMobile for example, Apple is an international brand and sells premium high-priced smartphones. Whenever Apple launches a mobile phone, smartphone users get into an endless debate on why they love it or hate it. Similarly, QMobile prices are affordable and it is the highest selling brand in Pakistan but people still love to hate it.
The craze of smartphones is such that we have started judging people on the basis of the smartphones they own. We thought it would be great to turn things around and see if a celebrity persona is converted into a smartphone, which smartphone would they be?
Let's take a look at some of the popular celebrities in Pakistan and which smartphone truly matches their persona.
1. Fawad Khan – Samsung Galaxy S8
Fawad Khan is a heartthrob of millions of people in Pakistan and our neighboring country, India. He gained popularity due to a few women-centric television serials in which he played a role of a perfect gentleman. Well, in real life, he is no different. His persona and style match the most with Samsung Galaxy S8, Samsung's recent flagship smartphone. Samsung prices are a bit higher on the flagship phones but S8 series is exclusive, so is Fawad Khan.
The smartphone is beautiful, bezel-less, premium, and sharp. Pictures do not do justice to this smartphone, you gotta see it in real life to witness its real beauty and nearly perfect design.
2. Mahira Khan – Huawei Mate 10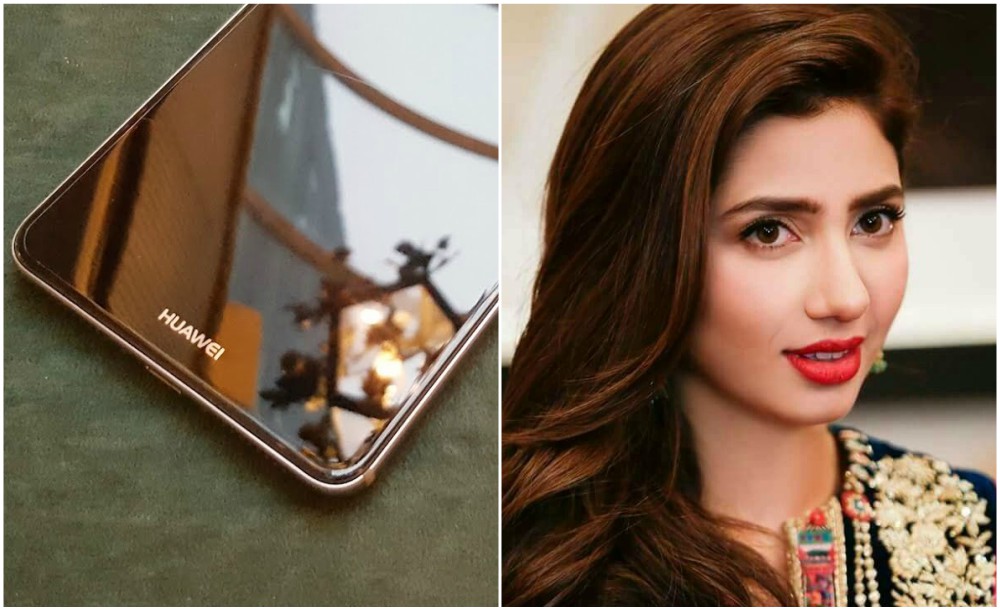 A video jockey turned actress, Mahira Khan also enjoys a huge fan following in Pakistan and India. Mahira and Fawad both have worked together on screen several times and climbed the heights of fame owing to their recent ventures in India. Mahira was embroiled in a MahBir (Mahira – Ranbir) gate recently when pictures of her with Ranbir Kapoor, Indian celebrity, appeared on social media but Mahira, the cool person she is, told everyone that her life, her choices and her decisions.
Huawei's new flagship Mate 10 is just like Mahira. Neat, beautiful and world's first AI chipset powered. Like Mahira, Huawei Mate 10 due to artificial intelligence will be able to make its own decisions without relying on any external server saving enough battery juice to sustain almost a day. So yes, Mahira is Huawei Mate 10.
3. Ali Zafar – iPhone 7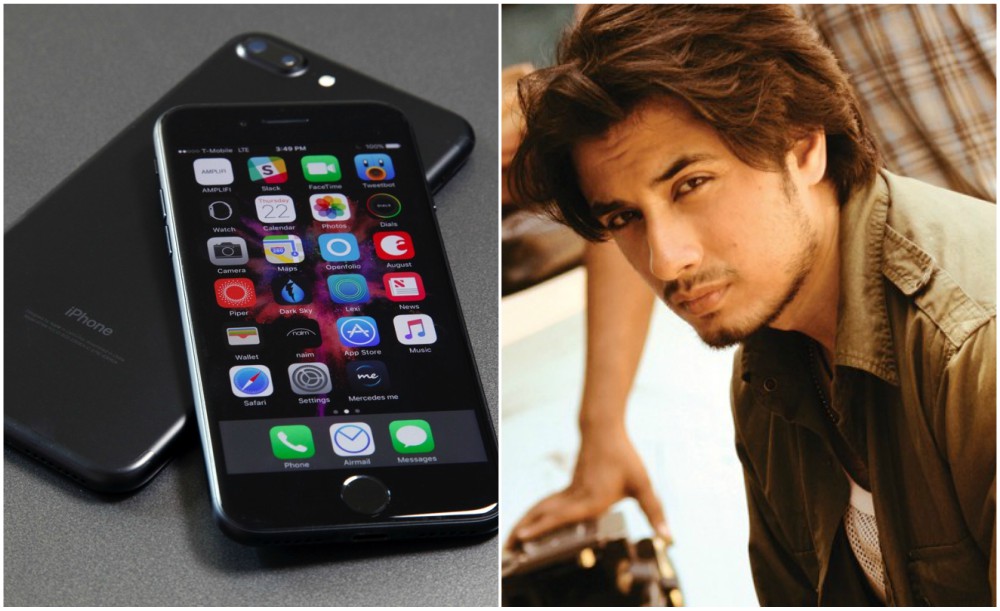 Ali Zafar is the perfect combo of looks, intelligence, kindness, and an eargasmic voice. His energy is infectious, and he knows all too well where to invest his energies. Ali has gained an insane amount of popularity over the past few years in Pakistan and India because of his strong vocals and mind-blowing acting skills. He's loved by the 90 kids, but this isn't where his popularity stops. Ali is adorable, and we all know it. He is always coming up with something new all the time.
His personality suits iPhone 7 the best. The phone is fast, glossy, and sleek. iPhone 7, like Ali Zafar, is the combo of all the great things and is highly efficient. It is packed with all the new features and is very likable.
4. Daniyal – Infinix Zero 4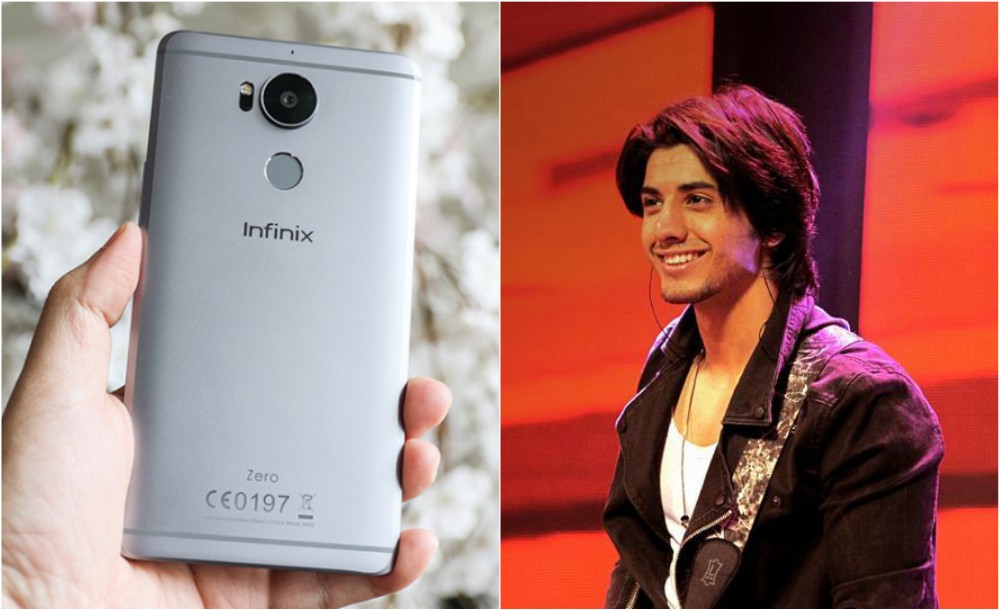 Daniyal Zafar recently became the new singing sensation after being featured on Coke Studio, a popular musical show, airing in Pakistan for the past one decade. He has become popular among young women in no time, and now that his elder brother Ali Zafar is taken, he surely is every girl's celebrity crush. Daniyal is a Xerox copy of Ali Zafar when it comes to looks. And he is taking over the television already as he is becoming the face of so many brands. And he sings so well, that he has instantly become the favorite of every Pakistani.
If Ali Zafar is the iPhone 7, then Daniyal deserves to be the Infinix Zero 4. A flagship device which looks very much like iPhone, but isn't gaining popularity from just the fact that it looks like iPhone, but also because it is packed with amazing features.
5. Sajal Ali – iPhone SE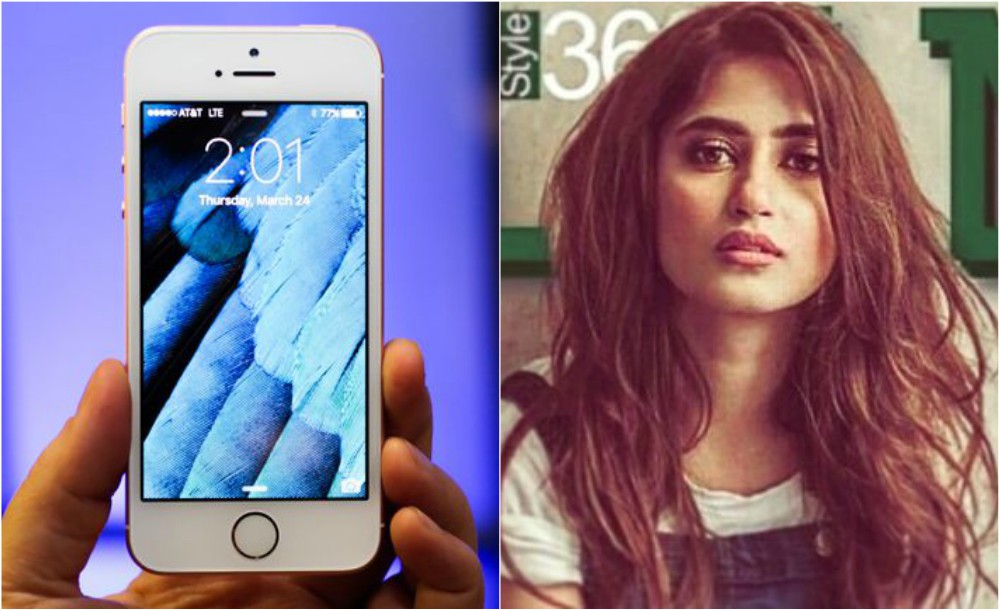 Sajal Ali is a popular television actress who has become a household name in a very short time. She is unique, talented, witty and even though she might be quite young, she still looks younger than her age. For that reason, she matches perfectly with the iPhone SE. The small sized iPhone variant which packs all the features of an iPhone but in a small size.
iPhone SE is one of the popular devices of Apple it is different because of its 4-inch size and is affordable as well but it packs almost all the features you would expect from an Apple smartphone.
6. Atif Aslam – iPhone X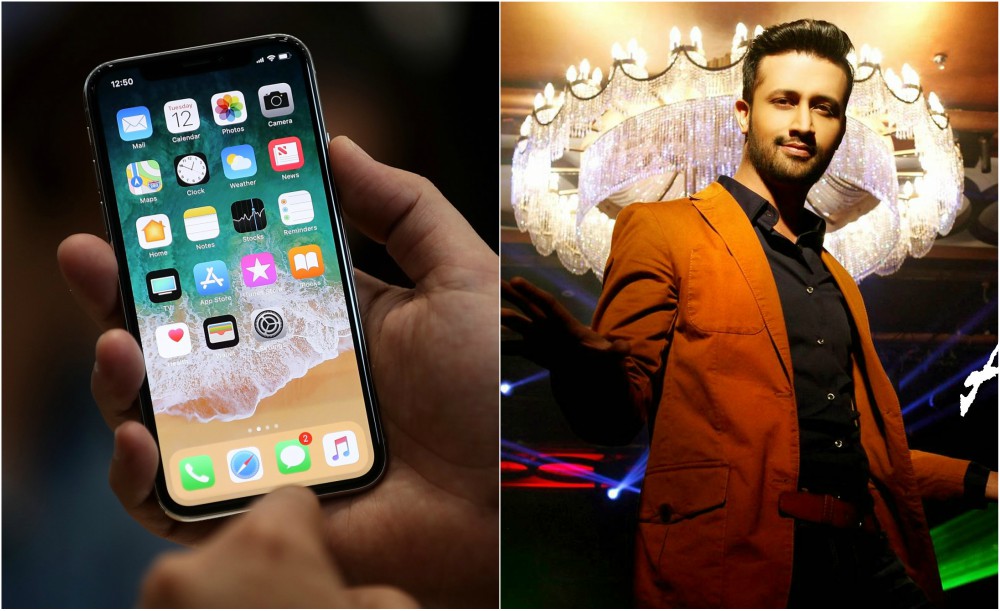 Different. Revolutionary. Unique. These are the words that describe Atif Aslam. His unique voice has taken over the hearts of Urdu and Hindi music listeners throughout the world. Atif is a unique breed, someone irreplaceable. When he entered the industry, he changed the music landscape overnight. For all of these reasons, we think Atif Aslam and iPhone X are a match!
iPhone X is Apple's latest flagship which is deemed revolutionary and game-changer as well. It was released last month and is expected to be available for pre-orders. The device hasn't yet reached the consumers but due to the raving reviews of bloggers and technology journalists, it is considered the best iPhone Apple has ever produced.
7. Momina Mustehsan – iPhone 8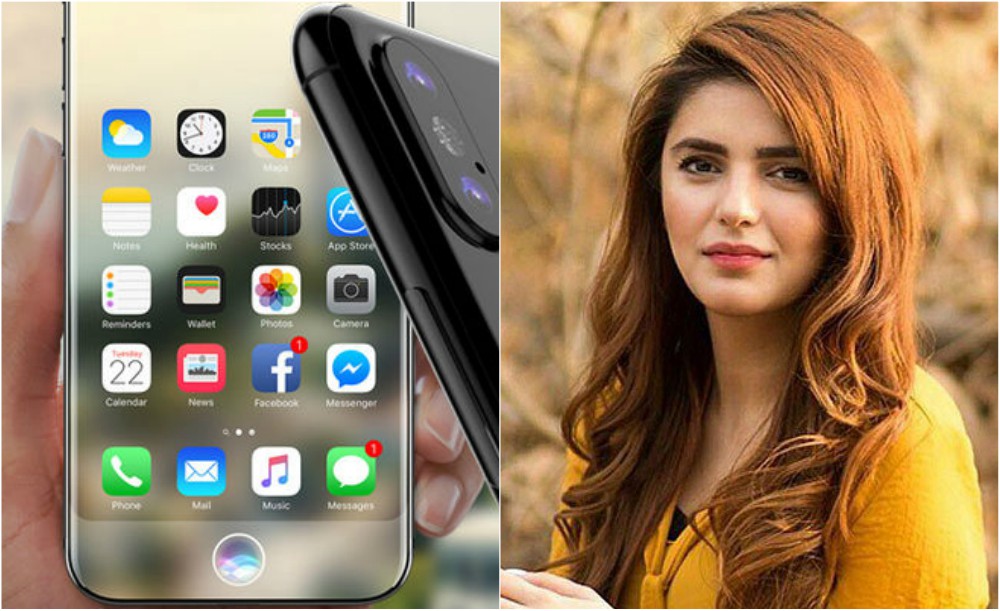 Momina Mustehsan might not be an overnight success but she rose to fame more quickly than a new version of a flagship smartphone usually does, or the new iOS of Apple which quickly becomes available to iPhone users. Her claim to fame is her appearance on Coke Studio.
Momina's rise to fame in social media circles was quick but we have noticed that social media fame is very short lived and people quickly move on to the next one. This reminds us of the beautiful iPhone 8, a beautiful, elegant, feature-packed device with all the things expected from a successful smartphone but unfortunately, Apple launched another device iPhone X beside iPhone 8 and so the consumers will quickly hop on to the next big thing iPhone X.
No wonder iPhone 8 is a great phone and it will have its own time but soon it will be taken over by the iPhone X.
8. Fahad Mustafa – OnePlus 5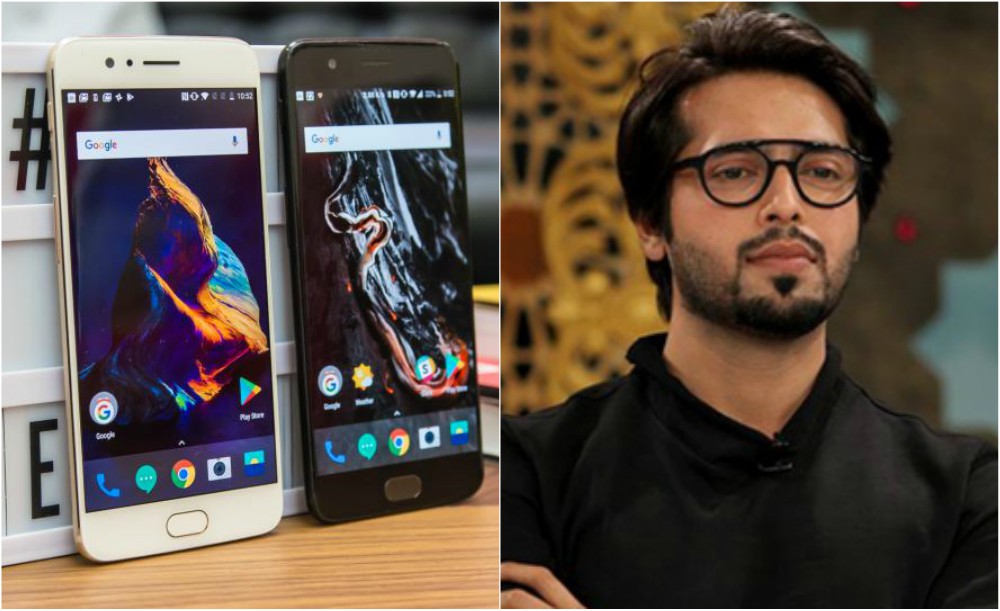 Fahad Mustafa has been rocking our television sets, all thanks to his stint into gaming shows on television. Due to his recent foray into movies as well, his fame has skyrocketed. His personality is like that of the guy next door; kind and easy to get along. He is a good actor, great showman, and an excellent entertainer. That's why we can't stop you comparing him with OnePlus 5.
OnePlus 5 is a flagship phone of a OnePlus company. It has features of an established smartphone brand's flagship device has yet it is very affordable and has quietly risen to fame and has won the hearts of its users. Fahad is exactly like OnePlus 5, he has quietly made his way to top without working in any international projects. He is an actor bound to achieve amazing heights in his career. So is OnePlus and its phone OnePlus 5.
9. Amir Liaquat – QMobile Noir M95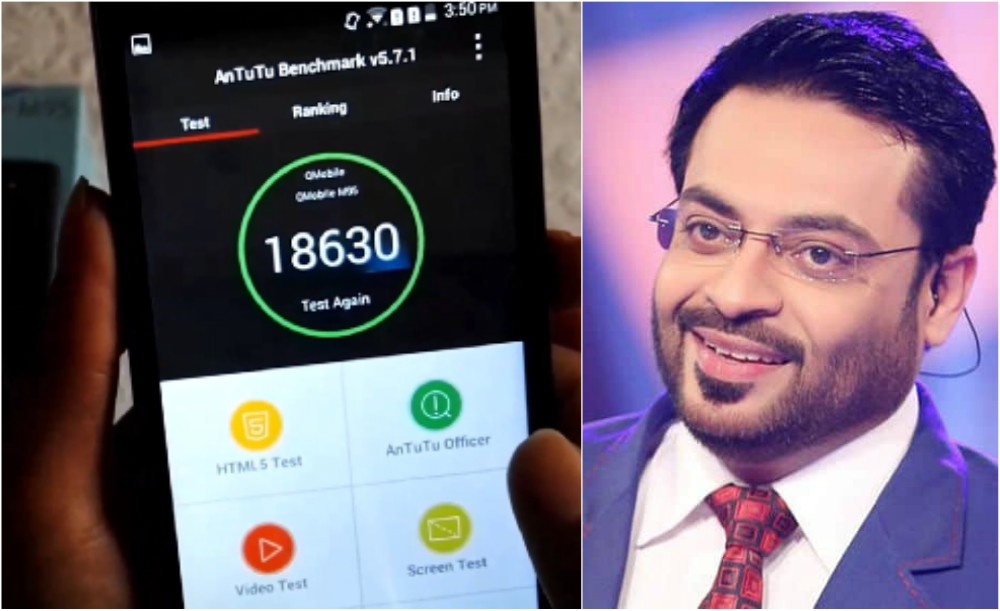 Amir Liaqat has been the most popular celebrity in Pakistan, especially among the older generations because of Amir's Ramzan transmissions. He knows how to win the audiences and has been doing that for more than a decade now. Amir Liaqat isn't just popular for his shows, but also for his status as an "Aalim" and he has done justice to a lot of naats. However, a few years back, a video came out on social media that broke every Pakistani's heart. According to the video, Amir Liaqat wasn't the saint we believed him to be. But this didn't decrease his popularity, instead, it increased it even more.
Amir Liaqat cashed this opportunity and became even more famous over the years. While he isn't liked much among the younger lot, he still is loved by many and is the most favorite celebrity for the Ramzan transmissions. Our older generations are oblivious to some of the controversies he is a part of, and they love him dearly.
It is a fact that if Pakistanis can't love Amir Liaqat, they still watch all his transmissions regularly and have him as the center of many discussions. He is exactly like QMobile Noir M95. He has gained popularity and is known to every Pakistani.
QMobile Noir M95 might not be the dream phone, but it is something that most of us can afford and prefer to buy despite knowing that it isn't offering a lot of features that we want. It just works fine for everyone.
10. Waqar Zaka – Samsung Galaxy Note 7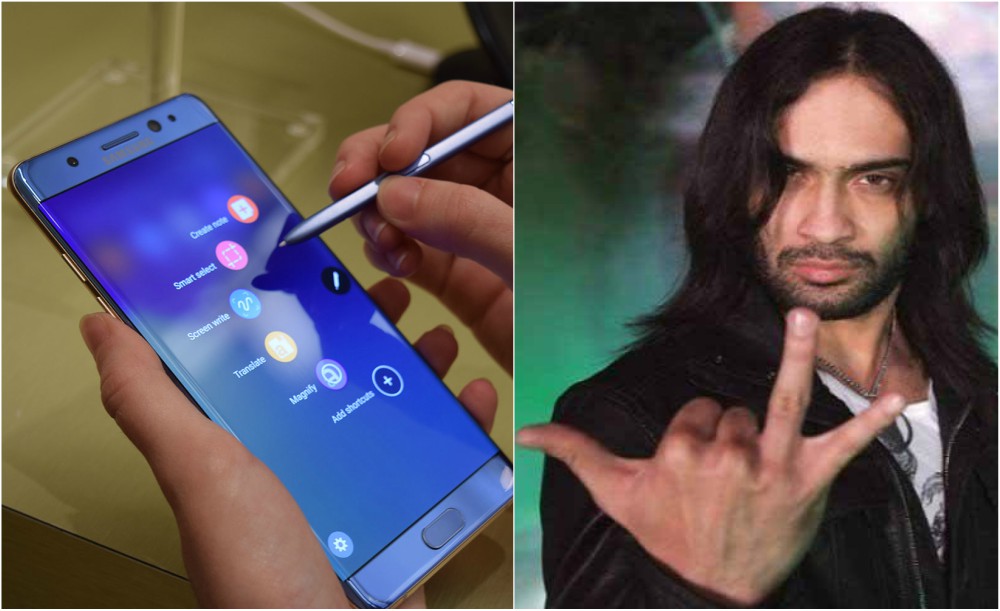 Waqar Zaka is an internet celebrity popular for his adventurous television shows and his take on different social issues in the world. He is a polarizing figure in the digital world. Waqar Zaka has always attracted controversy and media mentions owing to his outspoken personality and involvement in other people's affairs. He was most recently lashed by Pakistani singer Ali Haider for 'trying to capitalize' on Amir Zaki's death. A video featuring him getting beaten up also appeared on the television in which he was accused of harassing men and being greedy and selfish.
This just reminds us of Samsung Galaxy Note 7, a device with huge potential but due to exploding flaw, it blew its own future too. Samsung quickly recalled millions of Galaxy Note 7 devices from around the world. Although Samsung Galaxy Note 7 was a great spec'd device yet it attracted unprecedented controversy due to one flaw.
11. Meera Jee – iPhone 5S: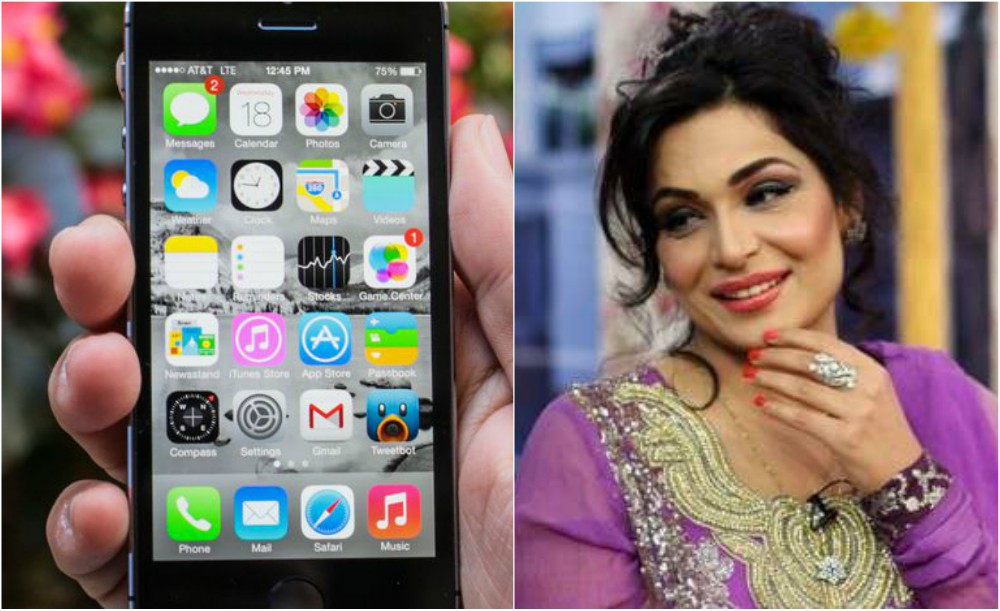 Meera Jee, a woman who has always been in the news one way or the other. She knows too well how to keep her fame alive, and despite the fact that she's been acting for the last two decades, she's still ruling the hearts of Pakistanis. Meera has faced a lot of humiliation, yet she has stood her ground very firmly and has learned the new ways of being the face of television over the years. She's forever green, never getting old, and she can get along with the new trends very easily. With her appreciable endeavors to be fluent in English, she acknowledges that she lags some things in her personality but she isn't apologetic about it. Instead, she is trying to change it.
iPhone 5S would suit Meera's personality the best. The phone has been on the market for quite some years, but it is still preferred by people as it is upgradable to the new updates announced by Apple every now and then. The phone is beautiful. It has some glitches but works fine for people.