Despite a swelling women's rights movement in Pakistan, there are still miles to go before women are treated as equals. In our highly patriarchal society, women are prone to harassment whether it is on the street or at work.
Institute of Business Administration (IBA) Karachi, a top-ranked business school, seems to be no stranger to workplace harassment as well. A female employee at the institute was recently subjected to harassment, according to sources.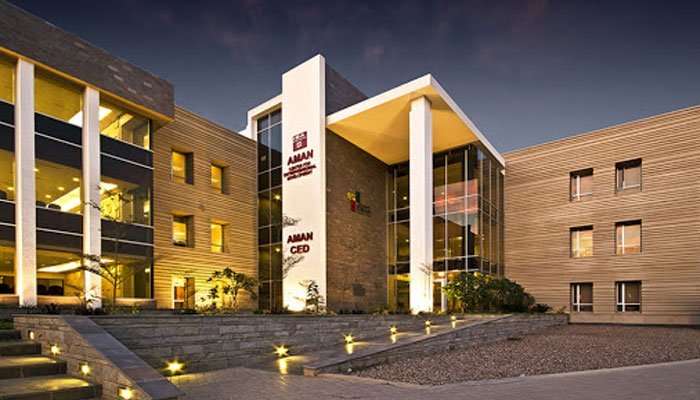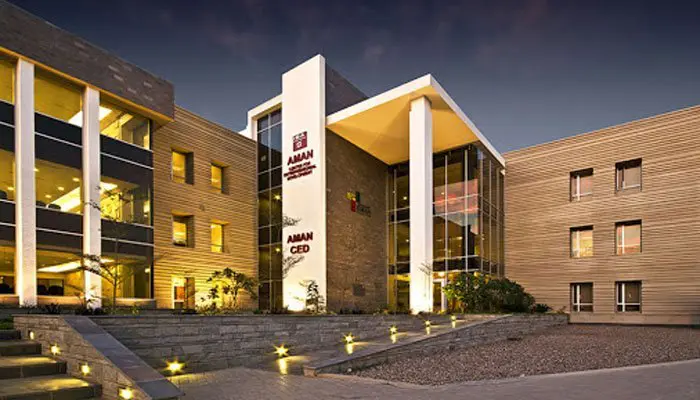 On Sept 17, students from IBA Main Campus gathered in front of the Fauji Building to demonstrate against workplace harassment. "We want justice!" chanted the crowd. The protest was purportedly initiated after a student witnessed harassment and reported it on social media but the university chose to punish him instead.
Eyewitness Mohammad Gibrail, an 8th-semester student of BS Economics, posted about the incident on Facebook in August. "Some days before, I visited IBA's Finance Department and I observed a very gross and crappy incident in front of my eyes," he wrote.
"It was an eye-opening ominous incident that actually told and reflected a lot of scum that our society contains," Gibrail added. "This was actually the incident of workplace harassment that took place in front of my eyes in IBA's Finance Department where I saw a person […] named Tanveer yelled at a female employee of IBA in that Finance Department and burst on her, 'Mein raat tak tumhe bithaonga'  [I will make you sit here all night]."
"These were the exact words that heard which told me about that shitty environment that would prevail over there," he continued. "If such is the audacity of a person who can spew his crap around, not caring the identity of a female employee in front of students, God knows what the real help would happen behind it."
The original Facebook post: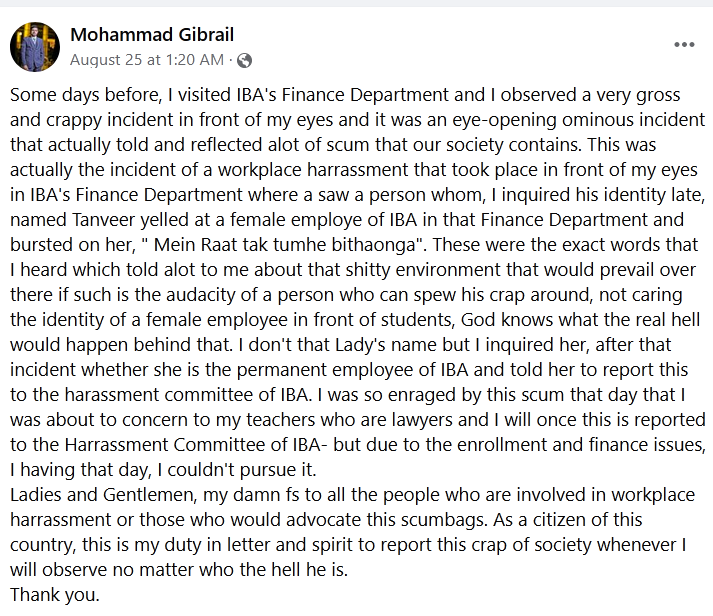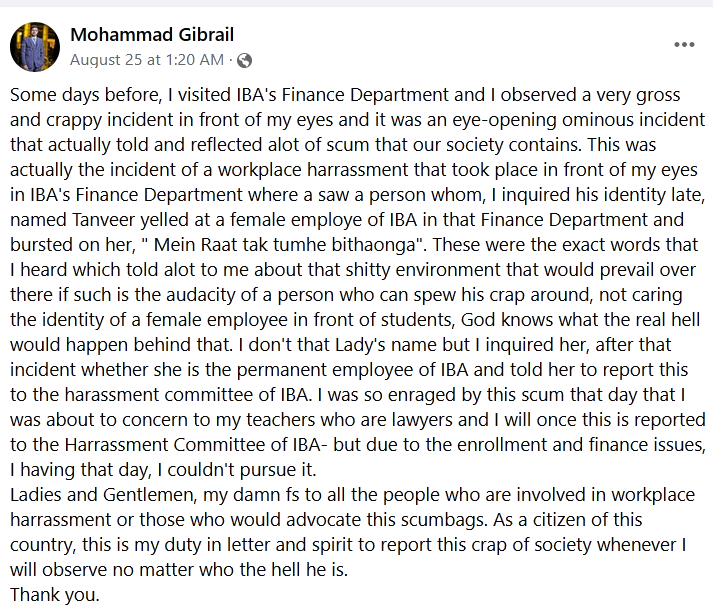 The DC committee allegedly called Gibrail for a hearing after it took notice of the issue on Sept 16. It demanded Gibrael to remove his Facebook post as it brought a bad name to the institute. And instead, post a public apology. The next day, students protested in front of the Fauji Building.
DC of IBA is demanding Gibrael to delete his post on FB narrating harassment incident with female Staff X* as it brought bad name to IBA & post a public apology instead. Whereas X is being intimidated by being asked by AHC "Mazeed eye witness kahan se lao gi" @EDIBAKarachi pic.twitter.com/NghiwXIlpe

— M. Jibran Nasir 🇵🇸 (@MJibranNasir) September 17, 2021
The institute allegedly threatened the student with expulsion as well.
A second protest reportedly took place on Monday, Sept 20. Students protested against the administration for punishing Gibrail for raising his voice against harassment.
Instead of sweeping the matter under the rug and punishing the student for speaking out, the university could have taken action against the harasser.
The institute previously came under fire when it refused to offer levies or attendance relief to students if they contracted COVID-19.
Read More: 'I Was Shaking To Death, It Was Pitch Dark In KU' – IBA Student Shares Shocking Details Of Harassment
What do you think of this story? Let us know in the comments section below.