Disclaimer*: The articles shared under 'Your Voice' section are sent to us by contributors and we neither confirm nor deny the authenticity of any facts stated below. Parhlo will not be liable for any false, inaccurate, inappropriate or incomplete information presented on the website. Read our disclaimer.
I am writing this in order to inform others to be aware of a fraudulent site. Well, I ordered a MARIA B. dress from an online shopping website, bytes.pk which happens to be a famous one as well. As that dress I wanted to order was not available on the official site of Maria B, I resorted to the online shopping site, bytes.pk.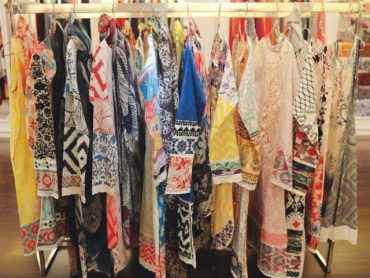 My mom was in love with that dress as she wanted it so I searched for it quite a lot and finally found it here on this cheap site. I mostly order from MARIA B's official website but this was the first time I ordered any dress from such a site. Unfortunately, I made the mistake of ordering it.
The Condition Of The Dress I Received
The order arrived and we paid the rider. The box was very untidy and it was torn. I was surprised to see it's condition but we continued opening it up and what followed shocked us to our cores! A 15 thousand rupee worth of dress without its sleeves and embroidery! We were shocked at what we saw. I quickly went to the site and called the customer service number and I am surprised to inform you that they never pick their helpline's number up. I say NEVER!  I kept on calling them repeatedly as I thought that number is probably busy but how can a small online site be busy 24/7 that they can't manage to pick up my calls? I felt quite helpless as there was no other number except for the one I had dialed. I searched everywhere and found that only one number was listed everywhere and none other.
I Tried My Luck On Social Media
I sent messages on the website's Facebook page. I sent them tons of emails as well. They didn't give me so much as an answer. My mother and I were worried because we paid the delivery guy in full and the dress was without sleeves and embroidery and looked very little like what we had ordered. We didn't know what to do!
I Tried To Phone Them But That Too In Vain
Finally, I got the number of the guy who called me for the confirmation of my order but that too in vain. The one that answered the phone misbehaved. He told me that laughing and giggling like cheap girls that the mishap was not their fault and that they weren't responsible for it.
Even Emailing Them Didn't Work
After which they told me to mail them the pictures on their online support center to which request, I obliged. I sent them the pictures several times but failed to get a single reply to my queries. Every now and then they just beat about the bush and say "ma'am email ker dein" and I'd say that I have done so already. To which they would say, "dubara kar dein" and kept giving me similar excuses as such.
A Month Has Gone By Since Their Delivery
It has been a month and they have not provided me any compensation for a lousy delivery that looked nothing like what I had placed an order for. Despite me demanding a new dress, the behavior of the people that took my calls proves to me that my money is now wasted.
How Can People Be Capable Of Something Like This?
My question is this: how can someone be so stubborn? It was their duty to satisfy their customers and to provide solutions for the problems. My futile attempts continued for weeks and then I complained to Competition Commission Pakistan and they said they'll take strict actions against the website.
A Request To My Fellow Readers
Please people, DO NOT order from such sites. I want people to be aware of the frauds these people are doing as they blame the designers and make a fool of people like me. Being a law student I know very well that the designer is not liable for any cost and the designer is not even aware of how many sites are selling there dresses to people and destroying their name in the process. Those guys misbehaved with me whenever I called and said, "hahaha ma'am awaaz nahe arahi. Ma'am zara pyar sey bolein".
I hope that strict actions are taken against these people that have wronged me and countless others, and they get to know what they actually did because sharafat ka tou zamana hi nahee raha. I know for a fact that there are other people out there like me that have gone through this and that one day this online shopping website will pay for what it has done.