Brutality has no measure. Pakistani society is tainted with people continuously incurring their brutal wrath on each other while what is left behind is our distressing emotions as we come across it.
In the past days, there have been many incidents of abuse on women on both, local and international grounds. We have reported countless incidents where hell broke loose on women, where patriarchy defied all human values and where human beings showed a barbaric trait of character.
There were medieval times where the birth of daughters in a household was considered a misfortune. Little babies were thrown into the hands of death even before they opened their eyes. The only reason being, they were born as daughters instead of sons.
It was the backwardness of Arab society that was vanished by the efforts of Islam and Prophets. Our religion laid great stress against the abandoning of daughters by families.
However, in this advanced 21st century, we still have not learned much. Evident of certain incidents circulating all over social media where people show immense resentment towards the birth of a girl in their homes is a proof of how we are still stuck with the mentality people had hundred years ago. It is just appalling to come across such antics of people and we can only protest against it.
Another incident was brought to our attention. A man threatened his wife, who was about to give birth on her delivery bed.
Here is how the incident unfolded:
Patient after her c-section kept crying aj. Got to know her husband had threatened her he wont come back frm Malasyia if she delivers a girl

— خان (@KaliDaal) February 8, 2017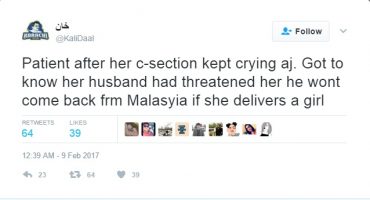 So, this husband who vowed to protect his wife in the eyes of God when he married her is simply threatening her if she delivered a baby girl in a wholly natural process.
That is not only what he did. The tragic story continues…
Manhoos admi has kept a second wife in Malaysia and has 2 daughters from her too.

— خان (@KaliDaal) February 8, 2017
And he kept her in distress throughout pregnancy even though she has lost her first two babies

— خان (@KaliDaal) February 8, 2017
Laanti admi after the delivery called and started fighting about why we did the operation and didn't deliver normally

— خان (@KaliDaal) February 8, 2017
Our hearts tremble and spirits shiver to realize the cruel, monstrous, inhumane antics this person vows to wage on his poor wife.
Pregnant women who are about to deliver a child needs moral support. Instead of boosting her morale, uplifting her spirit, supporting her, being by her side, this vile man is threatening her, validating his own insecurities.
What would a daughter do? Grow up to be a responsible, educated, accountable human being and support his black-hearted spirit? I am sure this would happen because mighty karma never spares anyone.
It is about time we get an official bill against such brutality. These barbarians need a leash by law. The government of Pakistan needs to play a role in it. It is our individual responsibility to voice out our concerns against such incidents. As many times it is shared and brought to the notice of people, the better it is for the sake of many, especially women and daughters.