Actor Humaima Malick says she suffered a ruptured appendix in Turkey and has called for prayers from her fans and followers.
Malick was in Instanbul for the International Pakistan Prestige Awards (IPPA) 2021 that took place on Oct 31. The Bol star traveled there with her mother and a host of other celebrities.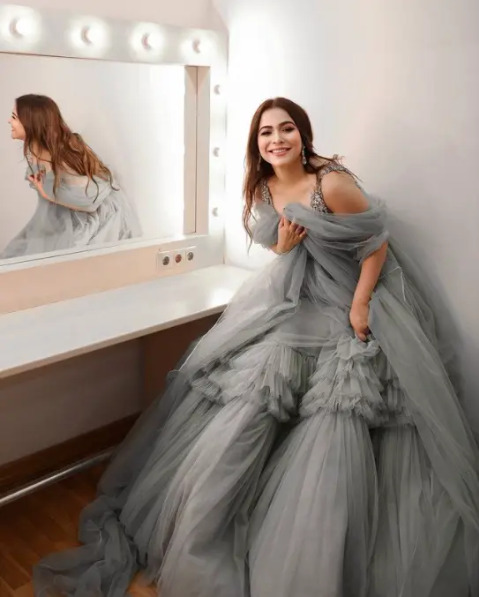 Taking to Instagram, the Dekh Magar Pyaar Say star posted a picture of herself in a hospital bed along with a series of Instagram stories she later turned into a post.
According to her post, Malick spent 22 hours in Istanbul with a ruptured appendix without knowing it. "I have seen death," wrote the actor. "My God gave me a new life. Please be kind to everyone around you, life is too short. We don't even know if we'll be alive one moment to the next."
"Nazar can take lives," she said, asking everyone to pray for those around them. "Allah has given me a new life, thank you for all those who have stood by me, my family who prayed for me, I request all my fans to pray for me. I have been given a new life from Allah," she added.
Soon after the post was shared, fans and followers wished the Dekh Magar Pyaar Say star a speedy recovery and prayed for her good health.
Humaima Malick in a hospital bed
The IPPA event has been taking place for three years. Istanbul was the chosen destination for its fourth season, gathering stars from the Pakistan entertainment industry. A BTS video from the award ceremony emerged last week showing the Lollywood stars Meera and Malick dancing their hearts out.
Despite the misconception that two actresses cannot be friends, Meera and Malick were seen having a blast during rehearsals for the award show. The Ishq Khuda stars reveled in the spirit of golden days from the past, grooved to the beats, and channeled their inner divas.
Dressed in casual chic outfits, the two stole hearts as they twirled and swayed to the beat. The two seem to be quite close friends.
We hope Malick is doing better now and is on her way to a speedy recovery.
Read More: Model Fatima Hasan Turned Down From Hosting IPPA Due To 'Revealing' Outfit
What do you think of this story? Let us know in the comments section below.