Gone are the days when traditional methods of banking were implemented as a technology, and digital marketing channels have taken over those approaches. The banking sector keeps on thriving to promote and establish the best economic aspects and innovative instruments. Though old ways aren't common, cheques haven't been replaced yet as these are considered to be effective and inexpensive tools for transactions. Recognized for their safe methods, they come a lot in handy but do you what comprises of a cheque and how to write a cheque 101?
Ordering a bank to transfer or pay money with official documents or instruments is what cheques are capable of. It's a two-way technique where the payee is connected. You need to get hold of the different components of the Cheque like payee is the transaction's beneficiary who would be able to receive the stated sum of cash using cheques or may credit the cited total of money to the account he/she wants! Let us help you with a step-by-step series that helps you with smooth direction to help everyone out there.
How to Write a Cheque?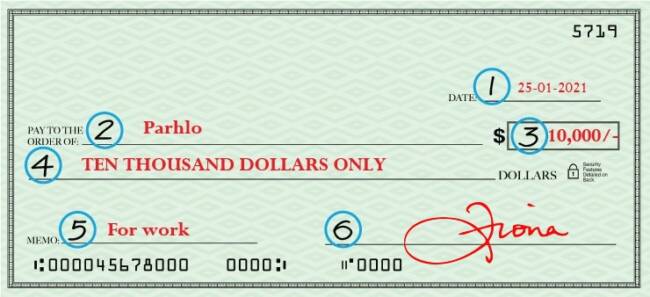 1. Date
Do NOT miss out on the date, considering the same date that you will sign the cheque.
2. Who For?
For the first step, you need to mention the name of the organization or the individual you will pay via the cheque. You need to think properly about the details like account number or reference to the area that asks for the payee. This ensures that the amount will be delivered to the right person and the right place! You can also just write the word "cash" if you don't know the person or organization's exact name.
3. It's All About the Numbers!
Properly fill in the details and make sure to double-check every minor information, so things are done just like you want! Record the amount of your amount in the small box on the right-hand side.
4. Now for the Words!
Writing the amount in words is important for a bank to process a cheque as it confirms the correct payment total. This will be the correct amount of your payment. If that cost is different from the numeric form that you registered in the previous step, the amount you wrote with words will legitimately be the amount of your cheque. Use all capital alphabets, which are harder to alter.
5. What For?
You can mention where you had to spend the money. It could be as innocent as lunch with friends or as important as the installment of your house. This will help you keep track of your transaction. The memo line is a space for any notes about the purpose of the check.
6. Sign the Bad Boy!
Sign the cheque legibly on the line in the bottom-right edge. Use the identical name and signature on file at your bank. This move is essential—a cheque will not be valid without a signature. Make sure it is the same as the sign used for all formal documents. This shows the bank that you agree that you are paying the stated amount and the correct payee.
Is there Any Manual or Automated Cheque Processing?
We all are aware that online internet banking apps are doing their part in making life easier, but how will you know that the money enters or leaves your bank account? Banks usually have both manual and electronic ways of evaluating your cheques, and they inform you about any changes or required details initially! There are days when public holidays or long weekends make you suffer, so let us share the most important information:
1. After your cheque's sign and other details, the amount leaves your bank within three business days, so it allows you to know the estimated date. What you should know that all your details were accurate and don't cost you any loss!
2. After paying in a cheque, one might use the amount after four to six business days, so get hold of your amount in the meantime! Be patient with that, and don't worry about how things will fall but stay vigilant!
3. There are various reasons why banks accept or reject cheques. For example, some banks do not accept a cheque after six months, so it's primarily based on your bank's policies.
4. Old cheques might be rejected because this might cause issues of validation, so pay the amount as soon as possible. If someone tells you that they have lost or misplaced the original cheque, ask your bank to stop the first one before making the second one.
5. Post-dated cheques might result in different issues for you as it can be returned and tend to create delays or risky procedures. Avoid any intentional scenarios or cases like lack of details or information that may end you up in unavoidable circumstances!
Record the Payment in your Cheque Register
Make a record of the transaction in your cheque register. Copy everything from your cheque, so you know what happened later. Estimate your running balance so you know how much money you have right now. Justin Pritchard
Make a document of every cheque you write in a cheque file. Doing so will enable you to:
Follow your spending, so you don't bounce cheques.
Understand where your capital goes. Your bank statement may only give a cheque number and amount—with no explanation of who you wrote the cheque to.
Detect fraud and identity theft in your chequing account.
You should have gotten a cheque register when you got your cheque-book. If you don't have one, it's simple to make your personal using a document or a spreadsheet.
Copy all of the necessary information from your cheque:
The cheque number
The date that you addressed the cheque
A description of the transaction or who you wrote the cheque to
How much the payment was for
You can use your register to balance your chequing account. This is the habit of double-checking every transaction in your bank account to make sure you and the bank are on the same page. You'll know if there are mistakes in your account, and if anybody has failed to deposit a cheque, you wrote them (thereby making you believe you have more money to spend).
Your cheque register can also provide an instant view of how much money you have available. Once you write a cheque, you should assume that the money is gone—in some cases, the funds are drawn from your account quickly because your cheque is converted to an electronic cheque.
"Cheque" ing out all the point
Oh, aren't I clever with that pun? Lol!
Whenever you plan to opt for a cheque, verify that it follows the same way you projected—to reimburse the money to the firm or individual you wanted. There may be cases when thieves can alter any stolen or lost cheques, so make it complicated for them to give you headaches. Whether you lose the cheque or the money, you need to put in a lot of effort and time to clean up the mess after any kind of fraud.
If you thought writing a cheque was the only formal thing that you might have to encounter in your life, well, think again! What about addressing formal letters and cover letters? Phew! But we've got you covered!