Whipped Coffee (Dalgona Coffee) is the most YUM thing ever! It's just 3 fixings! How to make whipped coffee is easy; It's a cushy and foamy flavorful approach to make your morning espresso and requires just 5 minutes with a hand blender! You can make it hot or cold!
How to Make Whipped Coffee (Dalgona Coffee)
Ingredients
4 tablespoons instant coffee
6 tablespoons granulated sugar
4 tablespoons boiling water
a pinch of cinnamon (optional)
1 cup milk of choice I've tried it with soy milk, almond, and oat milk
Instructions
Add all the coffee, sugar, and boiling water in a bowl (you can easily double or triple this recipe). Using a hand mixer or stand mixer and whip on one of the higher speeds.
Whip the entire mixture for about 2 minutes. Scrape down the sides and whip any bits that didn't get whipped.
Taste (it'll be very strong! But of course diluted with your milk) and add more sugar IF desired. I've seen some people add another tablespoon of sugar, but it was fine for me. Remember it'll be diluted with the milk!
Add the coffee to a tall glass (about 8 ounces/1 cup) of your favorite milk. I've tried it with soy milk, almond, and oat milk. If you're doing iced, add a few ice cubes, the milk, then spoon the whipped coffee on top. If using hot, just add it to the glass.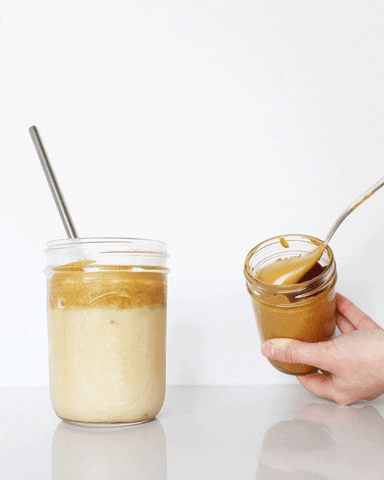 Using your spoon or straw, stir vigorously to swirl it into your milk.
Sip and enjoy! Also, take a photo!
Your Questions Answered
What sort of sugar can you use to obtain whipped coffee?
You should utilize granulated sugar. You can also use white sugar, raw sugar, brown sugar, coconut sugar. But no icing sugar, lol!
How to make whipped coffee without the sugar?
Yes, you can…BUT! I tested this, and while it does fluff up in the same amount of time, it doesn't stay fluffy as long as the sugar version. The sugar version stays fluffy for hours; this stays as fluffy for about 2 minutes, then begins to slowly dissolve for another 5 minutes until it's liquid again. So keep that in mind for the unsweetened version.
Can you use sweetener replacements to make whipped coffee?
Yes, you can! As long as they are granulated.
I don't have a hand mixer. How else can I make whipped coffee?
You can make whipped coffee using a stand mixer, a hand frother, a hand whisk, and by hand! Making it by hand took me about 8 minutes (others have reported this and up to 15 minutes). The key is to do back and forth/side-to-side whisking in a zig-zag motion, instead of only in large circles.
I would recommend using a whisk and not a spoon because it takes so long with a spoon, and your arms will definitely be tired! You do want to ensure you're doing it in a bowl and not a mug or a jar so that enough air is whipped into it!
Can I use hot or cold milk?
You can use anyone! I love cold coffee, so I make an iced coffee with mine. But you can definitely make it hot – it works the same! So if you wanted it hot, you would heat your milk, then stir it into the hot milk.
Can you make whipped matcha?
Yes!
What is whipped coffee?!
Whipped coffee is a Tiktok name for this kind of coffee (also known as TikTok coffee). It's actually called Dalgona Coffee (Korean coffee) and was coined by South Korean actor Jung Il-woo. I have learned since it's been around for years and is also known as Frappe Coffee (Greek), Beaten Coffee (Indian), and known in several other cultures. I first saw it on Tiktok (@imhannahcho) a few days ago!!
How to make whipped coffee?
Whipped coffee is made up of only 3 ingredients! To make whipped coffee, add 2 tablespoons of instant coffee, 2 tablespoons of sugar, and 2 tablespoons of boiling water to a clean bowl. Using a hand mixer, you whisk/whip it together for about anywhere from 2 minutes to 5 minutes.
To keep your whipped coffee vegan, use any vegan milk (such as almond milk, soy milk, oat milk, cashew milk, or any other. After you've made the whipped part, pour some of your favorite vegan milk (1 cup of it) into a glass with some ice if you're making an iced coffee. Spoon/scoop the whipped coffee on top, then stir it into the milk to combine. I like to use my straw to stir it in. Enjoy! Whipped coffee can last for days in your fridge!
Which instant coffee do you use?!
I use Nescafé Classic (the double filter, full flavor one)! Yes, it works with decaf coffee too!! You do need to use instant coffee for it to work! I have seen that it doesn't work with 3-in-1 mixes.
What else can I use this for/what should I have whipped coffee with?
So it makes this incredible drink, but you can use it in so many other ways! Here are some yummy ways to enjoy it:
Use it as a topping for brownies (like my brownies recipe).
I saw a friend make pavlova out of it!
Make vegan chocolate chip cookies and dip them into it – it tastes phenomenal!
If you want to make this extra indulgent, you can use my 3-ingredient caramel sauce with it!
Another INCREDIBLE use is to make a huge batch of it (maybe, a cup each?) and freeze it to make coffee ice cream!
Have this with a warm slice of banana bread.
Happy Dalgon-ing! 🙂