Instagram is initially used to capture and display aesthetic pictures. As time passes, it becomes a social networking platform. People share their photos and videos with each other to interact. Hence it becomes more of a visual medium to mingle. But there has always been a point in life when one wants to disconnect and go back to nature. But damn your notifications! What helps here is deactivating your socials, specifically knowing how to deactivate Instagram always comes in handy!
All this social life on social media has a very negative effect on you AND your loved ones too!
The youth and young generation are more inclined towards Instagram than Facebook and Twitter. They share their favorite video and picture, put stories different brands approach those with more followers called influencers to market their product. So, the game of increasing followers and showcasing brands took hype. And everybody came along in this race knowingly and unknowingly, and youngsters keep scrolling and waste numbers of hours with zero productivity.
Many of them come to the point where they are pissed off by themselves and try to get rid of Instagram scrolling in any way and build focus again. Some assign a specific time to use, but it didn't work, while others just decide to deactivate their accounts for some time.
Are you among those who feel a lack of concentration or a lot of distraction just because of this Instagram thing? It eats time like anything. I know, right, just a fancy way of time-wasting.
If you are one of those people who want to get rid of Instagram. Just little more scrolling, and you'll end up deactivating Instagram and activating real life.
How to Deactivate Instagram – Temporary Disable to Mentally Able
Here are the ten easy steps to Deactivate Instagram
Log in to your account from any device
Simply log in to your account from any computer, mobile, or laptop using your username or password.
On the right side, you can see a small icon with your profile picture swipe left that icon, Or just click the line on the top right
Then go to the settings
Click help center
Open it through Google
Then go to manage account
Scroll down and select the temporarily disable the option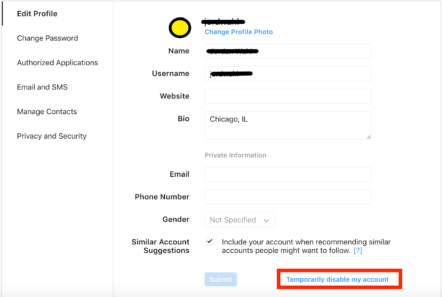 Then choose the reason for deactivation
Re-enter password for conformation
And lastly, click on temporarily disable the account
Why Do You Really Need to Deactivate?
At this point of life, where life gives a lesson on every moment living behind the screen makes you dull and dumb in real life. You are not bothered at all about the person next to you, what's happening around you. Just walk around, for namesake.
You need recognition and personal validation all the time of whatever you post, whether it worth it or not. Sense of right and wrong boils down to the number of likes and shares.
In such a chaotic situation where people even go live on IGTV for teeth brushing tutorial, it might seem impossible to cut the connections and take a break from the digital world for a while.
Just follow the above-mentioned steps and clear a few applications from your phone with a little cleanse, and it'll surely bring so much time in your life for other things that you are procrastinating for a very long time. It could be a book reading, yoga, skill learning, grooming yourself, or whatnot.
Things to Take into Consideration.
Before knowing how to deactivate Instagram, you need to know few things to consider before all of this process.
First and foremost, your personal data will remain safe and secure, and you can rejoin or reactivate whenever you like to remember your username and password.
You can also download data from Instagram to save with yourself if you have decided to Instagram account delete in the future.
You won't lose any followers by temporarily disabling your account. The only follower you lose is yourself, which will be regained after logging in to your account.
What in the world are you waiting for?
Take a break, put your phone down and bake a cake.
Happy Not'grammin! 😀