Disclaimer*: The articles shared under 'Your Voice' section are sent to us by contributors and we neither confirm nor deny the authenticity of any facts stated below. Parhlo will not be liable for any false, inaccurate, inappropriate or incomplete information presented on the website. Read our disclaimer.
After the mainstream Ramazan transmission like every year we were all bored and bizarre but yes a little entertained too, with some actions like making records of longest transmission, the liberals acting so pious, host thrown away from the throne and a lot more. We were sad(Goodbye to Ramazan) yet excited to welcome Eid. Honestly beside greetings on telephones, messages, social media or in personal there is no entertainment on Eid beside a rectangular screen known as "Television".
But we were deeply saddened to say that the Eid transmission was more pathetic than anything. The same hosts who were so pious and religious during Ramazan were all dressed up as if they are here to attend a wedding of their sister or brother with no dupattas. Too much of bling bling. May be it is kind of OKAY but honestly we have never seen anyone dressed up too much this way on Eid in normal routine.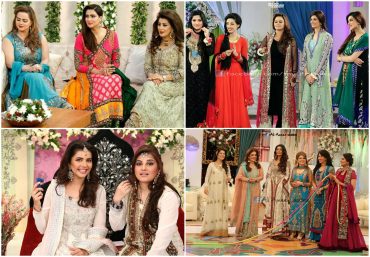 So, the show started with greetings, over acting, dances and a chef who was trying to teach us to make Biryani which she made like Zillionth time before on her show. Anyway, moving on with same guests who appeared in the morning show were there, all caked up. All telling about their boring Eid Day stories and participating in lame games and winning prizes and dancing around.
Till 2 o' clock, this whole thing kept going then the show finally ended. YAY! but NAH…
It was a time to watch an old Indian movie WOW! Thank you so much for showing us that as we never watched that old gold movie before (adding pun). The movie ended around 5 o'clock with excessive commercials, monotonous. Moving on, we watched a Comedy Show that was lacking energy and we hardly laughed for a second. Then, a very typical Romantic-Comedy Drama in which the hero and heroine get married on the Eid Day and live happily ever after.
No clue when our media will grow up and will get mature enough to bring variety , fascinating and different stuff for us to watch. When we will stop zapping channels to see some real fun and exclusivity? Guess never. And this same circle kept repeating till Eid Day 3 and we were so amused. Indeed we enjoyed nothing because it was all surreal and unvaried. It ended at 12 o'clock and then the repeat transmission started.
Then, it was the time of some real entertainment . Indian Award Shows of 2010 or 2015. Isn't that entertaining?