With the ban of Saeed Ajmal and the current performance of Pakistani cricket team, the hopes of fans for the cricket world cup 2015 have been completely shattered.
The Pakistani public finds solace in the assumption that a conspiracy has been planned to destroy Pakistan's cricket world cup 2015 prospects. The drawing rooms, offices and the digital media are echoing with similar thoughts.
The most unsatisfactory element amongst all remains the participation of Pakistan cricket's own officials in this conspiracy.
At such a crucial time when the cricket world cup 2015 is so near, Shaharyar Khan, the chairman of the Pakistan cricket board did not lift up the ban on Saeed Ajmal. This has served as a major setback for Pakistan and has hampered its cricket world cup 2015's strategy.
ICC has constantly been victimizing Saeed Ajmal with numerous allegations while the world praises his exceptional talent.
Out of disappointment, a few of Pakistan's 'not so expert' cricket journalists, and analysts declared that Pakistan has zero percent chances of winning the cricket world cup 2015 with having Saeed Ajmal in the squad.
The ICC haters have closed their eyes to the fact that Saeed Ajmal's bowling action was questioned in the past as well, that too during a domestic match in 2006 and was umpired by a Pakistani umpire, Riazuddin, but no action was taken against it at that time.
Instead of taking strict actions and rectifying the mistake, PCB let it go and indirectly encouraged Saeed Ajmal to carry on with the same bowling action.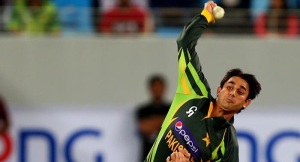 The PCB chairman admitted that Saeed Ajmal's arm bends more than 40 degrees when he bowls which is way off limit.
Undoubtedly, Saeed Ajmal's ban will potentially put Pakistani cricket team at a weaker position during cricket world cup 2015 but that doesn't mean that Pakistan has 'no' chance at all of winning the cricket world cup 2015.
Why is the nation behaving like Pakistan team is nothing without its star spinner? If we scrutinize the facts, it can be established that with out with Saeed Ajmal, Pakistan can win the cricket world cup 2015.
Had Saeed Ajmal been not banned, he would have eventually retired in a year or two, now that he is 37 years old.
Focusing on the bigger picture, the nation needs to relaize that cricket world cup 2015 is going to be the last world cup for Shahid Afridi, Younis Khan, and Misbahul Haq and they will bid farewell to international cricket shortly after that.
So, do we have replacements for them as well? The answer is very evident, currently, no!
One fact that has to be taken into consideration that the pitches in New Zealand and Australia (Cricket world cup 2015 host countries) are ideal for seamers. They have fast and bouncy wickets.
For its group matches, Pakistan will be battling against South Africa and West Indies in New Zealand. Leaving aside the performance in the past few years, when Hafeez-Ajmal-Afridi combo was evidently the best element of Pakistani cricket team's attack, Pakistan's bowling has always stayed famous because of its pacemen.
Pakistan's bowling side has been packed with some exceptional talent such as Muhammad Irfan, Junaid Khan, Wahab Riaz, Muhammad Talha, Anwar Ali, and Bilawal Bhatti. They all have the capability to a supreme demolish even the finest batting line up on Kiwi and Australian pitches, providing that their fielding remains upto the mark.
Talking about the Pakistani cricket team's lineup for cricket world cup 2015, the squad has Hafeez and Afridi. Both of them are all-rounders and wicket-taking spinners and have proved to bowl economical overs.
Had Saeed Ajmal played the cricket world cup 2015, would it be feasible to introduce a spinner on a fast wicket? Had it been fruitful for Pakistan or would have proved otherwise?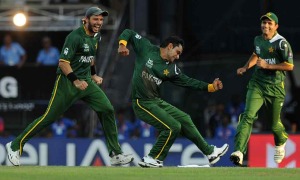 No sane team will step into cricket world cup 2015 having 3 spinners on its side on fast pitches. Even without Ajmal, the Afridi-Hafeez (off-spin, leg-spin) combo can give tough time to any of the participating teams.
Claiming that without Ajmal success in cricket world cup 2015 is not possible indicates that the team lacks strategy for the event.
Pakistan's utmost need for the cricket world cup 2015 is an exceptional fast bowler, who can bowl efficiently during the death overs and has an above par economy rate.
The worst nightmare of Pakistani cricket team is its battling lineup. None of the batsmen has proved to be consistent in the performance. On fast and bouncy wickets, the performance gets even worse and wickets fall down quickly.
Anwar Ali and Hammad Azam could have proved to be a good option in such a case. But the PCB, with its unwavering fondness with monotonous, uninteresting, lineups, did not consider them as an option.
Saeed Ajmal is player of sheer class and sophistication without a doubt but declaring that a win in cricket world cup 2015 is not possible without him is utter exaggeration.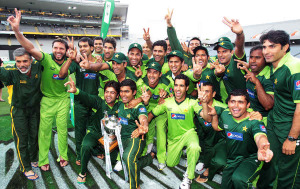 He participated in one ODI World Cup and 4 T-20 world cups before, out of which five series were played on Asian wickets, which are no less than a heaven for spinners. Even then, it is hard to recall any exemplary performance made by him during those events.
World cup is never a one man show. The success is always dependent upon team work, enthusiasm and good captaincy. Not without Saeed Ajmal but without all the other factors such as team spirit and enthusiasm, the success in cricket world cup 2015 is not possible. The Pakistani cricket squad was filled with heroes and star performers in the world cup of 1999, but they failed to perform well in the final.
The Pakistani cricket board should focus on choosing the right captain for the cricket world cup 2015, as enthusiasm and team sprit alone would not do the job. A captain with experience and right attitude could lead towards success.
The strength of the team or any of its players cannot ascertain success. In cricket matches success depends upon the on-field performance on the given day. So, with or without Saeed Ajmal, Pakistan has a chance to perform well during the cricket world cup 2015.