Disclaimer*: The articles shared under 'Your Voice' section are sent to us by contributors and we neither confirm nor deny the authenticity of any facts stated below. Parhlo will not be liable for any false, inaccurate, inappropriate or incomplete information presented on the website. Read our disclaimer.
Parents want their kids to become doctors so that they can serve the nation. They do not want to hold banners in front of city authorities. Sadly, the doctors, specifically BDS graduates, have no other way. They have to hold the protesting banners and fight for their rights.
The House Officers at Karachi Medical and Dental College (KMDC) have been asking their authorities to pay their salaries. Getting paid is their right. However, to no avail.
The college is located at North Nazimabad in Karachi. The officials at college and the KMC office have responded in unsatisfactory comments. They just say, we will see, or that we don't have the money.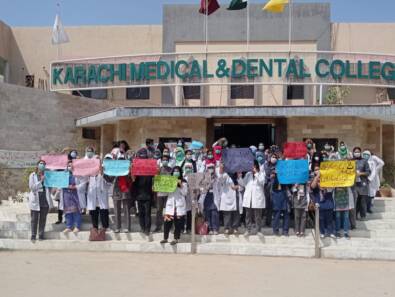 There are 100 doctors. Many of them need this money to pay their bills and utilities. The COVID-19 pandemic has been tough on them financially. It is inhuman and disrespectful to treat the future of this country in such a despicable manner. 
There is no visible shame or remorse in the behavior of the officials. They are very much adamant that these doctors will and should not get paid in time.
There is a part of me that hurts to no bounds when I see such a workforce donning banners and screaming protests. All they seek is justice. There is no law and order which can give them any amount of justice.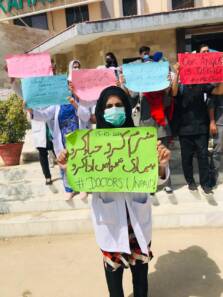 'This behavior is not new'
The graduates from KMDC have claimed that this behavior is not new and the delay in salaries or hell no salaries at all even have been a norm around these halls.
It's something shameful and condemnable that the doctors who pay over four lacs a year in self-finance seats, have to go through this insult and degradation for their rights when all they ever wanted to do was to serve this nation.
This behaviour has been a norm, and nobody from the higher-ups bats an eye.
Apart from not being paid, it has also been reported that the doctors have not been paid the amount which was allotted by the Sindh government in 2019. Their salaries have been deducted without any justification or reasoning.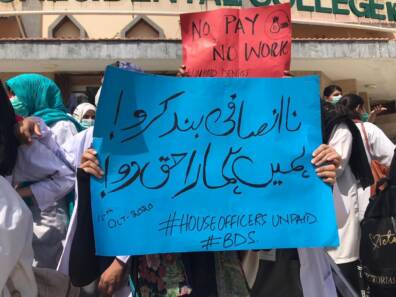 The House Officers want to do nothing but serve their patients with respect and love that they have learned from their teachers all these years. All they ever wanted was to graduate and then be able to become someone's source of happiness, being dentists, spread smiles, but alas, their smiles have been wiped away from their faces.
It is their humble request to listen to their pleas and do something for this matter because not being able to treat the patients is hard on any doctor. However, seeing your family struggle because you are low on finances is not easy for anyone either. 
Also Read: Young Doctor In Lahore Who Resisted Corruption, Almost Gets Murdered For His Fair Decision
What do you think of this story? Let us know in the comments section below.