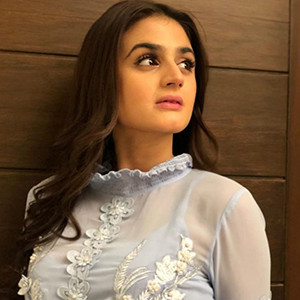 Hira Salman, also known as Hira Mani, who started off her career in 2008 as a host is currently amongst one of the leading Pakistani actresses. She has successfully managed to establish herself as a renowned actress in the industry which is quite inspirational for the upcoming talent in the industry. Even though, she never really planned to become an actress. However, due to her jolly and primitive nature, opportunities came in her way. Thus, she opted to capitalize on that and eventually became a successful actress in the industry today.
Due to her excellent quality of work, she is currently being considered as one of the finest actresses in the industry. Moreover, she has been giving tremendous performances on regular basis due to which she is successfully giving consecutive hits and thus making her mark in the Showbiz Industry.
Personal life and family
Hira was born in Karachi on 27th Feb 1989. She was born in a middle-class family. Her father was a banker and her mother a housewife. Hira has four brothers. At age 19, Hira was married to Salman Saqib (Mani).
Salman is also a well-known actor and host. He is famous for his comedy roles. Both Hira and Mani are blessed with two sons Muzzamil and Ibrahim.
She also starred with her younger son Ibrahim Salman in a highly popular drama serial by the names of 'Yaqeen Ka Safar'.
Career
In 2010, she began her career as a TV show host, where she co-hosted the show Hum 2 Hamara Show on Hum TV with her husband Mani. Besides that, she has also worked as a host with Geo News and TV One. Moreover, she has also facilitated some scenes of the renowned political satires show 'Hum Sub Umeed Say Hain'.
In 2012, she debuted as a small screen artist with her husband Mani in ARY Digital's show Meri Teri Kahani. The show was inspired by an American show Curb Your Enthusiasm. In 2013, she starred as Heer in the romantic drama serial 'Jab we wed' which also starred Danish Taimoor and Ayeza Khan.
After that, she played different roles. However, in 2016, she received tremendous response from the viewers for her work in a show 'Sun Yara' which was produced by Humayun Saeed and directed by Danish Nawaz. She gained a lot of praise and love from the viewers for doing justice with the character of Roshanay. Her fans love her for pulling off intense roles so convincingly.
In 2017, she then starred in HUM TV's one of the most popular tv serials 'Yaqeen Ka Safar' which also starred Ahad Raza Mir and Sajal Ali. Her performance in the show received so much praise and love from the viewers that she got nominated for the best supporting actress in HUM Awards 2018.
After that, in 2018, she starred in a drama series 'Dil Mom Ka dia' which also starred Yasir Hussain and Neelam Munir, became one of the most viewed serials by the audience which facilitated her to boost her popularity amongst her fans on social media. Moreover, she also starred in ARY Digital's drama serial 'Do Bol' with Affan Waheed which successfully managed to break the record of TRP.
Hira Mani received phenomenal success for the drama serial Mere Pass Tum Ho. The drama also featured Humayun Saeed, Ayeza Khan, Adnan Siddiqui and Savera Nadeem in lead roles. The show became highly popular among the masses. The final episode was a 'mega double episode' and aired on 25 January 2020 and was simultaneously shown on TV as well as being screened in major cinemas across Pakistan. Ever since the airing of this show, it has gained immense popularity among Pakistanis, becoming one of the highest-rated dramas in 2019.
Apart from the story of the drama, the dialogues have been applauded for their impact too. Be it "Do takay ki larki" or "Shirk to Khuda bhi mauf nahin kerta" every dialogue has had its time on social media. The dialogues of 'Mere Paas Tum Ho' not only went viral because they were well-written but also because they were well-delivered. Nadeem Baig's direction and the cast's performance added a 100 to the value of the dialogues written by Khalil-ur-Rehman.
List of dramas
Khala Surraya – 2012
Meri Teri Kahani – 2013
Janam Jali 2 – 2014
Preet Na Kariyo Koi – 2015
Sun Yaara – 2017
Bilquees Urf Bitto – 2017
Yaqeen Ka Safar – 2017
Thays – 2018
Aangan – 2018
Dil Mom Ka Diya – 2018
Do Bol – 2019
Ghalati – 2020
Kashf – 2020
Controversy
Recently, Hira was invited as a guest in a show 'Rewind with Samina' in which she shared some secrets of her life with the host as well as the viewers. However, she received mixed responses from viewers on that. Some viewers mocked her for the secrets which she shared on the show. However, some viewers also praised her for displaying the courage to share the secrets of her life with the viewers. She revealed in the show in-front of the viewers that as she fell in love with Mani from the moment she interacted with him. As a result, she decided to ditch her fiancée so that she could eventually marry Mani.