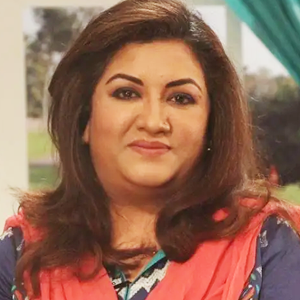 Biography
Hina Dilpazeer is a Pakistani Actress, Comedian, Director, Singer, and Television Anchor. She was born on the 16th of January 1969 in Karachi Pakistan. She is best known for her character "Momo" in the Serial BulBulay which is one of the most-watched comedy-drama in Pakistan due to her excellent performance. Her Other essential works were comprising of Mitthu in Mitthu Aur Aapa, or Shakooran in Quddusi Sahab Ki Bewah, and Saeeda in Burns Road Ki Nilofar, for which she won the Best Female Performance in a supporting role at the Kara Film Festival. His role as Momo in Bulbulay received highly positive comments all around the world and she won a heavy fan following.
Besides being an essential part of television and theatre, Dilpazeer enjoys poetry and music and adores Roshan Ara Begum, Bade Ghulam Ali Khan, Master Madan, and Begum Akhtar.
Fact File 
Birth Date – 16

th

  January 1969

Birth Place – Karachi, Pakistan

Age – 54 years in 2020

Father – not known

Mother –  not known

Siblings –  not known 

Marital Status – Married  

Son –

 Mustafa Dilpazeer Khan

Nationality – Pakistani

Religion- Islam 

Occupation –

Actress, Comedian, Television Artist, Director, Singer

Known for – Bulbulay -Momo
Years active – 2008-present
Background 
Hina Dilpazeer is a popular Pakistani actress. She is commonly recognized for her unique role as "Momo" in the comedy serial Bulbulay, aired on ARY Digital, which has appeared as the most viewed drama on Pakistani television on Hina Dilpazeer's brilliant role in the show. It was only by chance that Dilpazeer got the part in Burnes Road ki Nilofer, directed by Mazhar Moin alongside experienced actor Abid Ali. After this drama's immense success, Hina Dilpazeer on no occasion, looked back and got several captivating roles in plays like Veena, Madam Rizwana Baby Shabana and Bichhu Phuppi.
Educational Qualification 
After completing her early education in Karachi, she was moved to UAE with her family because of her father's employment. She returned from abroad and started her career in the Tv Industry.
Professional Life 
Hina Dilpazeer initiated her career in 2006 in a drama titled "Burns Road Ki Nilofar" broadcasted on ARY Digital. Her role was enormously respected by everyone. She has also appeared in theatre shows like 'Dil Ka Kya Rang Karoon.'
Truthfully, Atiqa Odhu and Zeba Shehnaz have made their characters memorable. In a recent interview, Hina Dilpazeer stated: "I can't believe that various top actors enjoyed my work." She is a very sparkling person; she loves her fans a lot though she isn't much dynamic in social media.
Hina Dilpazeer is recognized for her natural way of acting; that is why it becomes complex to distinguish between her drama and reality. Bollywood superstar Anil Kapoor had bestowed her title of "Art Diva" and called her his guru. In case we wish to sum up her personality in a single word, it would be "Exceptional." Hina Dilpazeer has confidence that talent must be used and not wasted.
In the year 2009, Hina Dilpazeer becomes an idol of the whole country when she appeared in the role of "Momo" in super hit comedy-drama Bulbulay, one of the most viewed and top comedy-dramas. Momo has an appalling memory and characteristically forgets the names of her family. This comedy-drama is basically a fantastic family show that has emerged as a top-rated sitcom all across Pakistan. With timely delivery of dialogues and immaculate expressions, it has become pure laughter of the nation.
Hina's Films;
Jeewan Hathi (2016)

Shaan-e-Ishq (2017)

7 Din Mohabbat (2018)

The Donkey King (2018)

Paray Hut Love (2019)
Hina's TV dramas;
Burns Road Ki Nilofar

2008

Yeh Zindagi Hai

2009

Nadaaniyaan

2009–2016

Bulbulay

2009

Andata

2010

Ronaq Jahan Ka Nafsiyati Gharana

2010

Rang

2011

Ladies Park

2011

Tum Ho Ke Chup

2012

Annie Ki Ayegi Baraat

2012–2014

Quddusi Sahab Ki Bewah

2012

Mohabbat Jaye Bhar Mein

2012

Fun Khana

2012

Jahez

2013

Tare Ankboot

2014

Mithu Aur Aapa

2015

Googly Mohalla

2015

Khatoon Manzil

2016

Iss Khamoshi Ka Matlab

2016

Hina Dilpazir Ki Gudgudee

2016

Jab Tak Ishq Nahi Hota

2016

Faltu Larki

2016

Kitni Girhain Baaki Hain 

2016–2017

Hum Sub Ajeeb Se Hain

2018

Lollipop

2018

Hum Chale Aaye

2018–2019

Baandi

2018–2019

Siskiyan

2019

Choti Choti Batain

2019

Phir Bulbulay

2019

Jhanka Tanki

2019

Bulbulay

2020

Shokhiyaan
Married Life 
Hina Dilpazer got married in 1992 to the man of her choice. She fell in love with Ahmed at an early age as he was good-looking and a good-hearted man.
They did not have any significant variances, but later due to severe aggression, her husband suddenly divorced her for majorly no reason.  At that time, Hina was twenty-three, and her son Mustafa was only 3 years old
Hina does not have any grumbles from her husband; all she has in her emotion and mind are good memories of both of them.
She has faith in her husband just came, played his role, and left her life but taught her many lessons. Later many years after her divorce, she joined the industry and raised her child all alone.
After her divorce, Hina dedicated her life to the upbringing of Mustafa. She faced extreme criticism from society; no one from the friends and family supported her.
People around here used to restrict her not to meet the bride did not allow her to visit any house where there was some celebration. She was always proposed to patch up with her husband as she was young and had her whole life ahead of her significant problems. Hina's proficient downfall and again stood up for herself and her son time by time without any support. She firmly has faith in Allah's planning; he settled her matters in the past and will sort them out in the future too.
Family Particulars 
Hina Dilpazeer is blessed with a boy named Mustafa. He recently got married and is living a happy life with his spouse. Hina, her son, and daughter-in-law appeared on the set of 'Geo Subha Pakistan' for the very first time. The whole scene was decorated like a wedding stage to welcome the newly wedded couple. Mustafa and his wife seem to be content with each other. May they stay together forever.
Reason For Fame 
Hina Dilpazeer's role in Bulbulay was a massive success. Many people know her as Momo, which is the name of the character she played in Bulbulay. Her role as Momo received highly positive feedback worldwide. After she appeared in Season 2, Bulbulay has become one of the most-watched and humorous Pakistani sitcoms ever to air on television, all due to Hina Dilpazeer's presence within the show. It was also reported in an interview that "without her, the show wouldn't have been where it is today."
This comedy-drama is basically a fantastic family show that has emerged as a top-rated sitcom all across Pakistan. With timely delivery of dialogues and impeccable expressions, it has become pure laughter of the nation.