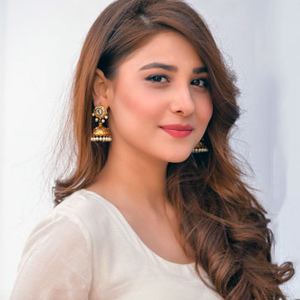 Biography
Hina Altaf Khan is a stunning and gifted Pakistani actress and a model who is a part of this industry for a long time. She has made millions of followers over all these years with her beauty and charisma. Hina showed herself with her outstanding performances one after another, which wasn't a surprise for her fans, who welcomed her warmly since her first day in the industry when Hina didn't have any acting experience. Other than a wonderful actress, she is a notable host too. Hina has a natural, graceful look about her that adds to her charm and gives her on-screen characters much more realism than showbiz fantasy.
Fact File
Birth Date– 24 October 1992

Birth Place – Karachi, Sindh, Pakistan

Age – 28 year in 2020

Siblings – Two Brothers

Brothers- Sharukh Altaf Khan

Marital Status – Married

Husband – Agha Ali

Nationality –Pakistani

Religion- Islam

Occupation – Former VJ, Actress, Host

Years active – 2012-present
Background
Hina Altaf Khan is a famous Pakistani actress and host. She is known for her playful attitude and outstanding acting. She started acting as a child star. She looks too young and can perform any type of role efficiently. She has an impressive personality and incredible acting skills. She changed her looks after starting her showbiz career. Over time, she becomes more attractive. Hina Altaf is also a vlogger and upload exciting videos on her YouTube Channel.
Educational Qualification
Hina got her early education from Beacon house School System. After then, she attended the Iqra University for the pursuit of her graduation degree.
Family Particulars
You all must have heard the sad life struggles of Hina Altaf on the well-known YouTube show by the famous Samina peerzada called "Rewind with Sameena". She owns a very complex relationship with her family. Her father died at a very young age, after which her mother took care of their children. Due to the Psychological illness of her mother, she (Hina) and her mother got so many issues, after which she left the house and became an independent woman. During the process, she went into depression, for which Dr. Alam helped her recover from the depression. She shares a strong relationship with him and considers him as her own father and mentor, her admiration for Dr. Alam is so much that she got a tattoo of his name.
Marital status
Hina got married to agha Ali on 22 may 2020 in an intimate ceremony attended by friends and family. After their project together named dil-e-gumshuda they found each other as the right person for their life and later claimed it as the best decision.
Professional Life
As An Actress
Hina initiated her career and made her acting debut as a leading role of Maryam in the ARY famous drama serial "Maryam Kese Jiye" alongside Sana Askari, Shagufta Ejaz, Imran Aslam, and Hassan Ahmed. The drama is the heart-touching emotional storyline of Maryam's life. After her performance in this drama, she opens the door to achievements and since then, has been depicted as a lead role and supporting role in many TV dramas. One of the best dramas as a lead character is "Aatish" opposite Azfar Rehman. The play revolves around the love story of an orphan girl named Asma played by Hina and Shehryar, played by Azfar Rehman, who lives in the USA and visits his grandmother's house for a few days.
She has also made her debut as a supporting character in many drama serials, such as in the drama serial "Abro" along with Noor Hassan, Zainab Ahmed, Eshal Fayyaz Ahmed Zeb in 2017. The drama tells the story of two fatherless siblings Abro and Hamid, where she portrayed the dual lead role of Afsheen. Her other supporting role is Eman in the ARY romantic drama serial "Karb" along with Adnan Siddiqui, Armeena Rana Khan. The drama is about the story of an innocent unmarried girl, Hania, who is full of life.
The talented actress started her hosting at 18 on the ARY Digital show 'Breaking Weekend.' Following the years, she also appeared as a consistent in a reality show "Madventures (season 2)," which is an adaptation of the popular reality show "Fear Factor." The show was hosted by famous comedian actor Ahmad Ali Butt. She was also the co-host of a 2019 singing competition show "Pepsi Battle of the Bands (Season 4)," and the actor Ali Safina. Recently. She appears in the Pakistani romantic television soap opera "Dil-e-Gumshuda" alongside Agha Ali on Geo TV.
As A Host
In 2019 she announce her hosting the show 'The Pepsi battle of the bands' and with actor Ali Safina. On being questioned about her hosting decision, she said that hosting is her passion, which can never become dull. She has also made her own Youtube channel, where she posts videos of her daily routine.
Superhit performance
Lately, in Udaari, she was the twenty-something who had once been a victim of child abuse at the hands of her stepfather. Hina portray herself very relatable as the abused and haunted, yet determined and reflective Zebu. The way she stood up for her mother, who wanted to protect her daughter's past from the public eye, got her international recognition. Since then, there has been no looking back for Hina Altaf.
Shows/Drama/Telefilms
2012

Girls Republic

2013

Meri Teri Kahani

2015

Maryam Kasay Jeeye

2015

Judaai

2015

Madventures (season 2)

2016

Ek Thi Misaal

2016

Karb

2016

Abro

2016

Udaari

2016

Natak

2016

Saya-e-Dewar Bhi Nahi

2017

Kuch Na Kaho

2017

Dil-e-Jaanam

2017

Gumrah

2017

Pagli

2017

Sodai

2018

Karamat-e-Ishq

2018

Ustani Jee

2018

Tawaan

Mahnoor

2018

Aatish

2019

Battle of the Bands (season 4)

2019

Dil-e-Gumshuda

2019

Judai

2020

Rabba Mainu Maaf Kareen

2020

Dikhawa

2020

Makafaat 2

2020

Bandhay Aik Dor Say

2020

Kasa-e-Dil

2020

Love Siyapaa

2020

Teray Pyar Mai
Current Life
The couple show;
For celebrity couples by a celebrity couple. Actors Agha Ali and Hina Altaf are hosting the show "The Couple Show" to interview fellow celebrity couples. Different segments and fun quality content. Even though they hosted many other shows as well but it's first as a couple.
But when asked whether he prefers working with Altaf in dramas or shows (they've worked together in 2019 drama Dil e Ghumshuda very much liked by the audience), Agha Ali replies with cheesiness.
"I prefer doing anything and everything with Hina Altaf over anything else in the world."
The show itself will traditionally follow the format of American late-night shows. Think The Late Show with James Corden or The Tonight Show with Jimmy Fallon, a mix of games and gossip with celebrity guests.
Foodie Hina
One thing that Hina keeps mentioning about herself is that she is a foodie and a traveler. She loves the travel aspect of her job and is always ready to travel and explore whenever an opportunity to do so presents herself. She also shares beautiful pictures of food well shown, especially fast food, which she is very fond of eating.
Persona
Her style is mostly casual and natural, with minimal makeup; she believes in a minimalistic lifestyle. She is not very fussed about makeup and jewelry either and keeps her fashion statement tidy and straightforward. However, on the occasions which demand glamour, Hina is fabulous informal chic and heavy-duty makeovers as well. In some pictures, she rocks spectacles beautifully and is equally charming in both Asian and western wear.