Donald Trump President kya ban gaya, duniya hi hil gayi… Seriously, Trump's Presidency has been a major event in the whole wide world that continues to bring its impact by every day.
A day shall not pass until you hear President Trump and his agendas in the news. He continues to cause a massive uproar among people from around the world.
Where his policies conflict with the interests and values of many people, they engage in protesting against it. Notable cities around the world are flocked with protestors led in marches against President Trump and the blatant policies he has promised to introduce in America.
Since his plan is going to have a global impact and will change the world forever if implemented, people find it a dangerous proceeding in disrupting the peace and harmony of many communities of the world that are being targeted and scrutinized in his policies in particular.
Hilary Clinton stood against Trump's policies and battled till the election day but had to concede the defeat. As Trump won the election, protests from Americans poured in.
We Pakistanis are known for doing some of the ridiculous things in our own ways. There are some things that make Pakistanis truly Pakistanis, and we do not lose this characteristic even if we are an immigrant or citizen in a foreign country.
Indeed Pakistanis joined their fellow Americans in the protests against President Trump. However, they did not join the Americans in the things they personally had to say.
Pakistanis remained Pakistanis in this particular regard and gave us all a good laugh.
Check out what they did during protests in some of the major cities:
OOPS!
HOW CUTE OF HER!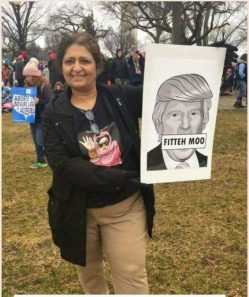 THIS GUY IS GOING PLACES…
HOW CAN YOU FORGET THIS!
Oh, our wonderful Pakistanis with their wonderful acts. Who says protesting can be boring? Anything can be interesting if you can add a little humor in it.
These people have fulfilled the core purpose of protesting. They have let the world know of their subject and it makes perfect sense why they would have opted for such hilarious ways. It has grabbed a lot of attention and collectively has fulfilled creating awareness of the cause led by these people.
Donald Trump's racial agenda has afflicted many people and we hope that raising a voice against it should be a countenance in making a difference.