In a gesture of appreciation, Imran Khan on Thursday thanked a cop whose exemplary dedication to duty saves a man from being crushed under a train.
A brave policeman saved a young man who fell dangerously close on the platform as a train passes through a railway station. Taking to Twitter, PM Khan shared a short clip of the incident in which the cop saves a man from the train.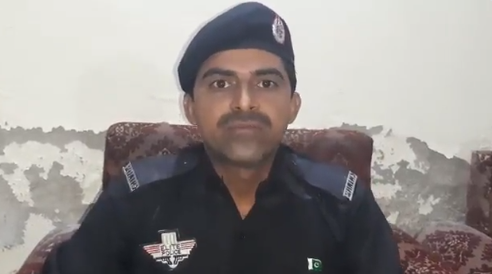 In the video that has now gone viral, the cop can be seen quickly rushing towards the man. He manages to pull him away from the train, saving his life. Many social media users commended the police officer for his heroic action. His quick thinking and quick action prevented what the premier called a "sacred" catastrophe.
"This is where duty becomes sacred," the prime minister wrote on his official Twitter handle. "Admiration for the commitment of the young policeman to serve the people." In addition to this, he shared the video of the incident.
Take a look at the video!
This is not the first time the premier has applauded such bravery on Twitter. PM Khan praised a head constable of the Islamabad Traffic Police (ITP) in June for returning to work two days after sustaining an injury on the job.
A few months ago, the premier also thanked the country's police force for their "heroic stand" against an organized violence campaign launched by supporters of an ultra-right-wing party.
In a shocking turn of events recently, a 70-year-old man came under a train and survived. A video came to the surface showing some men from the railway administration trying to get the elderly man out from under the train. Surprisingly, the elderly man was seen coming out alive and well.
The man fell under the train while passing through the railway track. More so, he got stuck under the train. However, if the train driver had not applied the emergency brake at that moment, the 70-year-old would have fallen under the train and died. As the old man survived, the video of him went viral on social media. There was a sense of surprise among everyone that the old man was able to escape death.
Speaking of escaping death, many similar incidents have come into the limelight in the recent past. A terrifying moment was caught on camera, showing two women while taking a ride on the swing over Sulak Canyon, on the Caspian Sea, when one of its chains snapped. They fell off the swing seat but survived.
What do you think of this story? Let us know in the comments section below.