Disclaimer*: The articles shared under 'Your Voice' section are sent to us by contributors and we neither confirm nor deny the authenticity of any facts stated below. Parhlo will not be liable for any false, inaccurate, inappropriate or incomplete information presented on the website. Read our disclaimer.
So, I recently installed this app called "Snapchat" because I was feeling a bit left out. All of my friends were using it. When they used to laugh after watching something on it, I usually sat there with an awkward face looking at my phone. However, what happened after using Snapchat for a few weeks is what my life changed completely.
I was not the same old decent "Rao", I was transformed. Everything in my life, no matter how simple or boring, was reformed to conform to the ultimate standards of coolness. So, what really happens when you install "Snapchat"?
1. Want To Be A Proud Member Of This Society? Join Snapchat
Once you install "Snapchat", you become a proud member of the cool society.
2. Everything Seems Cool
Everything in your life transitions into something so cool that it becomes the sole purpose of your life to share it with the world.
3. Snapchat's Sunshine
You wake up in the morning, you see sunshine. This is not the ordinary pre-Snapchat sunshine, this is the post-Snapchat SUNSHINE, that is so damn cool. So you post it on SC with a cool caption like "Rise and Shine" because nobody else woke up in the morning definitely!
4. Bitmojis Zindabad
Remember the old times when you went to some restaurant and you posted food pics with some filters on Instagram to be cool? Oh, man! That was so painful and slow. Now you just have to take a food pic, put some animated bitmojis on it and post it on SC…. there you go. You, Sir/Ma'am, have just reached a new level of coolness.
5. Ordinary Tea Into Ecstatic Coffee
Do you remember the time when you made tea and it was not so fun? Well, not anymore… Snapchat converts your ordinary tea into ecstatic coffee. Just choose a dark filter and put a caption "Nothing tastes better than homemade coffee". That's it!
6. Make Your Drive Amazing
Travelling in the car was so boring before SC. People used to listen to "wahiyaat" (disgusting) music and just drive (Height of Boredom). Well well well… Things are not like that anymore… The post-SC car traveling is exquisite. You change the boring music to NFAK's jewels, you drive at 120 km/h, you can record a video of yourself doing all that (how freaking amazing is that?), you put a time-stamp on it and share it on SC. Damn it!
7. Transformation Of All Anti-Feminists to Feminists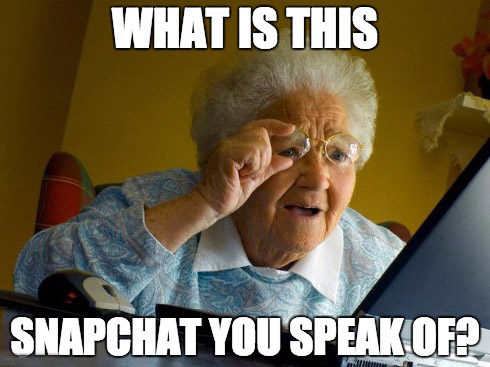 Snapchat has literally transformed all Anti-Feminists to Feminists and they don't even know it. Do you consider yourself an Anti-Feminist? Are you a true macho-man (Mard)? Well, not anymore, Sir. Snapchat has 20 filters. Out of which, 15 are for girls, 4 makes your face look distorted (nobody uses them except for comedians), and one makes you a look like a dog.
So, you are basically forced to use these girlish filters. You transform from "Papa ka Laadla" to "Papa ki Princess" and you don't even know it. If you don't use these girlish filters, you have to become a dog. Well played SC, well played…. SC also keeps providing some non-girlish filters too, just to keep "Papa k Laadlays" happy.
These are the observations I gathered in just a few weeks. People who are using it for years are the true "Lords of Coolness", they are the immortals among us humans. I advise everyone who is uncool/decent, please install Snapchat immediately and turn your life around. A path to coolness awaits you!