Famous Pakistani religious scholar Maulana Tariq Jamil is launching his own clothing brand soon. His upcoming brand "MTJ – Tariq Jamil" will be selling shalwar kameez and kurtas for you. But some people are not happy about it. However, Maulana Jamil now reveals the reason behind the launch of "MTJ – Tariq Jamil".
Maulana Jamil in a video message said, "Since 2000, I had been thinking about starting a business for my religious activities, particularly to run a madrassa. During COVID-19's lockdown, I have the opportunity to put that idea into practice."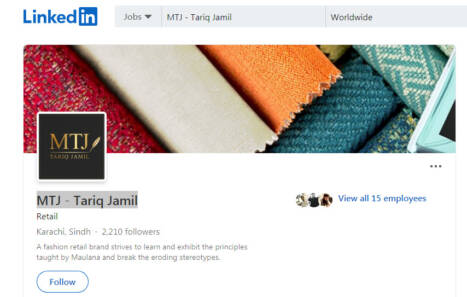 "That was my intention [to make the madrassas self-sufficient] and a few of my friends collaborated with me, after which we launched a brand with my name."
Responding to criticism and trolling, he said, "I don't understand where this idea of clerics running such businesses isn't righteous came from."
"A lot of religious personalities we follow have been successful businessmen."
Meanwhile, a LinkedIn page "MTJ – Tariq Jamil" has also been created. It is supposedly the official page of the brand.
According to the LinkedIn page, It's "a fashion brand aiming to serve with quality and integrity, inspired by the philanthropy of Maulana Tariq Jamil."
Recently, TV anchor, Iqrar ul Hassan, also supported Maulana Jamil and saw no issue in doing business.
He has defended Jamil's decision of launching a clothing brand by saying, "It's in the news that Maulana Tariq Jamil or his son has started a clothing brand. Trade is also Sunnah and there is no problem in it according to Shariah."
We also wish Maulana Tariq Jamil and his team all the very best for their brand.
What do you think of this story? Let us know in the comments section below.