Disclaimer*: The articles shared under 'Your Voice' section are sent to us by contributors and we neither confirm nor deny the authenticity of any facts stated below. Parhlo will not be liable for any false, inaccurate, inappropriate or incomplete information presented on the website. Read our disclaimer.
If you're anything like most people out there, you may already be finding it difficult to keep up with your new year resolutions. What once seemed achievable and inspirational on paper at the eleventh hour of December 31st of 2018, may now suddenly be appearing as too far-fetched and impossible to follow through. Sure, in the very beginning, you might have confidently boasted on how this new year was going to be a completely new you, but then you quickly found all of your hype fade out as the days of January rolled by. So, where exactly did the problem lie?
Turns out, the most common problem with our new year resolutions is not the goal itself but the strategy behind it! We think that by quickly listing down all of our dreams and desires onto a single piece of paper, we're successfully done with our planning phase and so we move almost immediately onto implementing them! This is why each year, almost all gyms across the globe, always report a huge spike in their gym memberships in January, followed by very high drop-out rates as the months go by.
Clearly, while many people had set out their reasonable target of losing weight and improving their fitness, very few of them did actually pay any attention to how to they would be achieving it. So, to help you plan out your action strategy better for this year ahead, here are some useful hacks!
1. Start using a personal Journal!
Yes, it's time for you to finally buy this important personal accessory and experiment around in fun creative styles that you see up on Instagram all the time! When writing down your life's goals, you should have enough space to brainstorm exactly why you want to do any activity and what should be your course of action. For this, you should start at making handy Pros and Cons lists for each of your resolutions, and prioritize them accordingly. Once you know which of your goals are the most important, you can then make a more reasonable time schedule for each one of them. Doing all of this in a personal journal is not only cheap and reliable but may even trigger the artist in you as you find all the colorful, expressive ways to tinker around!
2. Divide your goals over the year!
It is truly amazing, how most of us fail to realize that not all of our new year resolutions should be done and dusted by the end of the month of January alone! Therefore, so many people make the common mistake of starting off all of their goals together and quickly ending up drained of energy, time and motivation as they struggle to wake up at 5 am, listen to a podcast on their way to work, attend the gym in the evenings and take an online French course in the afternoons! Instead, the better strategy is to do one thing at a time, and then sticking to that activity until it becomes a daily habit. Then, move on to adopting your next goal while still keeping up with the first! This way, over the course of several months, you'll find yourself consistently improving, as you become better at performing your new habits as a comfortable routine!
Read Also: This Pakistani Woman Achieved Epic Career Goals After Being Abandoned By Her In Laws
3. Always start with the basics!
This one is important as we often tend to overburden ourselves in our initial state of excitement by stressing out our own personal capacities of changing as a person! Remember, adopting new habits are hard, and one cannot be reformed overnight! So, remember to first take the baby! If you're new to exercise, start by doing ten minutes works out daily! Then, once you find the hang of it, move on to more rigorous routines! Similarly, in an effort to lose weight, instead of completely giving up on processed sugar and oil, simply reduce your daily intakes to smaller and smaller portions!
4. Set monthly and weekly resolution!

This is a great way of staying motivated onto following through with your resolutions! You can use your phone calendars and timers for this, and what's more is that these days there are countless many mobiles apps that assist you by reminding you regularly on doing your tasks! When you tally your progress with to targets at the end of each week or month, you get a clearer picture of just how committed you were, and where exactly could you improve.
5. Allow yourself to fail too!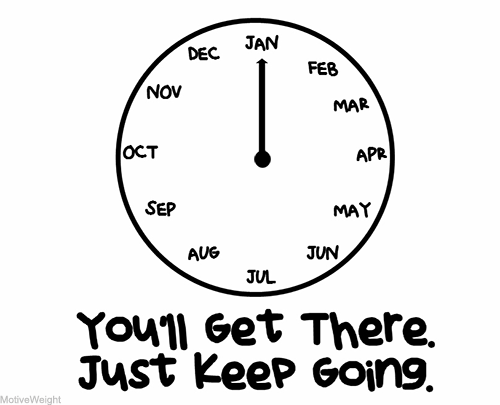 Perhaps the greatest hurdle to our own success is our fear of losing it. As we move closer and closer towards an accomplishment, we feel as if the stakes suddenly become higher, and so we end up becoming critically self-conscious! Hence, if we fall behind in our pace or miss out on a set target, we become doubtful of our abilities and tend to give up in despair! Remember, the real champion of any war is not the one who never fails, but the one who is always spirited enough to pick up his own self after every time he falls into a mistake. So do not brood in gloom for very long over that glutinous cheat day from your diet or a low score on your test. But instead, be kind to your own self, and start off the very next moment you in which you feel ready to hustle again!