We all know how gorgeous hair leaves a super good impression on everyone. I mean, who wouldn't want to get complimented on their luscious hair? Haircare has become an important part of everyone's life as it helps in keeping them well-maintained and to avoid extensive damage, hair loss and what not.
The trend of having killer hair has now taken over the men too! They have started growing their mane's and taking care of their beards. From essential oils and shampoos and what not, their bathroom shelves are now full of haircare products!
In short, everyone just has one goal nowadays – to flaunt their locks!
And for those who love haircare and love yummy-smelling shampoos and conditioners, we have an exciting announcement for you!
Herbal Essences has launched 3 new shampoo and conditioner variants namely, White Strawberry and Sweet Mint, Coconut Milk and Argan Oil of Morroco! These yummy-smelling shampoo and conditioners are crafted with bio-renew which brings life to your hair as the shampoos have a perfect blend of natural ingredients!
And what's so amazing about them? Herbal Essences is all natural which means it is free of colorants, parabens, paraffins, gluten and silicones that would actually damage your hair in the longer run.
The 3 latest variants smell super good and have amazing qualities!
1. White Strawberry and Sweet Mint:
Want to gently cleanse your hair? Get that ultimate shine? This the shampoo that is suitable for you!
2. Coconut Milk:
Want to add extra moisture? The Coconut Milk shampoo will work like magic!
3. Argan Oil of Morocco:
To save your damaged hair, Argan Oil of Morocco shampoo is what you need to get your hands on! The transformation is going to be amazing!
Imagine smelling all fresh and natural, such good feels, right? #LiveNature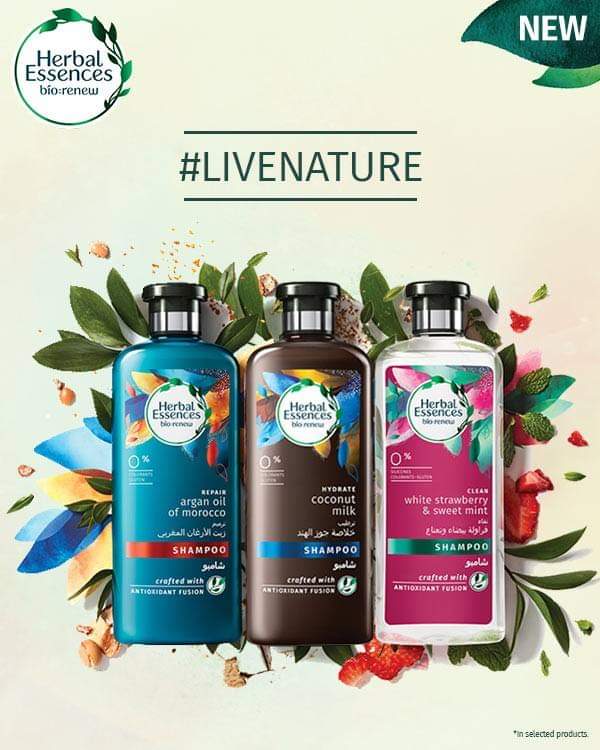 But wait…. what about their conditioners? You know you need that softness and extra silkiness!
As much as we love shampoos, we love the after effects of conditioners too! And when you need a bit of texture, the conditioner is super important!
So, if you're planning to get your hands on these 'yummy-smelling' shampoos and conditions, and want to flaunt your healthy locks, you can easily find them on daraz and all leading stores!