A malfunction with the helicopter caused it to crash when it was being used for training near the city of Gwadar in the province of Balochistan, according to a statement released by a spokeswoman for the Pakistan Navy on Monday. The incident claimed the lives of two officers and one soldier.
According to the representative for the company, an investigation into the collision has been started.
According to a statement made by a spokeswoman for the Pakistan Navy, "as a result of the crash, two officers and one sailor of the Pakistan Navy embraced martyrdom," and the Pakistan Navy has begun an inquiry into the event.
The leaders of many governments and political parties immediately expressed their sorrow and sympathy for the victims of the tragic event as soon as news of it began to spread.
Helicopter Crash In Gwadar Pakistan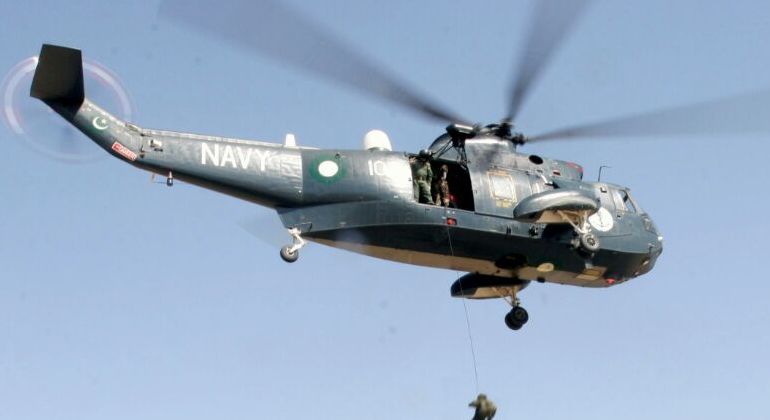 Anwar-ul-Haq, who is serving as caretaker prime minister, has expressed his profound sorrow over the loss of priceless lives and prayed for the perseverance of the families of the martyrs.
In his statement, President Arif Alvi stated that he feels the suffering that the families of the martyrs are going through at this time of crisis.
In addition to this, he offered prayers for the fallen heroes and paid appreciation to the work they had done for the nation.
At the same time, Caretaker Interior Minister Sarfaraz Bugti expressed his condolences and prayed for the high ranks of the naval commanders and men who had been killed in the attack.
Bugti is quoted as having declared, "We salute those who got martyred while carrying out their duties."
Shehbaz Sharif, who served as prime minister before his brother, has also expressed his grief over the fatal tragedy and his solidarity with the families of the victims.
In the course of paying his respects, Shehbaz remarked that the "Martyrs are making great sacrifices for the country and the people." In addition to this, he prayed for the advancement of the martyrs and the endurance of those who had lost loved ones.
See More: Pak Army Officials Martyred In Disaster Helicopter Crash
What do you think of the story? Tell us in the comments section below.