Heavy rains that began in the early hours of Monday paralyzed routine life in Abbottabad. Approximately 70 percent of Abbottabad city, mostly cantonment localities, experienced heavy flooding that caused long traffic queues on the main Karakoram Highway and link roads.
One to two feet of rainwater accumulated in many areas including the Ayub Teaching Hospital was full of rainwater. The heavy rains caused major damage to the Ayub Bridge at Havelian, Abbottabad. It caused all traffic to divert to the old bridge from the main KKH highway. Moreover, this led to long queues of vehicles forming on both sides of the highway.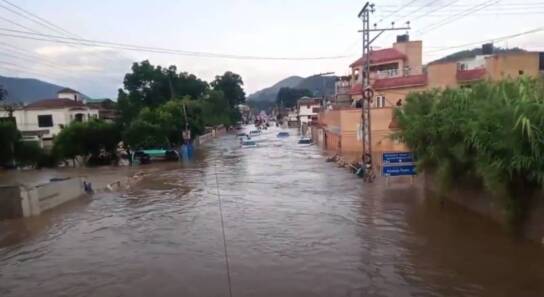 Rainwater also entered Ayub Medical Complex, causing severe problems for the patients. The hospital management stated that they immediately shifted the patients from the affected wards due to heavy downpour flash floods, and rainwater entering several wards.
Take a look at this:
"Pakistan's historic city of Abbottabad is sinking. The most beautiful city is on the brink of destruction by incompetent rulers. The views are of the main highway. There is no one to ask, no one to take action. God have mercy," wrote one user.
The power system in the hospital was also severely damaged due to water intrusion. However, the ATH technicians started repairing the generator to regain the power supply. In Abbottabad, yesterday's rain badly damaged the road network, the water, and the electricity supplies. People were trapped in their homes as roads were flooded.
Living in the open, the residents were fearful for their lives. The rainwater also entered houses and damaged goods. Reports said that several houses suffered damage in Havelian and its surrounding villages. Different roads in Tehsil Lora and Galliyat were also damaged due to land-sliding.
This is the current situation of the city
Pakistanis call out PTI for its negligence and poor performance that has been ruling K-P since 2013. Every year monsoon season becomes a catastrophic experience for the citizens.
Fortunately, no loss of human life was reported. But the deaths of animals were reported from different areas. The Rescue 1122 official rescued at least 62 stranded people and six patients were shifted to hospitals.
In a news release issued Monday, the PDMA said its monsoon contingency plan developed in consultation with district administrations, provincial and federal authorities, and development partners. It ensures timely response to the calamity and minimizes hazards, vulnerabilities, and risks.
As Karachiites woke up to the first spell of monsoon rainfall of the year on Monday, they had a brief respite from the heat. But it brought back painful memories of last year's catastrophic and heavy rains wave in Karachi for many.
What do you think of this story? Let us know in the comments section below.