In a peculiar yet life-threatening turn of events, a heartbroken husband on Thursday tried to commit suicide as he jumps off from the first floor of the district court building after his wife refused to go with him and instead opted for her family. The awful incident took place in the city of Lahore.
The deceased identified as Abdul Rehman has recently tied the knot with Saba without the consent of her family. The woman's parents had taken her back home and challenged the validity of the marriage in court.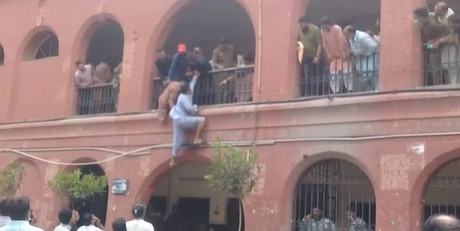 Subsequently, Abdul Rehman and his wife Saba appeared before a judicial magistrate in an investigation involving their freewill marriage. The woman in her statement said she wanted to go with her family. Rehman became emotional and started hitting his head against the wall of the courtroom situated on the first floor.
In an instant, the husband ran towards the balcony and was almost about to leap from the court building as he jumps off when a few people grabbed his hand and pulled him back. They stopped him from falling down and saved his life.
He claimed he loved his wife and could not bear separation from her.
Here is the footage of the incident
Fortunately, he is reportedly safe and sound.
In a similar incident last year, a heartbroken husband climbed up an electric pole reportedly to woo his angry wife in the Kashmore area of Sindh as she asked for khula. This guy definitely took the famous saying 'everything is fair in love and war' to a whole new level.
The couple had a fight over some domestic issues, which made the wife lose her temper. As per the details, the wife was not talking to him or paying attention to him. Subsequently, the very first thing to pop up in his mind was to climb up a power pylon. Soon, the footage of the incident went viral.
Mind you, this was not the first time a man climbed up a power pylon for the sake of love. A few years back, a resident of Shah Faisal Colony, Karachi, climbed an electric pole in Korangi Industrial Area just because his parents did not allow him to get married to the girl he loves!
According to media reports, the guy had a conversation with the girl before climbing the pole and when the arguments converted into an abusive quarrel, the next thing we know, he climbed up the electric pole.
What do you think of this story? Let us know in the comments section below.