In a peculiar yet life-threatening act, a heartbroken husband on Thursday climbed up an electric pole reportedly to woo his angry wife in the Kashmore area of Sindh as she asked for khula. This guy definitely took the famous saying 'everything is fair in love and war' to a whole new level.
The couple had a fight over some domestic issue, which made the wife lose her temper. As per the details, the wife was not talking to him, she was not even paying attention to him. Subsequently, the very first thing to pop up in his mind was to climb up a power pylon. What an instant solution!
According to the details, Nadeem Jamali,the husband, a resident of Kandhkot, climbed a pole of high-tension wires of electric after his disgruntled wife moved the court for Khula. In addition to this, he attempted to take his own life by touching the high-tension wires. As he climbed up the pylon, a large number of people gathered there to watch the episode.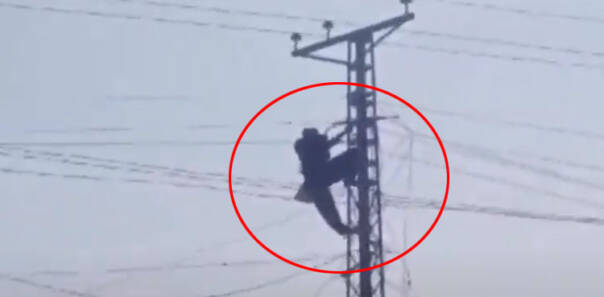 Soon, after receiving information about the situation, police alerted the Sukkur Electric Power Company (SEPCO) officials. They had the power supply suspended in the area to save the man.
Whilst the whole drama was going on, then came a dramatic twist. According to the 24NewsHD TV channel, the angry wife reached the spot to convince him. Seeing his wife showing some care, the lucky Jamali decided to climb down after she asked him to not take such an action.
Later, the police officials also arrived at the scene to persuade him to come down. However, the jittery drama did not last for long. As per the media reports, the police arrested Jamali. More so, also registered a case against him over charges of attempting suicide and others.
Watch the video here
How absurd!
Mind you, this is not the first time a man has climbed up a power pylon for the sake of love. Two years back, a resident of Shah Faisal Colony, Karachi, climbed an electric pole in Korangi Industrial Area just because his parents did not allow him to get married to the girl he loves!
According to media reports, the guy had a conversation with the girl before climbing the pole and when the arguments converted into an abusive quarrel, the next thing we know, he climbed up the electric pole.
Read More: A Sister In Karachi Is Seeking Justice Against KElectric After Her Brother Died Of Electrocution Before Eid!
What do you think of this story? Let us know in the comments section below.