Heavy monsoon rains across Sindh affected the daily lives of citizens. So much so, that even a month later, dozens of people are left stranded due to the floods that wreaked havoc in Sindh.
In many areas, the rain exposed the weaknesses in the municipal systems. From the drainage system to garbage disposal etc., causing a nuisance to the people. Due to the rains, the low-lying areas were inundated. On the other hand, the sewerage systems in the urban centers were blocked.
Not only this but in some areas, dirty water mixed with rainwater, causing severe difficulties for the people. The province experienced six rain spell this monsoon season. Moreover, the unprecedented record rainfall resulted in urban flooding across the metropolitan city.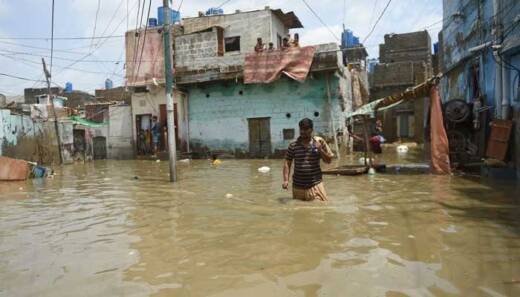 Even a month later, the Sindh government has done nothing to get rid of the stagnant water. It is to be noted that stagnant water makes a perfect breeding ground for dengue and malaria carrying mosquitoes. Hence it is no surprise that reported cases are on the rise.
Traditional sources of clean drinking water have become contaminated with human waste due to the lack of sanitation facilities, increasing the chances of diarrhea, and other diseases.
'Mera kukkar mar gaya,' a child cries innocently while federal & Sindh govts
A child from Sindh rants about the stagnant dirty water in his district. Going on and on about the difficulties he and the residents of his area have to face, the heartbroken child talks about how his rooster drowned in water and died.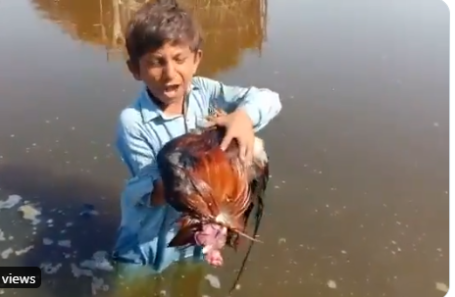 In addition to this, the frustrated kid complains about the dirty water which killed his rooster. While ranting and raving about the flood, he talks about how there is no clean water to even drink.
Moreover, he goes onto blaming the Sindh government and Bilawal Bhutto Zardari for the current situation of Sindh. Frustrated by the lack of action by departments concerned, the child cries for help.
Sindh government, as usual, miserably failed to provide relief to the citizens after the heavy spell of rain crippled the city. The child pleads for clean water and says, "We don't want new Pakistan. Return the old Pakistan to us. Give us clean water to drink."
Amid all these miseries of the citizens, officials of different tiers of government sprang into action to help out the people. However, their isolated efforts could not improve the situation.
What do you think of this story? Let us know in the comments section below.