The Brutal murder of 141 people, of which most were the children, at the Army Public School in Peshawar, led few people into hush, and encouraged other brave hearts to speak up.
One of those brave hearts, who considered it obligatory to speak up, was Shahzaib Hussain, an electrical engineer by profession. Shahzaib paints and draws cartoons on social issues. The cartoon he made melted the hearts of thousands who saw it on social media platforms. He made the cartoon of a woman who lost her child in brutal Peshawar attack.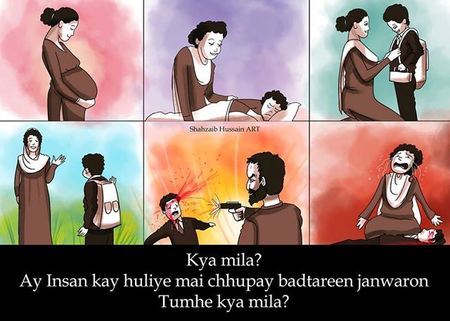 Shahzaib was a former student of same Army public School where the children were massacred Tehreek-e-Taliban Pakistan. He possesses the fond memories of the principal, who was torched up by Taliban. He described her in following words: "The ever gorgeous.. The ever brave.. My school time principal.. Mam Tahira Qazi."
"The bravest women I know. She refused to leave the school despite being provided a safe way out. She chose to stay in with the students and eventually embraced Shahadat.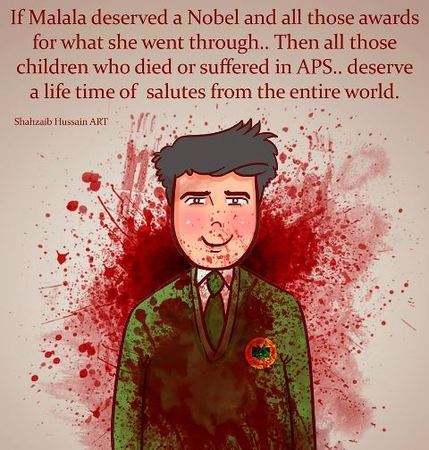 "Thankyou ma'm you and all those brave teachers are the reason why thousands of people attentively listen to us today."
May Allah (swt) grant her the highest status in jannat. And give her closed ones patience.
Ameen."
And another one.