Today, almost a quarter of the country's population is stricken with life-threatening diseases. Especially in rural areas where there is absolutely no awareness. The responsibility falls upon the shoulders of the people who can actually make a difference.
We couldn't be more pleased to realize that finally, those people are taking the initiative to actually inspire a change. HBL's recent attempt to raise awareness about breast cancer is the perfect example of that.
HBL's concern for breast cancer awareness in Pakistan:
According to various studies, Pakistan has the highest rate in Asia of the women affected by this disease. Approximately 90,000 new cases are diagnosed every year. From a lack of awareness of the shortage of facilities, there are many reasons that have led to this crisis.
HBL as a leading corporate entity in this country sees it as their responsibility to care about the well-being of the people it serves.
It is about time that efforts should be made in raising awareness:
Being a strong proponent of diversity and equality in the workplace, HBL realizes that our women deserve a chance at life and how Breast Cancer is affecting millions in Pakistan. HBL conducted various awareness sessions at its premises by inviting doctors to educate its staff about the disease.
The purpose of the sessions was to educate women on the importance of self-examination and regular check-ups and to spread the word to all their friends and loved ones.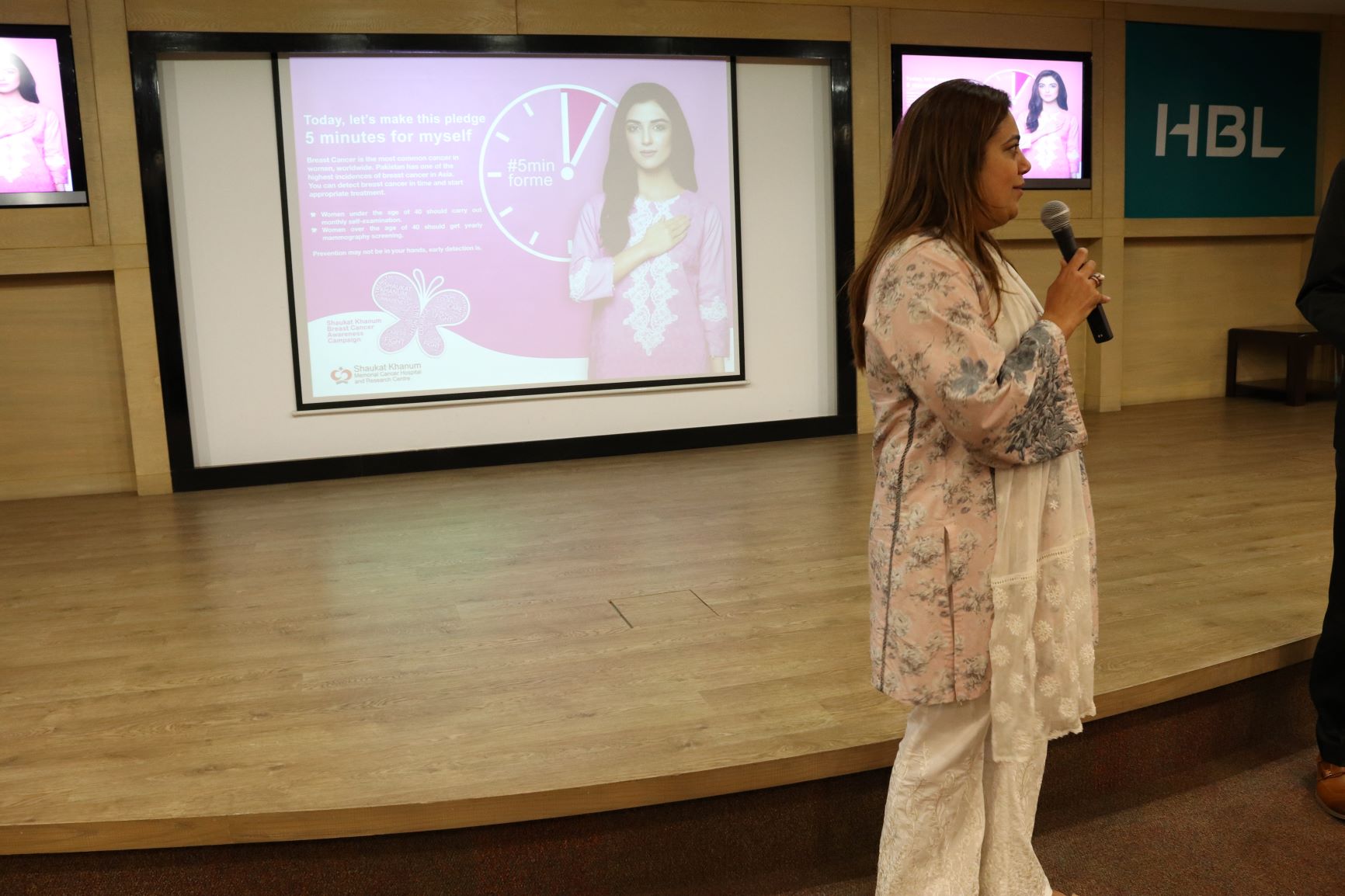 HBL also held a Pink Day at all of its offices where they encouraged their staff to wear pink. Pink is recognized throughout the world as the color to raise awareness against breast cancer.
HBL goes pink to make a statement:
In order to get create awareness for the cause, HBL lit up its entire building with pink lights to put weight on this agenda. The pink lights surely caught the attention of the on-lookers.
The view from afar looked so perfect and the buildings wow!
We all know that HBL's buildings are a work of art and the building in pink lights at night time looked so incredible. It certainly caught our attention. We must also say that this was a very good way to raise awareness.
You have to check out the video as well and see how momentous the building looked!
The message, however, was clear that breast cancer is a fatal disease and early detection can help save lives. HBL's efforts to even think about raising the awareness should be commended.
The problem does not just end there. We have to ensure that all the women around us are aware and that there are proper facilities made to combat it as soon as possible.