So every day, the internet has something to talk about. It could be about a celebrity, a political fiasco or even a national occurrence. Today, we are talking about something related slightly with politics and lifestyle; something which went viral on the internet last night.
Having this said, there was a time when Imran Khan stated that the Prime Minister House of Pakistan will be soon changed into a university for those who cannot afford to be enrolled in the fancy, private universities. Everyone loved that idea.
So let's move on to what Pakistanis are mad about today.
Here's What Happened: Military Secretary to Prime Minister Imran Khan Had his Daughter's Wedding
Daughter of Brigadier Waseem Iftikhar Cheema got married last night with full charm and glam.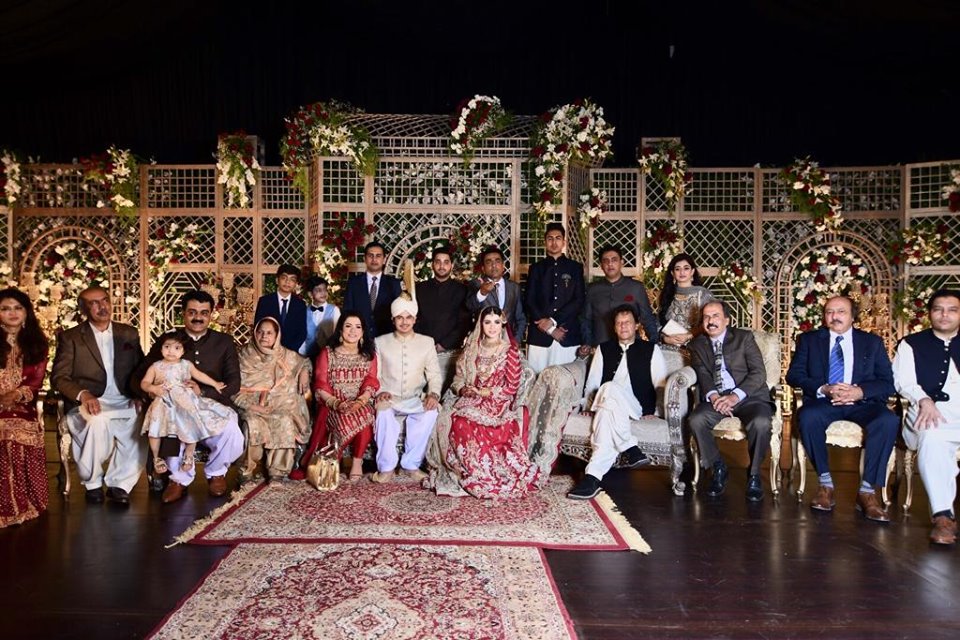 Prime Minister Imran Khan Was Spotted in the Pictures of the Wedding As Well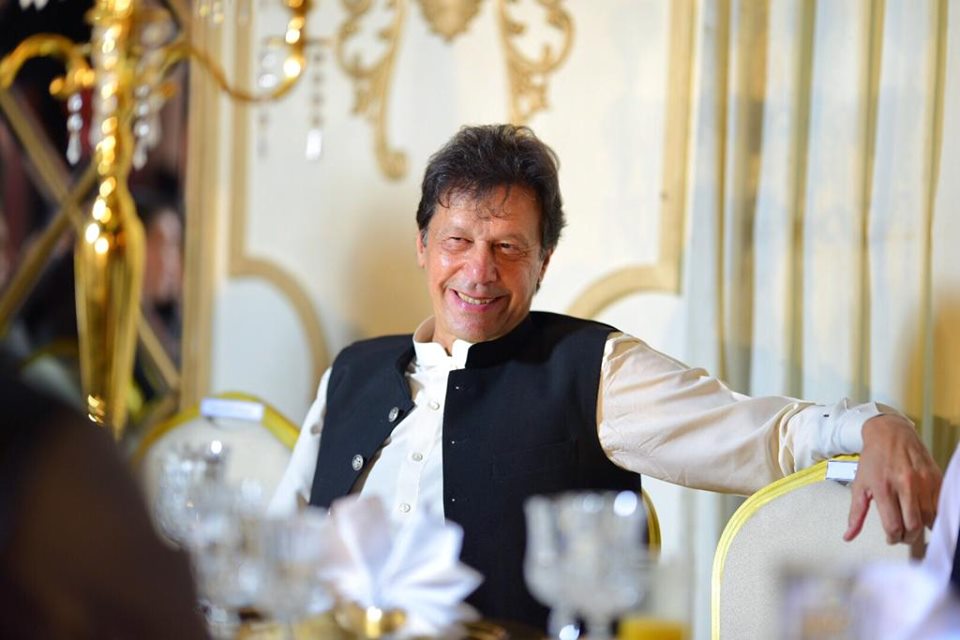 President Arif Alvi Was There Too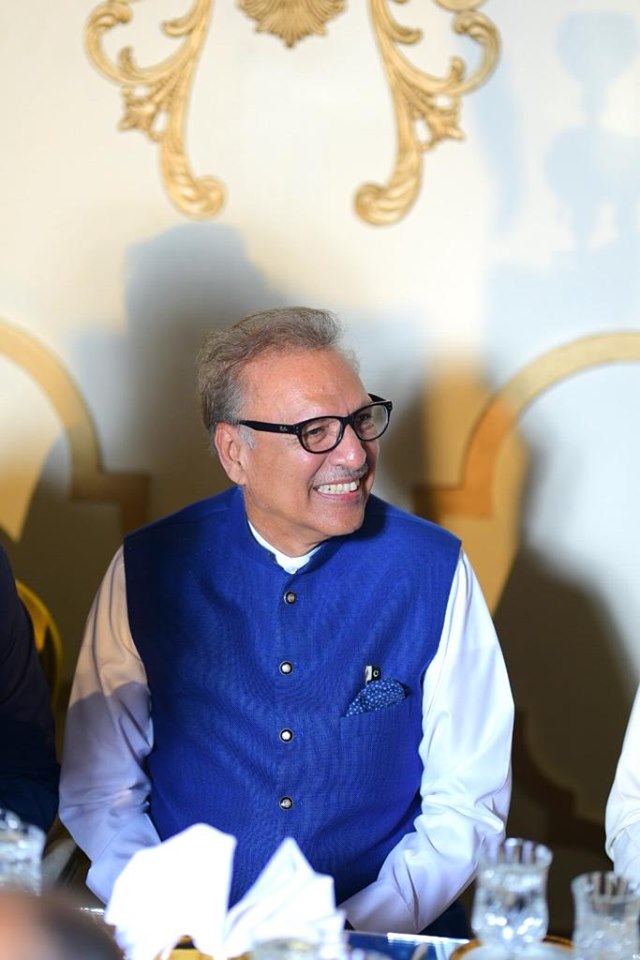 Well, its just a wedding, right? Nothing newsworthy here. Weddings happen. Political officials are allowed to attend weddings too, right? But do you know the venue of the wedding? It was the Prime Minister's house. Yep, that's right.
Here's the Picture of the Wedding Card Floating All Over the Internet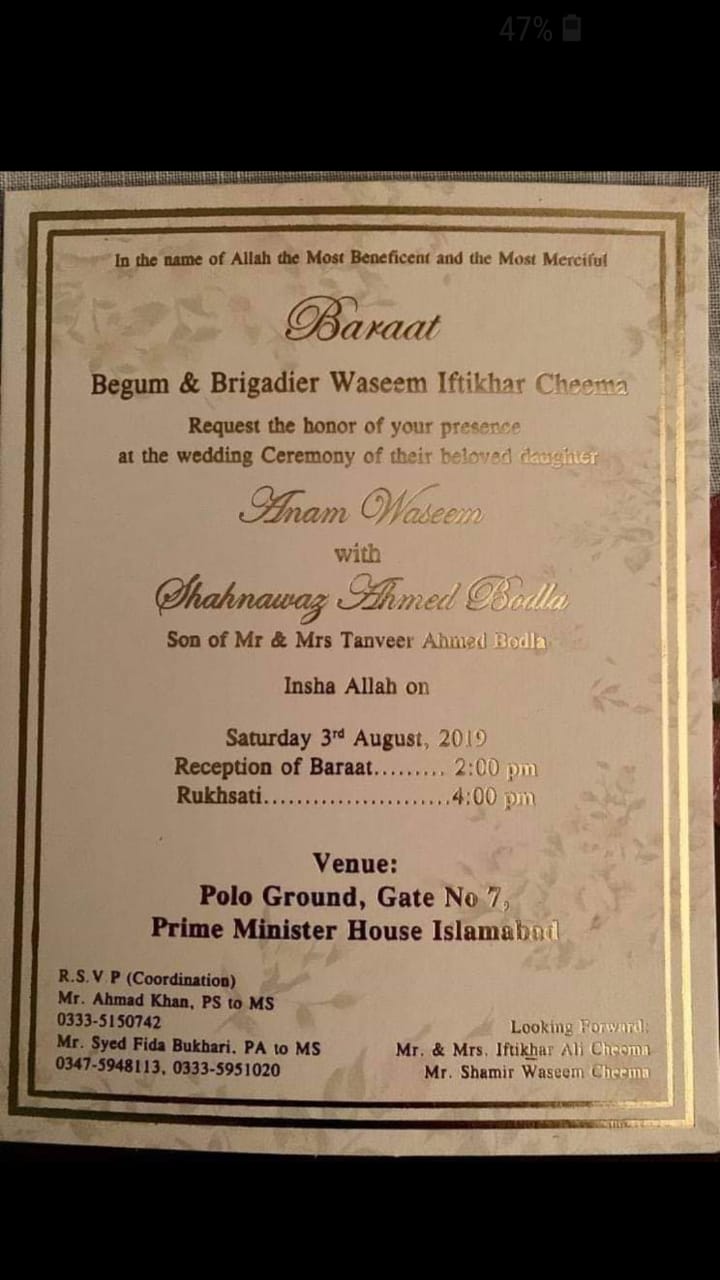 Venue: Polo Ground, Gate No. 7, Prime Minister House, Islamabad.
So As Soon As the Pictures of the Wedding and the Card Went On Social Media, Pakistanis Weren't Happy At All
Here We Go Again
اور قوم کے ٹیکس کے پیسوں پر تنخواہ حاصل کرنیوالے سرکاری افسران اب ذاتی شادیوں کی RSVP کےلیے بھی دستیاب۔۔۔۔ https://t.co/PwKXQBfK3j

— Gharidah Farooqi (@GFarooqi) August 4, 2019
Ohhhh!
Sociology lecture going on in Prime Minister House University. pic.twitter.com/W3o8RJnVcB

— Riasat Ki Maut⚰️ (@mahobili) August 3, 2019
LOOOL
Prime Minister house aka Islamabad University available on rent for weddings of Brigadier's children, Imran khan trying his best to take country out of the economic crisis.

Yeh hota hai leader, yeh hota hai vision.

— Anas Tipu (@teepusahab) August 3, 2019
LOOL
Main to prime minister marriage house main shadi karoun gi #PMHouseMarriageHall

— Riasat Ki Maut⚰️ (@mahobili) August 3, 2019
Ye Bhi Hai 
When you were expecting prime minister house to be transformed into a research university but it turns into a wedding hall for #military brats instead.

Yeh kesa #NayaPakistan hai bc, sharmindagi honay lagi hai ab 🤦‍♀️ pic.twitter.com/Umr1fS2Uc5

— Maria H. Malik (@marriyamalik1) August 4, 2019
Shahid Khaqan Did It First!
Advisor to @ImranKhanPTI had his son's wedding reception in PM House. This is as unethical today as it was when #shahid Khaqan Abbassi had his son's wedding in PM House. Who bore the expenses?? I bet the poor tax payers!!!! This is against the dictates of Naya Pakistan pic.twitter.com/wmmcFQcn2c

— Dr Mani PTI (@p4pakipower) August 4, 2019
Use of #PrimeMinster house for private wedding event. Sir .@ImranKhanPTI what if this has been done by #PMLN govt or #PPP govt? Where is the #tabdeeli? When is the next #dharna & where is the #breakingnews? devil's paradise, isn't it🧐🧐 pic.twitter.com/hoUHVzMPZn

— Waryyam Mian (@MianWaryyam) August 3, 2019
So what do you think? Was this something that should have been done? Share with us what you think!