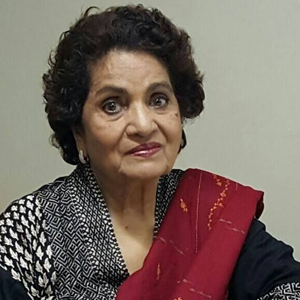 Biography
Haseena Moin was born on 20th November 1941; she was a drama writer, play writer, and scriptwriter. She wrote numerous plays for stage, radio, and television; with such fine quality and script, they got internationally praised. The first Pakistani first original script was written by her which was aired in the early 70s. Before her contribution, PTV used on-air novel-based scripts for dramas. She is the first and indeed the best scriptwriter Pakistan had then and no one matches the quality she used to give. Her impeccable writing skills were with the drama industry for four decades and everyone bears the loss of her death on the 26th of March 2021.
Fact‌ ‌File‌ ‌ ‌
Birth‌ ‌Date‌ ‌–‌ 20th November 1941
Birth‌ ‌Place‌ ‌–‌ Kanpur, India  ‌
Death- 26th March 2021
Age‌ ‌–‌ ‌65 years in 2020
Father‌ ‌–‌ Zia Sarhadi ‌
Mother‌ ‌– Zahira Ghaznavi‌
Marital‌ ‌Status‌ ‌–‌ Single ‌
Nationality‌ ‌–Pakistani‌ ‌
Religion-‌ ‌Islam‌ ‌ ‌
Occupation‌ ‌–‌ Dramatist, scriptwriter, Playwriter 
Also Known as Hassena Apa 
Awards- Pride of Performance 
Years Active- 1970- 2021
Early Life 
Haseena Moin was born in Kanpur, the northern Indian state of Uttar Pradesh, the most populated city on November 20, 1941.
She got her early education from the same region within India and then came to Pakistan after Pakistan's independence took place in 1947; she with her family migrated to Pakistan. She lived initially used to live in Rawalpindi for several years and then moved to Lahore in the 50s after finally settling in Karachi. In 1960 she graduated from Government College for Women Karachi, earned her master's degree of arts in history from Karachi university in 1963.
Professional Life 
As a Writer
Haseena Moin's writing skills came visible from school; in her last years of schooling, other than extracurricular activities, she has been seen as a writer and hence got selected to write weekly coulomb 'Bhai Jan' for a local journal. Slowly by her constant writing and memorable plays for Radio Pakistan 'Studio number 9' Karachi's all-time favorite radio broadcast, her fame begins. Gradually it set the stage for her to showcase her writing skills. 
And got her writing skills to the professional level and started teaching, and rose to the principal level. In 1969, Iftikhar Arif, head of the Script Dept. at PTV-Karachi Centre at that time, offered Haseena Moin for the then-forthcoming EID play to write; it was the beginning of her career. Initially, she was a bit nervous, but finally, she accepted the offer and took the pen with the courage to write down a play. All the cast was also decided by her along with Kanwar Aftab Ahmed the director. Finally, the dram came named 'Eid ka Jora' with the main lead Neelofar Aleem and Talat Hussaini, supported by Khalid Nizami and Ishrat Hashmi.
Genre
Haseena Moin wrote every drama differently. She has her hands on comedies like Shehzori, Uncle Urfi, Tanhaiyaan with the keeping the humorous characters in her plays, like Mamoo, Timmy, and Moby in Ankahi; Qabacha, Bukrad and Aapa Begum in Tanhaiyan, Gazi Apa in Uncle Urfi to tragedies like Parchaiyaan. As for romantic dramas are concerned she wrote like Dhoop Kinaray, Ankahi, Kohar to family dramas like Aansoo. Her concern about a social issue is commendable; she has also written several plays based on social issues like the super hit Aahat. It was created on family planning and was directed by Sahira Kazmi; her play Des Pardes was based on the lives of people living abroad and the difficulties they go through. Chup Darya, a telefilm starring Sania Saeed, was based on Karachi's situations, and Shayad ke Bahar Aye was focused on Women's rights. She has also written historic plays like Tansen, Meray Dard ko jo Zuban Mile and the recent Anjaane Nagar. Her other plays include Parosi, Pal do Pal, Kasak based on the life of a single parent, Dhundle Raaste , and many more
Coming to some later work she had done for the drama industry in late 2012, her drama serial Saare Mausam Apne Hain aired on Geo television. That drama was directed by Ali Rizvi. Then again on Geo, her drama Meri Behan Maya was directed by Azfar Ali. The play got massive appreciation from the audience and lead actress Annie Jafry got known after the play.
Her most popular drama, serial tanhaiyaan sequel, was produced in 2012. The name 'tanhaiyan naye silsilaye on aired on television from October 2012 till January 2013 on the two most popular tv channels simultaneously. Haseena Moin wrote the starting episodes from 1 to 7 then because she had to go abroad, so she gave permission to Muhammad Ahmed to carry on writing until she came. With the idea to complete and wrote the final episodes upon her return. But by the time she returned, the whole serial was written, and numerous changes were made to the episodes she had completed beforehand. She was very disappointed when she got to know that she requested the producers to eliminate her name from the serial, but due to some copyright issues, her name could not be removed. Haseena Apa has said she had nothing to do with the sequel 'Tanhaiyan Naye Silsilay' and was very disappointed by the overall outcome.
In May 2013 her another serial named Anjaane Nagar was aired on TV one, it was a period play that portrays a set of 1939 and, on top of that, shot beautifully in scenic locations of Pakistan like muree and other northern areas. It was directed by skilled director Khawaja Najam ul Hassan. It received critical praise upon its release.
In 2013 an Eid telefilm titled Ooper Gori Ka Makaan aired from Express Entertainment. The telefilm was a romantic comedy and was directed by Yasir Nawaz. The cast included Neelam Munir and Junaid Khan in the lead roles.
Her serial Mohabbat Ho Gai Tumse, a story of four friends, aired on TV ONE in August 2015. It was directed by the channel's chairperson Seema Taher Khan and starred Adnan Siddiqui, Deeba Naz, Zhalay Sarhadi, Azfar Rehman, and Hira Tareen roles.
Personal Life 
Being a remarkable screenplay writer and contributed her writing skill in romance and comedy so much, but still chosen to remain single in her life. But she gains the love and respect of hundreds of people. 
Awards and Recognition 
Haseena Moin traveled to many countries and got appreciation from all over the world; her dramas and plays are excellent a part till this date. She won numerous awards, and pride of performance was awarded to her by the Pakistan government in 1987 on her exceptional contribution towards Pakistan television. It is supposed to be one of the highest civil awards conferred by the Pakistan Government. Apart from this, she had won numerous other awards including the Woman of the year award. 
In 1975 she also won an award at the Global TV Plays Festival in Tokyo for best script and direction for her play Gurya. She had won honors at nearly every year's Lux Style Awards and PTV Awards; during the late 80s, Moin Akhtar gave her a tribute at the PTV awards ceremony. She had also appeared in many talk shows such as Anwar Maqsood's LG TV SHOW and Marina Mornings and many other numerous morning shows and chat shows. Most recently, she appeared in The Big Show on CNBC alongside another legendary writer Fatima Surayya Bajia.
She was given a tribute by Anwar Maqsood in his show In 1982. Legendary actors and directors like Shakeel, Jamshed Ansari, Javed Sheikh, Mohsin Ali, Shoaib Mansoor, Mahmood Masood, Saleem Nasir, Behroze Sabzwari, Shehnaz Sheikh, Begum Khursheed Mirza, Badar Khalil, Neelofar Aleem were there to honor her efforts. In November 2012, she was given a tribute by Karachi Arts Council called 'Aitraaf e Kamal – Haseena Moin.'
Fatima Surayya Bajia, Sahira Kazmi, Sakina Samoo, Sajid Hassan, Iqbal Ansari and many people like these were present to acknowledge her enormous contribution Pakistani dramas for the last four decades.
Political interests 
Haseena Moin had also joined Pakistan Tehreek-e-insaaf, due to the increased popularity of Imran Khan among youth and other people. Haseena Moin and other prominent figures from the same industry were greatly inclined towards Imran Khan and its motive towards the development of Pakistan.
Death
Haseena Moin, the great writer, died on the 26th of March 2021 at the age of 79 in her final residence after migration- Karachi. Pakistan paid tribute to this legendary woman. According to the source, she died in the morning and she had been fighting cancer for a couple of years, but that did not become the cause of death. The actual cause of death is still not known; she is buried in Karachi too.